Taco Tuesday: Tommy Bahama's Cajun Blackened Fish Tacos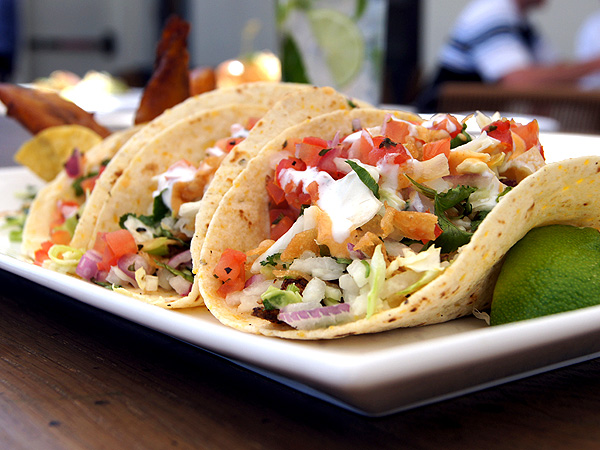 Courtesy Tommy Bahama Manhattan Island
We've got your catch of the day right here: These bite-sized starters from Tommy Bahama Manhattan Island's beachy kitchen are perfect backyard fare.

Filled with the sautéed fish of your choice—and topped with an aioli, pico de gallo and spicy Asian slaw—we guarantee they'll be gone before you can bring out your next course!
Cajun Blackened Fish Tacos
Serves 4
• 1½ lbs. of your favorite white fish
• 8 oz. fish taco marinade (see recipe below)
• 8 tbsp. lime sour cream (see recipe on next page)
• 8 tbsp. chipotle aioli (see recipe on next page)
• ¾ lb. Asian slaw (see recipe on next page)
• 8 tbsp. pico de gallo (see recipe on next page)
• 12 6-in. white corn tortillas
• 4 oz. unsalted butter
• 2 tbsp. of your favorite blackening spice
Fish Taco Marinade
• ¾ cup unsweetened coconut milk
• ¼ cup egg yolks, whipped
• 1 tbsp. cilantro, washed and rough chopped
• 1 tbsp. jalapeño, minced
• 1 tsp. cumin
• 1 tsp.  paprika
1. In a clean mixing bowl, combine all ingredients and mix well. Cut the white fish into 1-oz. pieces and place into the marinade, mixing everything together. Refrigerate for at least 12 hours.
2. Pre-heat a large sauté pan and melt the unsalted butter in the pan. Drain the marinated white fish and gently place into the melted butter. Spread the fish out evenly. Sprinkle the blackening spice evenly on the fish and let sit over high heat for 2 minutes. Flip the fish with a spatula and cook on the other side until the fish is completely cooked.
3. Turn the heat down to very low. Place the white corn tortillas into another large sauté pan and heat them on both sides. (Be sure the second pan is dry.)
4. Toss the Asian slaw in a mixing bowl.
5. Lay the hot corn tortillas on a clean cutting board and place 2 oz. of the cooked fish on each tortilla.
6. Top the fish with a little of the Asian slaw. Drizzle a little chipotle aioli, lime sour cream and pico de gallo onto each tortilla. Serve immediately.