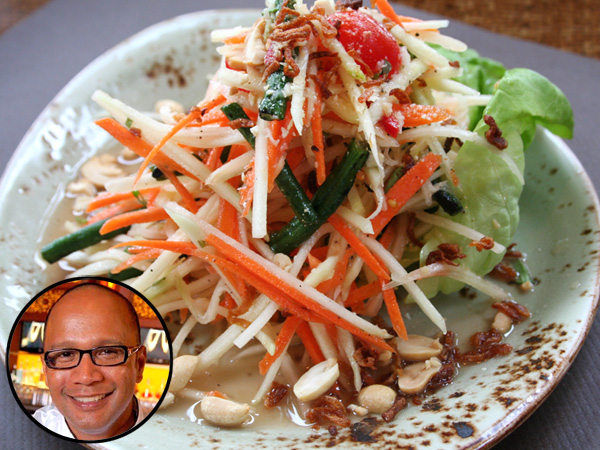 Courtesy Mohan Ismail
Step away from the stove! This no-cook dish, created by executive chef Mohan Ismail of celeb favorite RockSugar Pan Asian Kitchen in L.A.,  is chock full of fresh fruits and vegetables.

Green Mango Papaya Salad
Makes: 4 servings
2 oz. green papaya, julienne
1 oz. Chinese long beans, charred
2 oz. green mango, julienne
2 oz. papaya salad vinaigrette
½ tsp. red jalapeño chile, seeded, sliced
6 ea. grape tomatoes, halved
½ tsp. kosher salt
Black pepper, to taste
1 tbsp. peanuts, toasted, crushed
1 tbsp. cashews, toasted, crushed
Almonds, toasted, crushed Fried shallots
1. In a large bowl, combine the green papaya, long beans, green mango, chile, tomatoes, salt, pepper and vinaigrette (see below).
2. Using a wooden spoon, bruise the vegetables slightly so that the vinaigrette is absorbed into the vegetables.
3. Sprinkle the peanuts, cashews and fried shallots over the salad, and serve.
Papaya Salad Vinagrette:
1 clove garlic
1 tbsp. fish sauce
2 limes, juiced
1 tbsp. sugar or palm sugar
1 tsp. dried shrimp, optional
1. Smash garlic with the back of a knife.
2. Add the garlic, lime juice, sugar and dried shrimp into a mortar or pestle or mixing bowl, and pound to incorporate and until the sugar has dissolved.
—Melody Chiu