Sweet! 16 Awesome Cakes That Will Blow Your Kids Away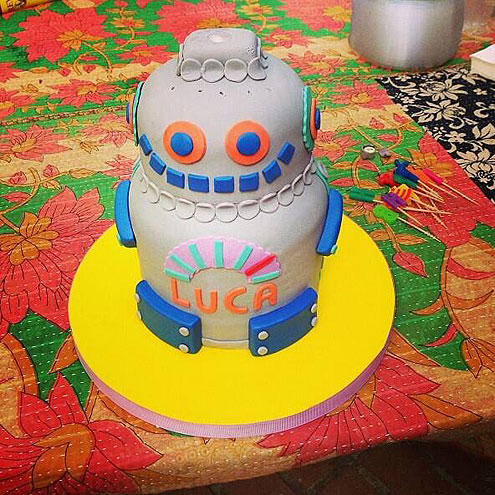 Brooke Showell
EDIBLE INVENTION
Call it the latest in sugar technology! For her son Luca's first birthday, Hilary Duff served an out-of-this-world robot cake with electronic gadgetry made of colorful fondant. The actress Tweeted that the sweet confection, created by popular L.A. bakery Duff's Cakemix, was "the coolest 1 year olds robot birthday cake ever! It was a big hit!"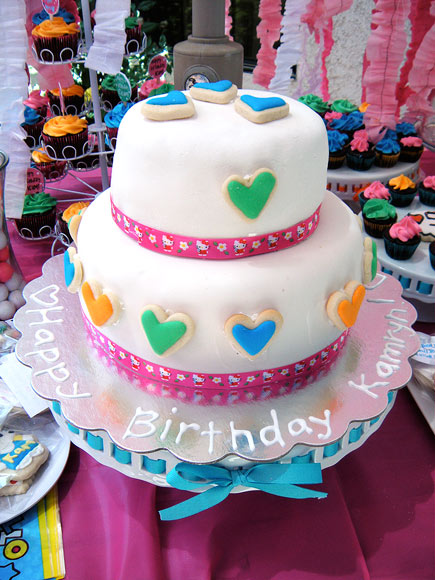 Brooke Showell
A PURRRFECT TREAT
A simply sweet two-tiered fondant cake by blogger Stephanie Strawhecker of Bake with Ginger nodded to the Hello Kitty theme of her best friend's daughter's fifth birthday bash. With the top half done in rich chocolate and the bottom half a tasty yellow cake (and covered in heart-shaped sugar cookies in the party's colors of pink, orange, green and blue), it had all the yumminess of a tried-and-true boxed cake while still being from scratch (plus, the pretty cake stand was a bargain buy from Home Goods!).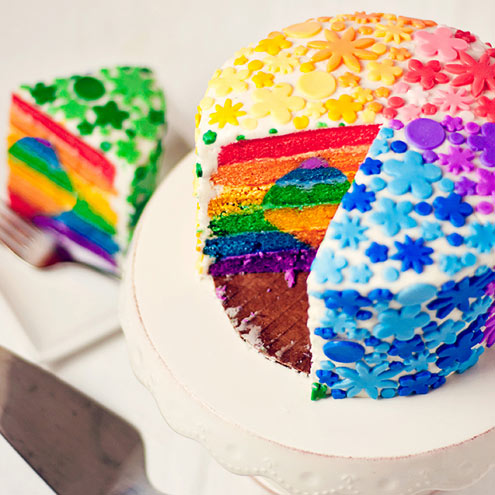 Brooke Showell
RAINBOW BRIGHT
Colorful layer cakes are one of the coolest trends in candyland, but blogger Darla Wireman of Bakingdom elevated the idea. Putting a new twist on a fellow baker's heart cake, this technicolor version topped with pretty fondant shapes reveals a happy rainbow inside. Imagine the birthday girl or boy's delight when it's cut!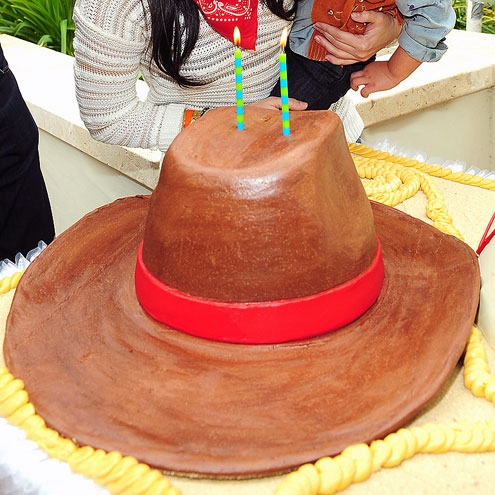 Brooke Showell
HATS OFF
Giddy up! Mason Disick's circus-carnival first birthday party featured an enormous hat cake to match the cowboy theme. As for the elaborate confection, mom Kourtney Kardashian wrote on her website, "I always hear babies don't know what's going [on] at their first birthdays so don't make it too over the top. Well I know that Mason LOVED every second of it."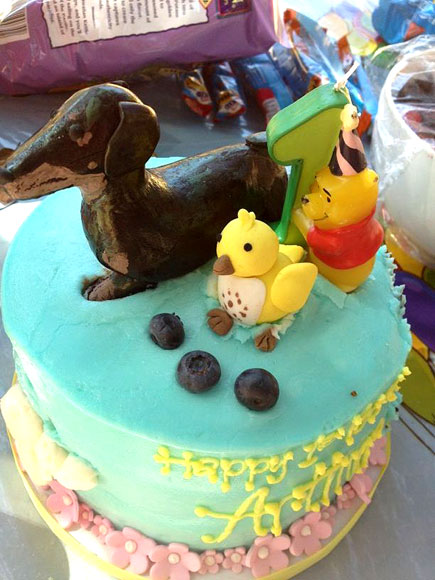 Brooke Showell
ANIMAL HOUSE
Selma Blair had a little trick up her sleeve when it came to diving into the cake (topped with an adorable dachshund and Winnie the Pooh) for her son Arthur's first birthday. She Tweeted a photo of the dessert, along with a simple tip: "By adding some blueberries, I managed to avoid a baby sugar rush. He went only for the berries."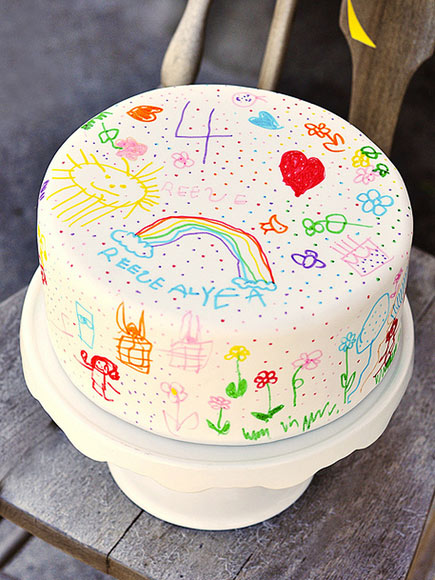 Brooke Showell
SCRIBBLE ME THIS
Art-tastic! For her daughter's fourth birthday, blogger Rosie Alyea of Sweetapolita wowed the crowd with a creative rainbow doodle cake. With six brilliant rainbow layers inside, the pièce de résistance was the birthday girl's adorable doodles, done in food-color markers over a layer of white fondant.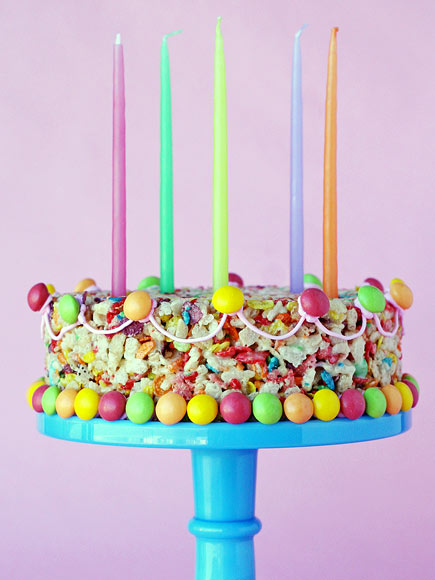 Brooke Showell
FRUITY FABULOUS
Amp up Rice Krispies treats – a kiddie fave! – into a super-easy, colorful cake. Blogger Glory Albin of Glorious Treats sculpted Rice Krispies, multi-hued Fruity Pebbles and melted marshmallows into a glorious cake-shaped creation. The best part? The no-bake format is perfect for summer birthdays.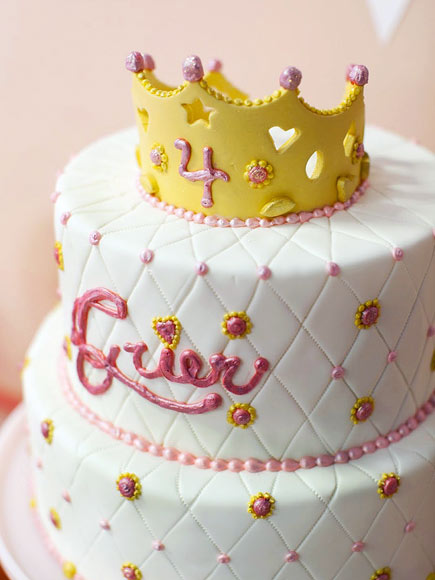 Brooke Showell
CROWNING GLORY
A royal delight! For Brooke Shields's daughter Grier Henchy's princess-themed fourth birthday party, dessert guru Amy Atlas topped off a girlie sweets table (filled with sparkly mini cupcakes, cookies and candy) with a darling crown-topped, quilted, chocolate-and-vanilla cake. Shields called the confection "almost too pretty to eat."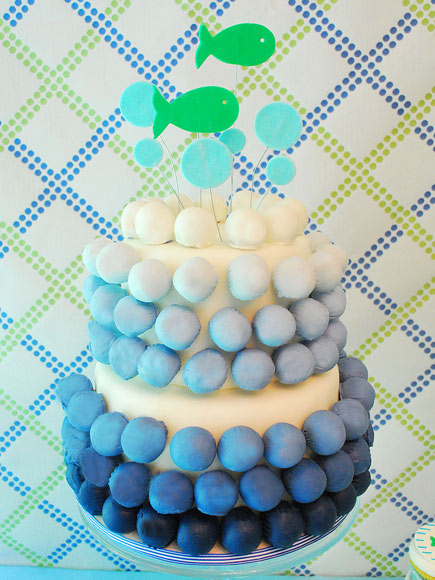 Brooke Showell
GO FISH
It's a mod, mod, world! For a funky fish-themed fete, blogger Kelly Lyden of The Party Dress worked with Two Sugar Babies to craft a cool, contemporary aquatic-hued cake covered in delicious cake pops. The best part? The bold unisex design is equally chic for a boy or girl.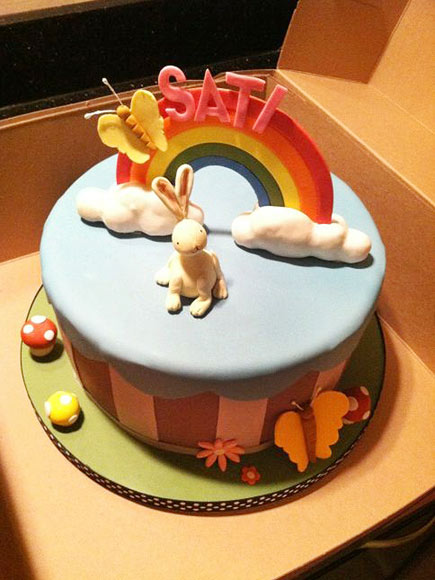 Brooke Showell
OVER THE RAINBOW
Celebrating daughter Satyana's third birthday, Alyson Hannigan Tweeted a photo of her little one's rainbow-topped confection, made by Charm City Cakes. The actress called it the "cutest and yummiest cake" – the enchanting gum paste bunny and butterfly mark spring with a smile.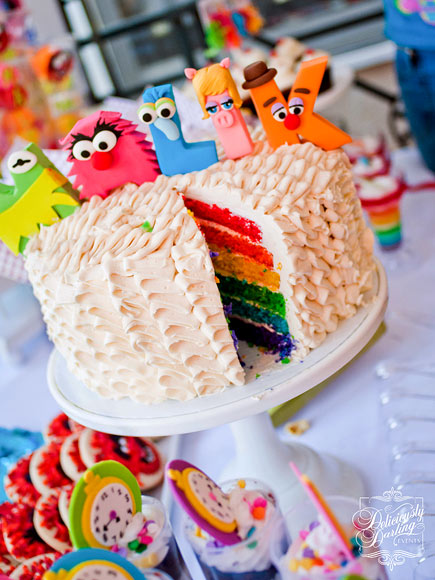 Brooke Showell
IN CHARACTER
For her son's Muppets-themed fifth birthday, event planner Dina Hafez-Suggs of Deliciously Darling Events surprised him with a colorful cake (created by her cousin, Reema Hafez) featuring the beloved gang. The French vanilla rainbow cake with Italian buttercream frosting was topped with fun, fondant letters designed by Edible Details to represent Kermit, Miss Piggy, Fozzie Bear and friends.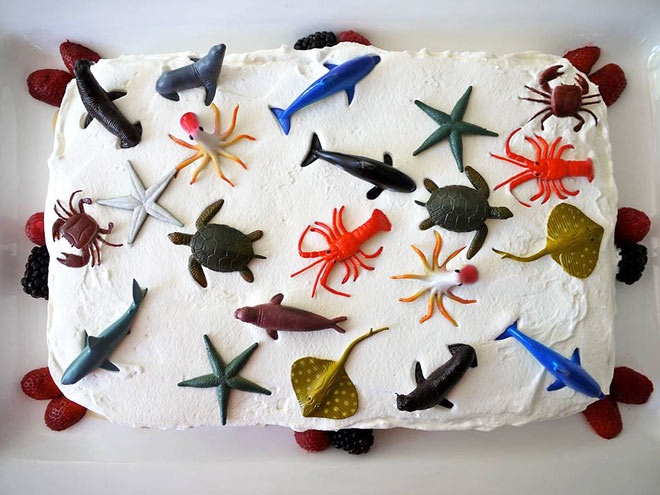 Brooke Showell
MILKING IT
Fielding a special request from her 5-year-old son for a tres leches birthday cake, blogger Catherine McCord of Weelicious decorated Ree Drummond's simple (but divine!) recipe with little toy sea creatures for each classmate to get a special treat with their slice – now that's sharing the love.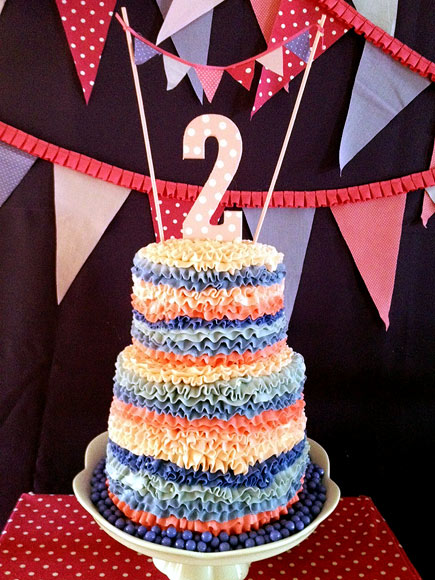 Brooke Showell
TIERS OF JOY
Think pink (and purple)! For Simone Masterson-Horn's fab second birthday bash, dads Bill Horn and Scout Masterson recruited Jenny Keller of Jenny Cookies to top off a dessert table with an ombré multi-tier vanilla buttercream cake. The fluffy layers of icing matched the party's sweet pink and purple color theme.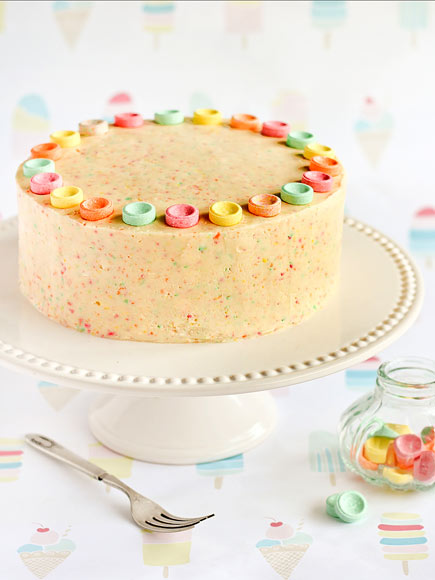 Brooke Showell
MY LITTLE SWEETART
Orange you glad blogger Steph Hooi of Raspberri Cupcakes dreamed up this amazing homespun orange candy cake, primed for a party. With a foolproof layer-cake recipe underneath (made with fresh oranges!), the icing is the true star – the secret weapon of fizzy crushed SweeTarts makes it delightfully kid-friendly, and also serves as a pretty pastel topper.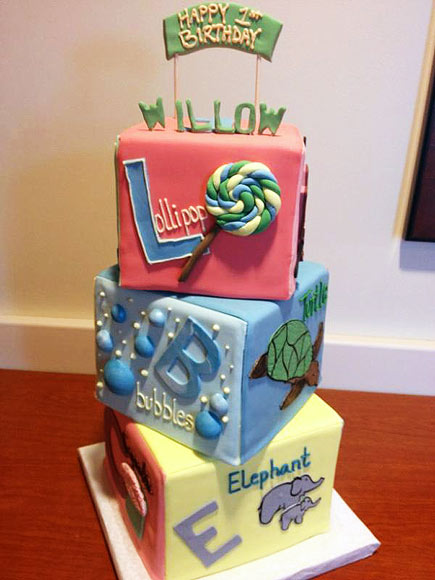 Brooke Showell
SUGAR BABY
For daughter Willow's first birthday, first-time mom Pink went all out with a towering confection – a vegan carrot cake from Jamaica's Cakes – that featured favorite things like a turtle, lollipop, elephant and bubbles. The singer Tweeted the photo with the message, "Happy Birthday to my angel, my purpose, my biggest blessing. I love you Willow Sage."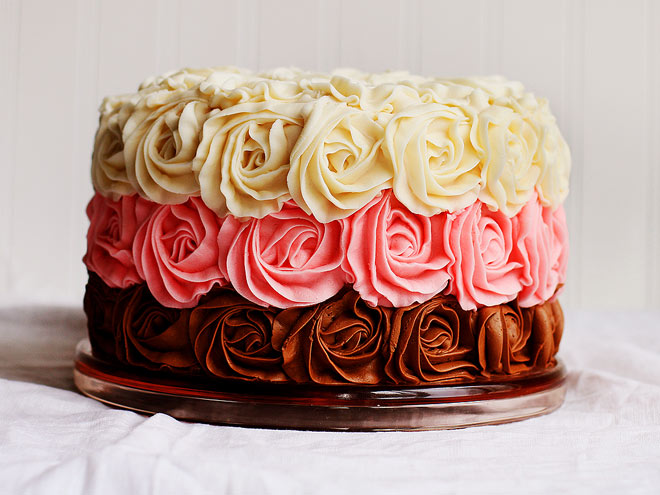 Brooke Showell
COMING UP ROSES
This delicate flower-covered confection is a birthday favorite of i am baker blogger Amanda Rettke's own little girl. For a new twist, the baking mom applied her rosette technique (it's easier than it looks!) to a Neapolitan cake's fab flavor trio. With yummy layers of chocolate, strawberry and white cake, there's a piece for every kid's palate.