Taste the Trend: Make Your Own Ramen Burger!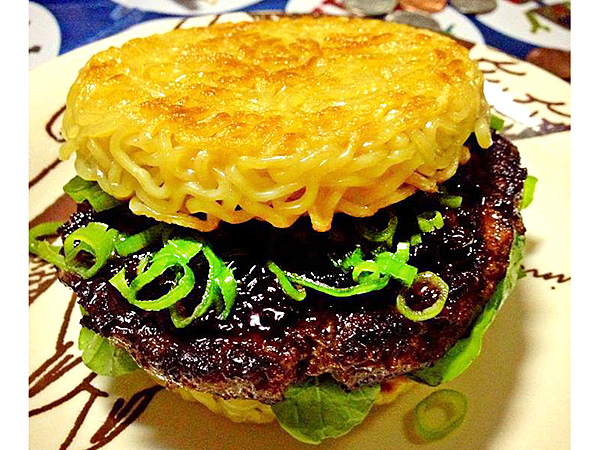 Courtesy Keizo Shimamoto
You could wait in line for hours to taste Keizo Shimamoto's culinary craze, the Ramen Burger. Or get instant-gratification and cook one at home tonight!

Guess how we're voting.
There's a reason the crowds start gathering at Brooklyn flea market Smorgasburg in the wee hours of the morning to snag this tasty Japanese-American hybrid: A juicy, beef patty is packed between two ramen noodle "buns," topped with arugula and scallions, and smothered in a secret Shoyu soy sauce. How good does that sound? (Even model Chrissy Teigen snuck a ramen burger into her strict pre-wedding diet.)
In the end, though, it all comes down to that chewy, crispy, salty ramen bun—and it's a cinch to recreate:
The Ramen Burger: Home Edition
Serves 1
1 packet instant ramen noodles (with seasoning)
1 egg
1 tbsp. vegetable oil
1. Bring a medium pot of water to a boil, add the noodles and cook for about 2 minutes. Remove from heat and drain the noodles.
2. In a small bowl, whisk the egg and ½ packet of ramen seasoning. (Use the other half later to season the burger meat.) Add the cooked noodles and mix until well-coated.
3. Divide the ramen mixture in two, and press each portion into a round ramekin. Cover both ramekins with plastic wrap, and place weights (like cans of soup) on top. Refrigerate for 30 minutes.
4. Remove the noodles from the ramekins. Heat 1 tbsp. vegetable oil in a large pan, and cook the "buns" over medium-high until golden brown, about 2-3 minutes on each side. Remove from the heat, and pile high with your favorite burger patty and toppings.
— Sonal Dutt