Hungry Girl's 30-Second Guide To Healthy Football Fare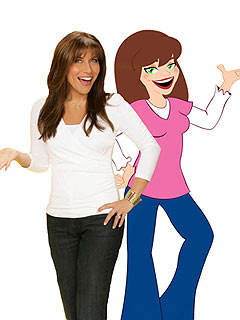 Courtesy Hungry Girl
Hi! I'm Lisa Lillien, a.k.a. Hungry Girl, and I'm so excited to be a part of PEOPLE's new network of food-writing celebs.

For those of you who aren't familiar with what I'm all about, here's the scoop: I'm not a nutritionist or a dietitian—I'm just hungry.
I love food, but I still want to fit into my favorite jeans, and that has made me an expert in (realistic) healthy eating. Almost 10 years ago, I started Hungry Girl as a daily e-mail service featuring guilt-free recipes, smart supermarket finds, and tips and tricks for eating light. Now those e-mails reach more than a million people every day. But my M.O. is this: Never deprive yourself! And I mean it. The recipes in my Hungry Girl cookbooks (8 and counting) range from low-cal red velvet pancakes to slimmed-down cosmos and bellinis.
Each Monday right here, I'll be lightening up recipes from some of your favorite celebrities, and serving up restaurant and snack survival strategies with a Hollywood twist. I'm thrilled to be a part of PEOPLE's Great Ideas because, quite honestly, I'm a pop-culture junkie and a craver of celebrity news. My weekly blog here will marry my two passions: food and entertainment.
For all you football fans, this week's entertainment is the NFL regular season kickoff—but that's no reason to kick off a beer and nacho bender, too. Here are three of my favorite strategies to help you eat smart during the game, and still be completely satisfied:
Grab a hot dog: Yes, a hot dog! Buy 97% fat-free beef franks, like the kind by Hebrew National, and light hot dog buns or 100-calorie flat sandwich buns, like Arnold/Oroweat. Then have fun with the toppings—mustard, relish and veggies are all guilt-free!
Prep your pizza: If your only option is pizza, choose one with sensible toppings (like fresh veggies), then blot the top to get rid of grease. Don't forget to sprinkle on red pepper flakes—the heat will help you eat a little slower.
Remember the H2O: It's easy to end up drinking nothing but beer and soda, and munching mindlessly on chips and pretzels while watching a game. But sometimes we eat because we're actually thirsty. Make a point to drink a glass of water every quarter so you'll be less likely to indulge in idle snacking. Score one for your favorite player—you!
Want even more? Follow Lisa on Twitter or "like" the Hungry Girl Facebook page.