Amanda Seyfried Loved These Shrimp Tacos—Make Them Tonight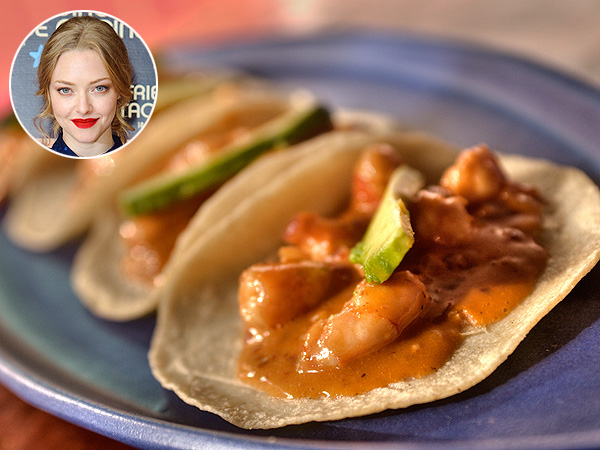 Courtesy Mercadito Hospitality; inset: Jeff Spicer
Amanda Seyfried: We hope you didn't mess up that sultry red lipstick chowing down on these spicy shrimp tacos!

The actress basked in the company of new beau Justin Long and this taco platter at a recent dinner at Mercadito Avenue B in New York City.
The sex-Mex restaurant's tacos are so good, we figured they'd be impossible to recreate. But it turns out the recipe is surprisingly simple—as long as you can take the heat.
Cool off with some tequila: Seyfried's dinner involved a round of shots for her and Long's group of pals.
Shrimp Tacos With Garlic Chipotle Marinade
Makes 6
18 medium shrimp, peeled, cleaned and diced
4 tbsp. finely chopped garlic
6 tbsp. diced red onions
3 tbsp. pureed chipotle peppers or bottled chipotle puree
3 tbsp. olive oil
Juice of 2 lemons
1 tbsp. butter
Salt, to taste
6 corn tortillas
1 avocado, sliced
1. Marinate shrimp with 2 tbsp. garlic, 2 tbsp. red onions, 2 tbsp. chipotle puree and 1 tbsp. olive oil.
2. In a sauté pan, pour remaining olive oil. Sauté remaining garlic, red onions and chipotle puree until brown.
3. Add shrimp, lemon juice, butter and a pinch of salt. Sauté until shrimp is cooked.
4. Fill each tortilla with shrimp and top with 2 or 3 avocado slices. Serve immediately.
—Marissa Conrad