Jennifer Garner Picks Up Fall Fruits—and (Hopefully) a New Dinner Recipe!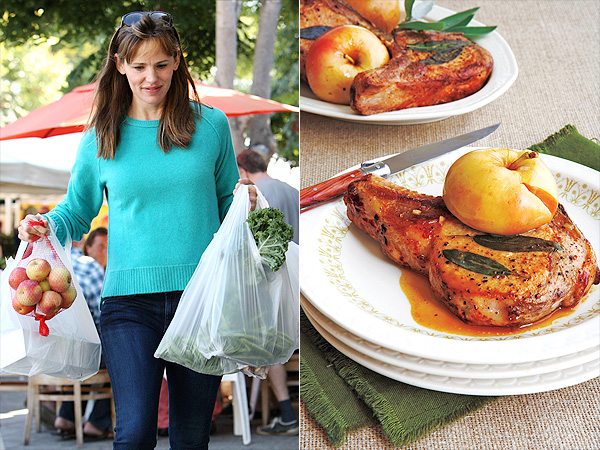 Broadimage, Joseph De Leo
We're officially crowning Jennifer Garner the queen of the farmers' market!

Rarely a week goes by without spotting her—along with husband Ben Affleck and kids Violet, Seraphina and Samuel—cruising her Los Angeles market to stock up on locally-grown fruits and veggies. The star of her recent haul: apples.
In case Garner is looking for ways to use that big bag of Vitamin C, we have some new ideas that may surprise her—and you!
Make your chicken juicier: Next time you roast a bird in the oven, stuff its cavity with a split apple. The apple's juice will evaporate as the chicken cooks, keeping the meat wonderfully moist and flavorful.
Ripen other fruits: If you bring home a bag of green tomatoes or hard avocados, put them in a brown paper bag with a ripe apple. The apple gives off ethylene gas, which speeds up the ripening process. (Unfortunately, this method won't work on fruits with thick skins, like oranges or pineapples.)
Declump brown sugar: Is your sugar solid as a rock? If so, drop an apple slice into the container and seal—the dry crystals will soften as they absorb the apple's moisture.
Cook a delicious dinner:  We think every apple-picking or farmers market trip should end with a great meal, like this Pork Chops and Baked Apples recipe. The rustic dish, created by Elizabeth Hurley for PEOPLE, is pretty enough to serve at a dinner party for friends but simple enough for a weekday supper with the family. It's healthy, hearty and satisfying to the core!