Got 5 Minutes? You Can Cook Dinner, Says The Chew's Michael Symon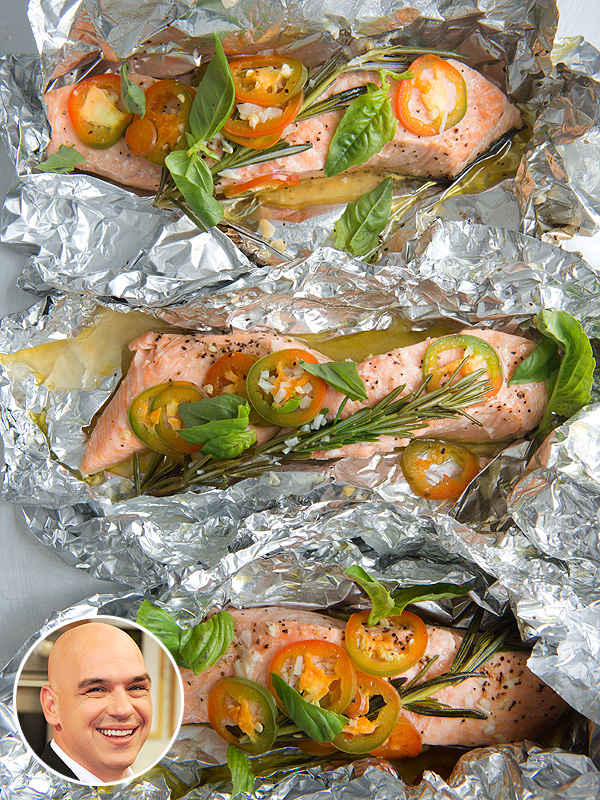 Jennifer May; inset: Donna Svennevik/ABC
Let's give Michael Symon a big high-five! The celeb chef says all it takes to make a healthy, home-cooked meal is five ingredients and five minutes.

"I'm often working 15-18 hours a day at the restaurant, and the last thing I want to do when I come home at night is cook dinner for another two hours," The Chew co-host tells PEOPLE. "I think that feeling is something most home cooks can relate to."
Symon's dinner solution: His new 5 in 5 cookbook is jam-packed with 120 easy recipes that can be made in just minutes using only a handful of supplies. "I want people to know that they don't need a lot of ingredients or time to make delicious, from-scratch meals," he says. "You just need a reasonably-stocked pantry and you're on your way to being a great cook."
The key, though, is to be organized. "I always tell people to read a recipe from the end to the beginning so you know what your biggest tasks will be," he says. "Like when you're making pasta, boiling the water will take the longest so put the pot on the stove while you're chopping your veggies. It'll save a lot of time." Also, keep your pantry stocked with the items you use most. Symon recommends keeping good olive oil, canned tomatoes, garlic, bread and your favorite five dry spices ("mine are coriander, cumin, red chile flakes, mustard seeds and ground chipotle chiles") on hand.
When it comes to tools, "buy and become comfortable with a good chef's knife," he says. "The quicker you can chop and prep your ingredients, the quicker you'll get out of the kitchen."
So, let's put his method to the test! One of his favorite recipes from the book is a salmon cooked in an aluminum foil pouch, which cooks in only four minutes. "I love the flavor and ease of this dish," he says, "There's absolutely no clean-up, which is even better. Just ball up the foil and toss it in the trash when you're done."
Salmon with Rosemary and Garlic
Serves 4
4 (6 oz.) skinless salmon filets
Kosher salt and freshly ground black pepper
4 sprigs fresh rosemary
1 tbsp. red pepper flakes (or to taste)
½ cup extra virgin olive oil
2 garlic cloves, minced
2 cups dry white wine
1 cup basil leaves, torn
1. Preheat a grill or grill pan to medium-high heat.
2. Season the salmon on both sides with salt and black pepper. Lay out 4 large pieces of aluminim foil. In the center of each piece, put 1 piece of salmon, 1 sprig rosemary, ¼ tsp. red pepper flakes, and 2 tbsp. olive oil. Evenly distribute the garlic among the piles and season with salt and black pepper again. Bring up all 4 corners of the foil to begin to form a pouch. Before sealing, add ½ cup white wine to each packet. Tightly seal the packets.
3. Put the packets on the grill and close the lid (or cover, if using a grill pan). Cook about 4 minutes. Remove from grill, open, and top with ¼ cup basil. Serve immediately.