Ali Larter's Secret for Drinking More Water (Hint: Add Tons of Flavor)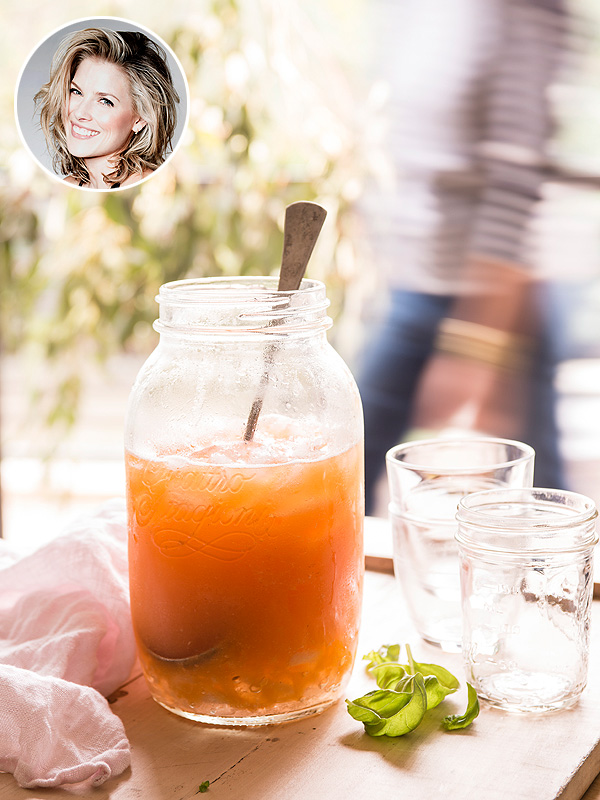 Amy Neunsinger
If water tasted more like fruit punch and less like, say, water, we would have no problem gulping down eight glasses a day. Since we don't think the water company will start lining the pipes with Fruit Roll-Ups any time soon, we found the next best thing: Ali Larter's tangy Agua Fresca.

The author of Kitchen Revelry: A Year of Festive Menus From My Home to Yours pumps up ho-hum H2O by blending it with juicy cantaloupe, bright basil leaves, tart lime juice and just a hint of sweet agave syrup—which makes this flavor-packed water taste more like a treat than a building block.
If you don't have cantaloupe, have fun experimenting with other ingredients: "Many fruits can be substituted or combined, such as honeydew, watermelon, strawberries, pineapple—whatever is fresh and in season," Larter tells us. "You can also turn it into ice cubes to add something special for your kids." Cheers!
Ali Larter's Agua Fresca
Serves 6
Cheesecloth
4 cups cantaloupe, peeled, seeded and cubed
2 cups water
¼ cup basil leaves, loosely packed
3 tbsp. fresh lime juice
2½ tsp. agave syrup
1. Line a large strainer with cheesecloth, and place it over a large bowl.
2. Combine 2 cups cantaloupe, 1 cup water, 2 tbsp. basil, 1½ tbsp. lime juice, and 1¼ teaspoons agave syrup in a blender. Blend on high until the mixture is as smooth as possible.
3. Pour the mixture into the cheesecloth-lined strainer, pressing gently on the solids to extract as much liquid as possible. Repeat the procedure with the remaining cantaloupe, water, basil, lime juice, and agave. Discard the solids in the strainer.
4. Pour the cantaloupe agua fresca into a pitcher, add enough ice cubes to chill. Serve over ice.
— Sonal Dutt