You Can Do This: Make a Party Centerpiece You Write On!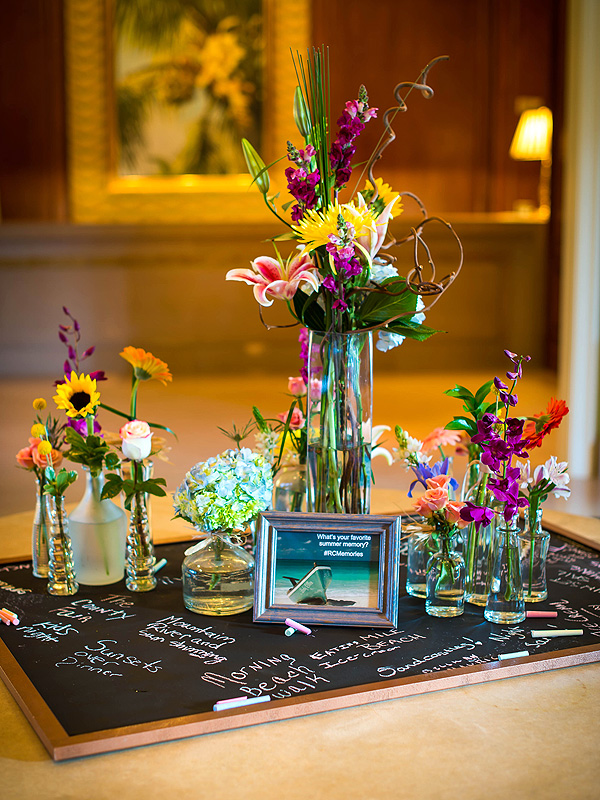 Courtesy Ritz Carlton
At first we thought it was just a pretty floral display in the luxurious lobby of the Ritz-Carlton Grand Cayman resort.
Then we saw the chalk. Yup, pink, white, yellow and green scattered on top of a big blackboard with flowers—and we knew we had to recreate this look at home.

Why we love it: It's a multitasker—besides being decorative, it's also interactive and a conversation starter.
Huh? Look closer: A picture frame holds a card that says, "What's your favorite summer memory?" Hotel guests couldn't resist scribbling happy answers: "Ice cream," "Sandcastles," "The county fair."
How to re-create this idea for your next party: You'll need a large blackboard, colorful chalk, your fave flea-market vases in complementary colors, plenty of fresh flowers and a table to set everything on. And, of course, one great question, like "What's your favorite karaoke song to perform?" or "If you could be an action hero, who would it be?"
Where to position: Look for a central, well-traveled spot in your room that guests will notice.
Heads up: Don't crowd the blackboard with too many vases or there won't be enough space for guests to write on! Also, keep the framed question general enough so most guests will be able to answer it.
The after-party: Even after the bash ends, you'll have a personalized keepsake of the night—well, until your next party!
—Nancy Mattia