Taste of the Town: The Cast of Brooklyn Nine-Nine's Favorite Eats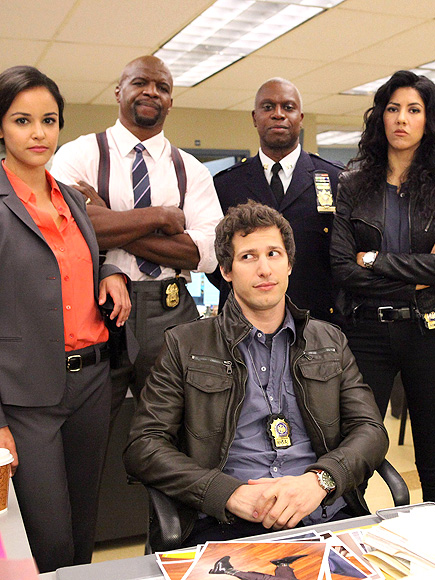 Courtesy FOX
BROOKLYN NINE-NINE
New York City is practically bursting at the seams with great places to eat. But just over the river, you'll find Manhattan's equally-hot borough Brooklyn, home to hundreds of buzz-worthy eateries all their own. For some guidance, we tapped a team of tour guides: the cast of FOX's new Brooklyn Nine-Nine. From a legendary steakhouse to sinful soy lattes, Andy Samberg and his T.V. detective cast mates dished to PEOPLE on the best places in their precinct.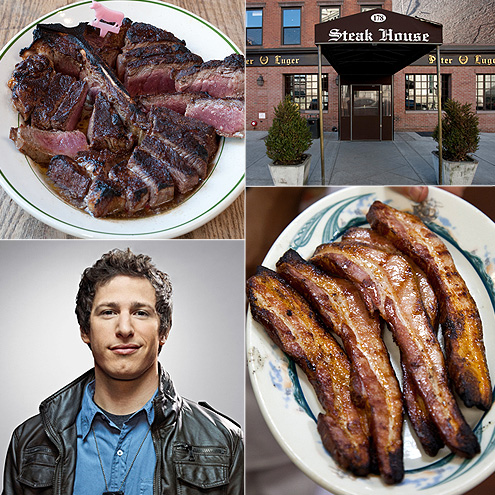 Courtesy Peter Lugers, FOX
ANDY SAMBERG
"Gonna have to go with Peter Luger Steakhouse. I'm a sucker for a good steak and that thick cut bacon. Not necessarily at the same time. But not opposed to that either." (178 Broadway, peterluger.com)


Courtesy Luca Arrigoni, FOX, Courtesy Lindsay Giuffrida
MELISSA FUMERO
"Sotto Casa in Boerum Hill [has] awesome pizza. My favorite pie is 'The Laura' topped with tomatoes, mozzarella, mascarpone, speck and rosemary. Great food and great vibe." (298 Atlantic Ave., sottocasanyc.com)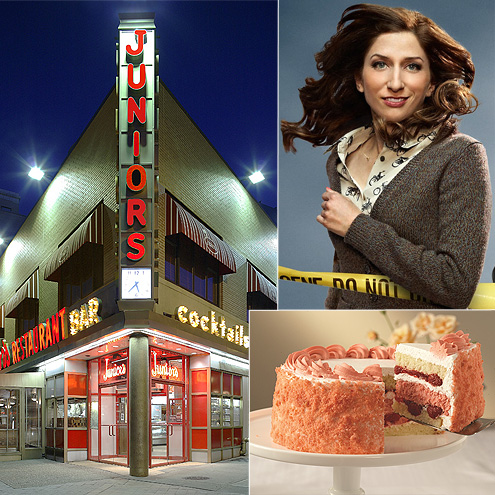 Courtesy Juniors, FOX
CHELSEA PERETTI
"Junior's Strawberry Shortcake Cheesecake. It [has] all the benefits of strawberry shortcakes combined with all the splendor of a classic cheesecake." (386 Flatbush Ave., juniorscheesecake.com)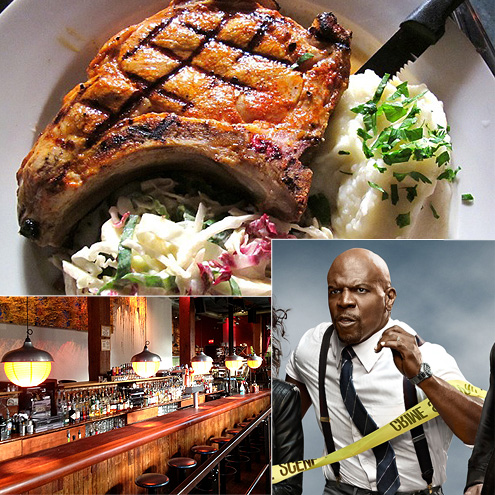 Brooke Showell
TERRY CREWS
"My favorite Brooklyn eatery is Superfine in the DUMBO section of Brooklyn. My sister Micki and I enjoyed their Sunday Bluegrass Brunch with banana-blueberry bread and a wonderful pork chop and eggs. Cool, artsy vibe in a wonderful area!" (126 Front St., 718-243-9005)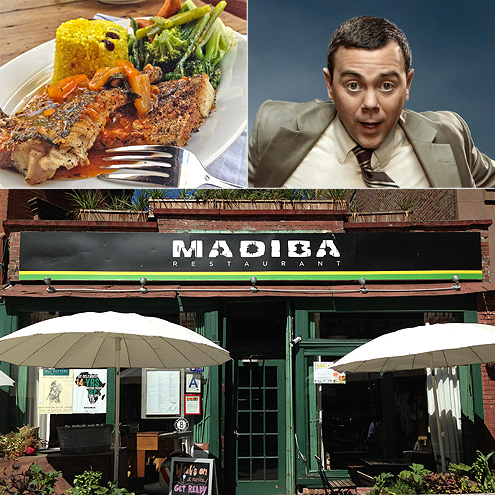 Courtesy Madiba, FOX
JOE LO TRUGLIO
"Madiba, in the Fort Greene neighborhood of Brooklyn. I never had South African cuisine before. I had their "Fish Of The Moment" which, at this moment, I cannot recall. But it was deleesh." (195 Dekalb Ave., madibarestaurant.com)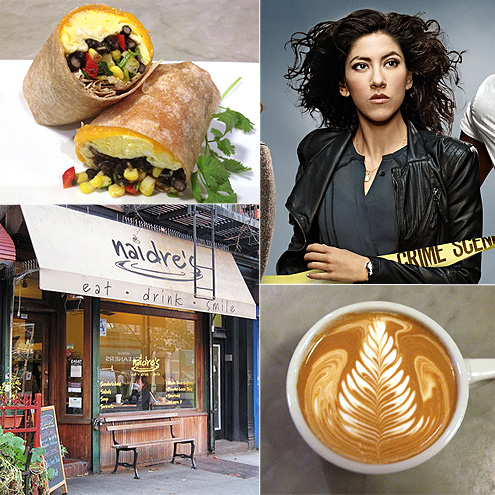 Courtesy Naidre's, FOX
STEPHANIE BEATRIZ
"I lived in Brooklyn for six years, and Naidre's in Park Slope was my favorite. They make the most lovely soy lattes in the area, made with care and with delicious coffee. They were my favorite to grab on the way to the F [subway] train. I love their vegan breakfast burritos, too." (384 Seventh Ave., 718-965-7585) — Karen Quan
'Brooklyn Nine-Nine' premieres on FOX tonight at 8:30 p.m. EST.