Pack Your Kids a Healthy Lunch They'll Love—Really!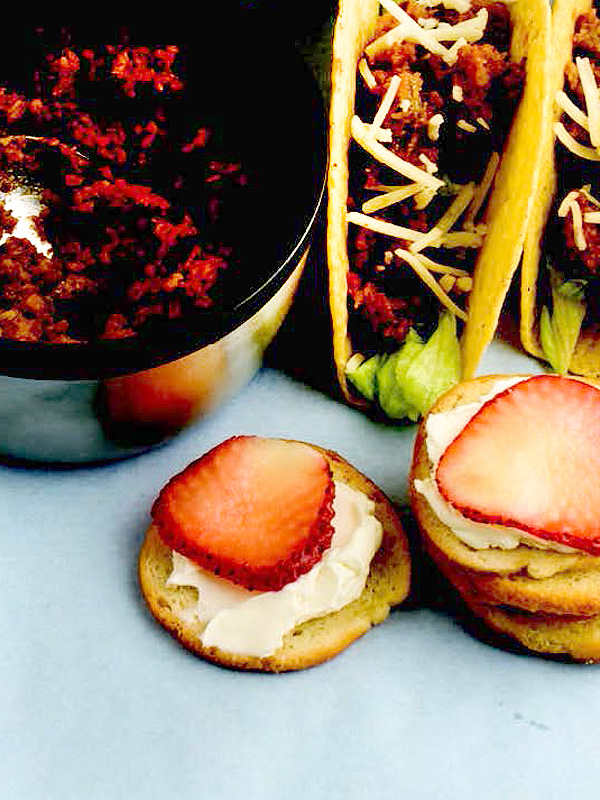 Courtesy J.M. Hirsch/Simon & Schuster
If 7-year-olds ruled the world, lunch would be pizza every day.
In your perfect world, they'd be clamoring for veggies—and you'd have time to put together a gourmet spread before sending them off to school each day.
But let's be real.

In his new book, Beating the Lunch Box Blues, Associated Press national food editor (and dad!) J.M. Hirsch gives advice on how to deal with fussy eaters and morning time crunches and still arm your kiddos with delicious, nutritious lunches. Hirsch swears it takes him no more than five minutes to pack a lunch for his 9-year-old, veggie-averse son every morning. He shares some of his favorite strategies with PEOPLE:
Offer DIY meals. Kids love to assemble their own lunches, so give them small containers with a little of this and a little of that, Hirsch says. For example, pack shells, lean meat, lettuce and cheese and they can make DIY tacos, or pack a split-open baked potato with healthy fixin's for a build-your-own stuffed potato.
Give your kid choices—but just a few. Hirsch's son doesn't like most vegetables—but, tough luck, he's got to eat them—so the author includes him in the purchasing decision. "I'll say something like, 'I need two veggies I'm going to sprinkle in your lunch over the next week–which do you want?'" He may pick cucumbers and mini bell peppers, so I'll have those on hand because I know he'll eat them."
Cook a little extra when you're making dinner. That way, you'll always have leftovers for lunch. It's nearly effortless to grill another sausage, bake one more potato or steam additional broccoli, Hirsch says.
Always keep a rotisserie chicken in your fridge. Consider it the building block of many lunches. Toss bite-size chicken with leftover pasta and vegetables, add vinaigrette, and you've got chicken pasta salad. Or pour barbecue sauce on the chicken pieces and stuff in a bun.
Change up the bread. There's no law that says you must make a sandwich with a sliced loaf. Put lunchmeat between two whole-grain waffles. Other good substitutes: pita pockets or rice cakes. "It mixes things up and makes lunch more interesting," Hirsch says.
What does his son think of Dad's creativity? "Parker doesn't think too hard about lunch—he just wants to eat and get on with his life and run around the schoolyard," says Hirsch. "And I just want him to eat a healthy lunch and be well fed."
—Nancy Mattia