We Tried It: Spiked Greek Yogurt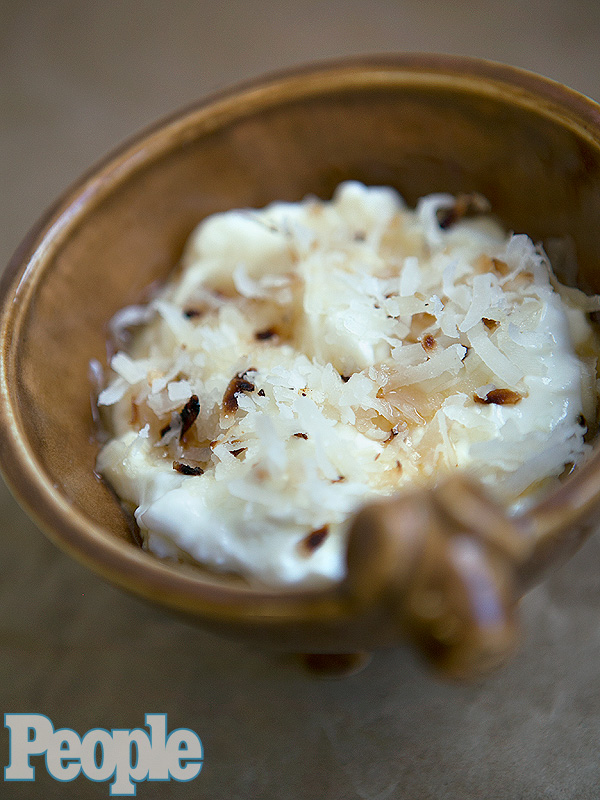 Katie Kauss for People.com
Some days we love Facebook (who got engaged?), some days we hate Facebook (seriously, another baby photo?), and some days we realize Facebook's true reason for existing: to bring boozy Greek yogurt into our lives.

Here's the thing: We eat Greek yogurt every day. Usually with almonds…maybe with some dried cranberries if we're feeling crazy. But we had never thought about adding rum—or any kind of alcohol—as a mix-in until we spotted a Facebook post from one of our favorite Chicago chefs, Rick Gresh of Chicago's David Burke's Primehouse, who had the idea to top off his yogurt with a little something from his home bar.
"I'm sure this isn't what they had in mind for the product, but I wanted something sweet," he wrote. "Chobani pineapple Greek yogurt with a dark rum float and toasted coconut did the trick."
Rum: a lot more interesting than almonds, especially when you've had a long day at work. We gave Gresh a call to get the proportions.
The recipe is simple—pour a spoonful of rum over the yogurt, top with two spoonfuls of toasted coconut and eat. Also, did you know you can toast coconut flakes in the microwave? Just put a handful in a shallow bowl and zap it on high for about 10 seconds at a time, stirring between rounds, until it's browned to your liking.
The snack was everything we dreamed: creamy and sweet with a bold kick from the rum and a little crunch from the toasted coconut. Hello, piña colada with 12g of protein! The only thing missing was the beach.
You can make this treat right in the yogurt container, but we opted to use one of our favorite dishes, a little puppy-shaped bowl from A. Speer Ceramic Studio on Etsy.
Spiked Greek Yogurt
1 container pineapple Greek yogurt
½ oz. dark rum
2 tbsp. sweetened coconut flakes, toasted
Pour rum over yogurt and top with coconut. Enjoy!
—Marissa Conrad