Recipe Redo: Giuliana Rancic's Roasted Butternut Squash Salad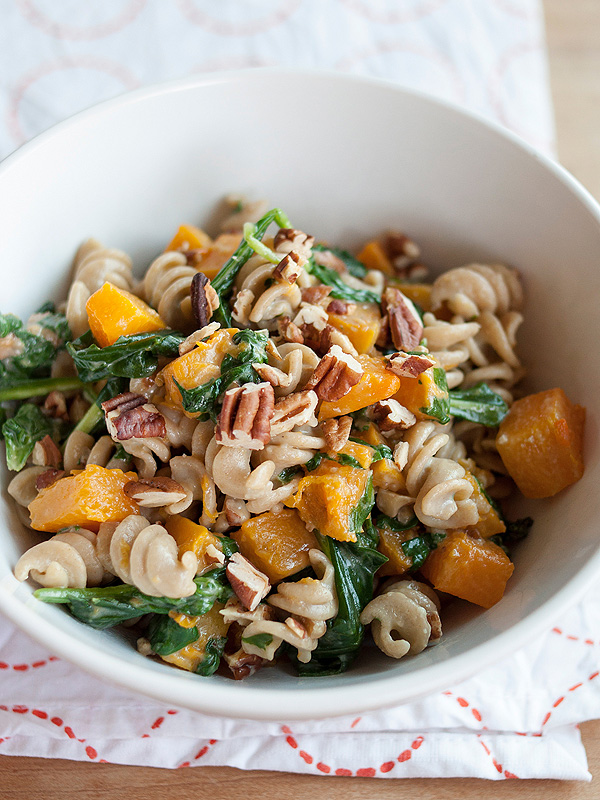 Emma Christensen
Maxwell Ryan is the founder of Apartment Therapy and The Kitchn, a daily web magazine all about home cooking and kitchen design. Visit PEOPLE.com every Wednesday for his spins on celebrity recipes, tips for cooking in a small space and much more. 
Here's a trick we love to do at The Kitchn: Take a healthy salad and extend it into a hearty (but still healthy!) main course.

The flavors in Giuliana and Bill Rancic's delish Roasted Butternut Squash over olive oil-tossed spinach leaves called to me, but I wanted something more than a salad.
To turn this from starter to entree, I decided to wilt the spinach and serve it, with the squash, over whole-wheat pasta. I teamed it with a warm sauce inspired by the lemon juice in Giuliana's salad dressing. The secret ingredient? Mascarpone! One of my favorite soft cheeses, it's perfect for making a quick, creamy sauce. It has a milky, sweet flavor similar to ricotta, and it melts wonderfully when stirred into hot ingredients.
With fall weather creeping in, I hope you enjoy this hearty one-dish meal.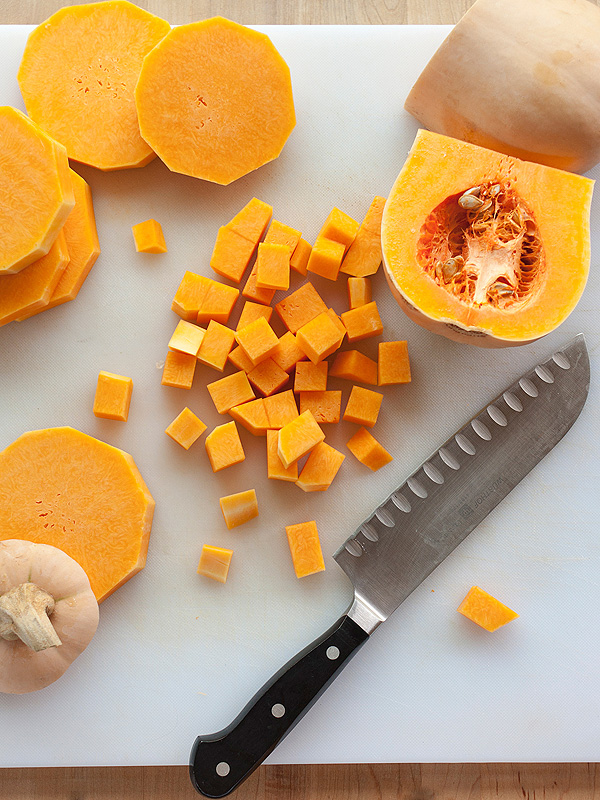 Emma Christensen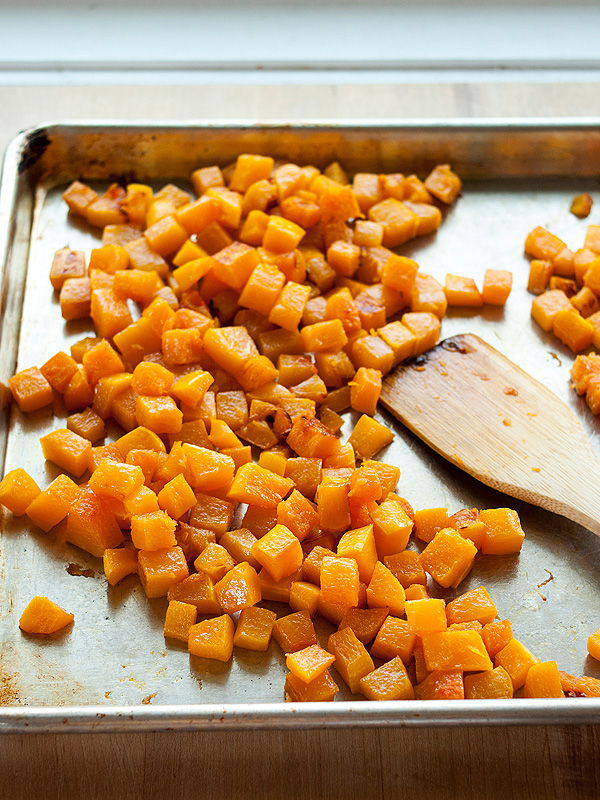 Emma Christensen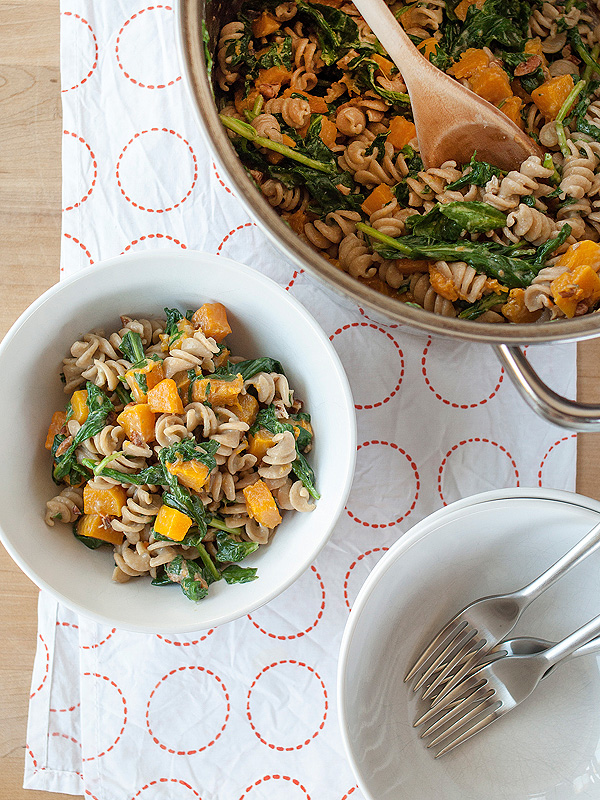 Emma Christensen
Butternut Squash and Wilted Spinach with Whole Wheat Pasta
Serves 4-6
1 small butternut squash (about 2 lbs.)
1 tbsp. olive oil
1 tsp. salt, divided
½ cup whole pecans
½ lb. whole wheat pasta
½ cup mascarpone cheese
½ cup grated parmesan cheese
1 tbsp lemon juice (from ½ lemon)
1 bag (6-8 oz.) baby spinach
1. Arrange two racks in the oven, one in the top third and one in the lower third. Preheat oven to 450 degrees.
2. Peel the squash, scrape out the seeds and cut squash into ½-inch cubes. In a medium bowl, toss the cubes with a tablespoon of olive oil and ½ teaspoon salt, and spread them in a single layer on a baking sheet. Roast on the lower rack in the oven until the squash is tender and beginning to show caramelized brown spots, 25 to 30 minutes. Stir the cubes every 15 minutes. Remove from the oven and set aside.
3. While the squash is roasting, spread the pecans on a second baking sheet and roast on the top rack until browned and very fragrant, 4 to 5 minutes. Nuts roast quickly at this high temperature, so keep a close eye on them and remove if you see any of the nuts beginning to burn. Transfer the roasted nuts to a cutting board. Roughly chop when cool enough to handle, then set aside.
4. When the squash is ready, bring a large pot of salted water to a boil over high heat and cook the pasta until it is al dente (cooked through but still firm). Scoop out a cup of pasta water and set it aside. Drain the pasta.
5. Return the pasta to the pot and set it over low heat. Stir in the mascarpone, parmesan cheese, lemon juice and ½ teaspoon salt. When the cheese has melted and become creamy, add the spinach and stir until the spinach is wilted, 3 to 5 minutes. Add the roasted squash and chopped pecans.
6. If the pasta seems too thick and sticky, stir in a little of the reserved pasta water until creamy again. Taste and add more salt and pepper if desired. Serve immediately.