Jamie Deen On Family Cooking Time and Surviving Scandal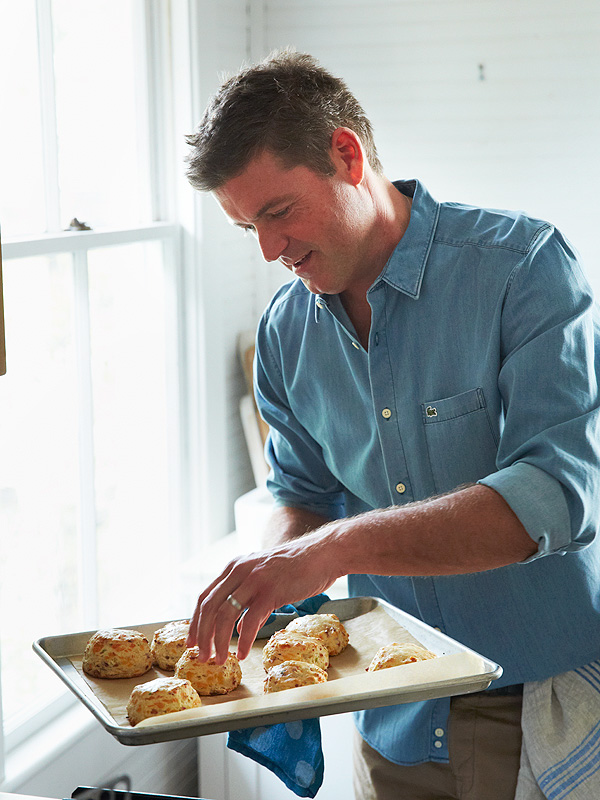 John Kernick
Beware, food lovers. There's another cooking member of the Deen family on the horizon, and he's just seven years old.

Jack Deen, son of Jamie Deen, has been spending time in the kitchen with his famous family, and is sharing some recipes in his dad's new cookbook.
Jamie Deen, 46, has released Jamie Deen's Good Food, a family cookbook that includes a handful of Jack's favorite kid-friendly recipes. "Whenever our family gets together, we spend a lot of time in the kitchen," says Deen. "I let Jack get in the kitchen and help me. One of the earliest responsibilities of parents is to introduce their kids to food."
The cookbook contains recipes from the highbrow (stuffed pork loin with figs) to the simple (butter and cane syrup on white bread). "These are all recipes that have meant a lot to my family," says Deen. "I'd never call myself a chef, but I love to cook, and these are recipes that taste good."
As for the kid-friendly recipes, Deen introduces several desserts. "We have watermelon kiwi pops," he says. "Jack loves fruit more than anything in the world. So I had to include that recipe." There are also recipes for eggs, cookies, smoothies—and his famous cheddar bacon biscuits (recipe below).
Although some of the foods could be fattening—the peanut butter balls are clearly not low-cal—Deen says all of the food can be enjoyed in moderation. After losing 45 pounds earlier this year, Deen is very conscious of his diet. "I weigh myself every day," he says. 'If I gain a pound, I take care of it. I run three miles a day about five times a week. So I don't deprive myself."
Deen says that the book is more than a compilation of recipes. "Readers will get an idea of our family," he says. "They'll learn how we live our life and how we spend our time."
And after the scandal that rocked his mother this summer, there are a few things about the family that Deen wants everyone to know. "My mother treats everyone by their character, no matter who they are or what their background is," he says. "She is not what everyone said she was." As the scandal progressed, the family drew on each other for strength. "We never had a huge pity party," he says. "We didn't draw the curtains closed. We spent time together as a family. She spent time with her grandchildren. And when it was all done and the lawsuit was dropped, we didn't pop a bottle of champagne. We just focused on each other as a family and focused on what was important."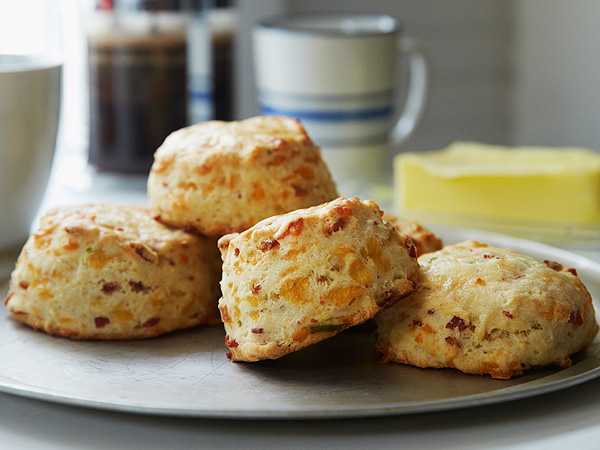 John Kernick
Jamie Deen's Bacon Cheddar Biscuits
Makes 12 biscuits
8 oz. bacon, chopped
1¾ cups all-purpose flour, plus more for dusting
1½ tsp. baking powder
1 tsp. sugar
½ tsp. kosher salt
½ tsp. baking soda
1 green onion, thinly sliced
4 tbsp. unsalted butter, chilled and cut into cubes
¾ cup grated cheddar cheese
¾ cup buttermilk, plus more for brushing
1. Preheat the oven to 400°F and line a sheet tray with parchment. In a large skillet, cook your bacon over medium-high heat until crisp. Remove it with a slotted spoon to a paper towel–lined plate to cool. Set aside 1 tablespoon of the bacon drippings in a small bowl.
2. In a large bowl, whisk together the flour, baking powder, sugar, salt, baking soda, green onion, and cooled bacon. Using a fork, cut the butter into the dry ingredients until the mixture looks like coarse crumbs, then stir in the cheese.
3. Dig a well in the center of your flour and slowly stir in the buttermilk and reserved bacon drippings, just until the dough is sticky but still a bit crumbly on the bottom of your bowl. Dust your work surface with some flour and dump the dough onto your surface and knead three or four times until all the loose crumbs come together. Pat into a rough round shape with your hands and press the dough to a ¾-inch thickness. With a 2¼-inch-round biscuit cutter, cut out 12 biscuits, making sure you do not twist.
4. Place the biscuits on the prepared baking sheet, allowing 2 inches of space between each one. Brush the tops with some buttermilk. Bake the biscuits for 15 minutes, until the tops are lightly golden, rotating the pan halfway through baking.
—Steve Helling