Treat Yourself To Dark Chocolate-Dipped Cereal Squares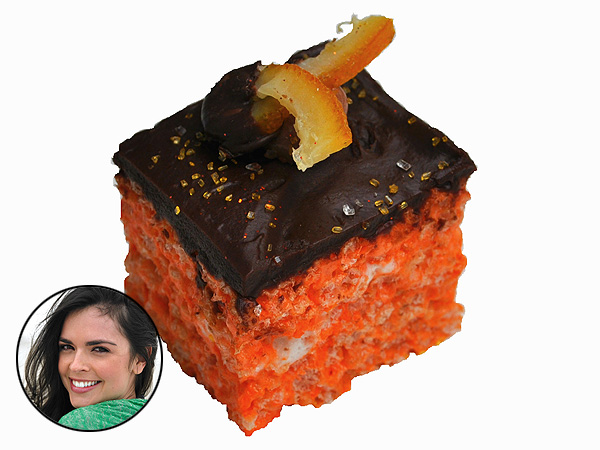 Courtesy Treat House, Inset: Miki Duisterhof
Admittedly, the first thing that comes to mind when seeing these rice cereal treats from Katie Lee is a traffic cone.

But get past the Cheeto orange, and you won't be able to stop eating them.
The TV food personality and cookbook author created the recipe for NYC's Treat House, but these little squares are easy to make at home.
Why mess with a classic? Lee's version upgrades the dessert from after-school snack to dinner party material. Imagine the nostalgia of biting into a Rice Krispies treat paired with the grown-up flavors of sweet candied orange and fudgy dark chocolate. Plus, these look extra fancy—perfect if you're aiming to impress a co-worker or in-law. (You know what they say: Bake it until you make it.)
These guys are dairy-free, but you'd never be able to tell. A total game-changer for any lactose-intolerant snackers out there!
If you're in NYC, eat one of these for a good cause: Throughout the month, Treat House is donating ten cents from every one purchased to Food Bank for New York City.
Dark Chocolate Candied Orange Treat
Makes 48 1.5"x 1.5" squares
18 oz. mini marshmallows
3  oz. dairy-free buttery spread
2  tbsp. orange zest
½ tsp. natural orange food coloring
12 oz. crisp rice cereal
Candied orange peels (available at most candy stores)
Ganache Topping:
10 oz. non-dairy whip topping
10 oz. dark chocolate                            
1. In a large sauce pan, melt the mini marshmallows and buttery spread over low heat, stirring constantly. When the mixture is almost melted, stir in the orange zest and food coloring. Remove from heat, and let sit 2 minutes to cool.
2. Pour the crisp rice cereal into a large bowl. Using a rubber spatula, scrape the marshmallow mixture over the cereal and gently fold all of the ingredients together.  When thoroughly combined, transfer the cereal mixture to a 9″x13″ baking dish sprayed with non-stick cooking spray, pressing into an even layer. Let cool for 1 hour before cutting into squares.
3. To make the ganache topping, melt the dark chocolate in a microwave at 20-second intervals, being careful to not let it get too hot (chocolate burns easily in the microwave!). In a small sauce pan, bring the non-dairy whip topping to a boil over low heat. Remove from heat, and add the melted dark chocolate. Mix until just smooth. Once cool, spread it evenly over the top of the cereal base, reserving a small amount. Let treats set overnight.
4. Cut the treats. Pipe a small dot of remaining ganache on each treat. Place 1-2 candied orange peels on top of each ganache dot. Serve and enjoy!
*Note: Lee makes her own candied orange peels—here's the recipe if you want to DIY it. 
Candied Orange Peel
2 oranges
2 cups cold water
2 cups granulated sugar
1. Cut the ends off of each orange. Carefully slice the peel away from the fruit in even pieces. Trim the pieces into rectangles and slice these into 1/8th inch long slices.
2. Put the orange peel slices into a sauce pan and pour in water until the strips are just covered. Bring to a boil, then drain the water out. Repeat this process three times. Pour in water one more time until the strips are just covered, then pour in granulated sugar. Bring this to a boil, then reduce to low heat and let simmer for 30 minutes.
3. Take the sauce pan off the flame and let the orange peels sit in the syrup until needed. When ready to decorate the treats, take the orange slices out of the syrup and pat them dry with a paper towel.
—Marissa Conrad