Don't Play Bartender: Spoon Fork Bacon's Top Entertaining Tips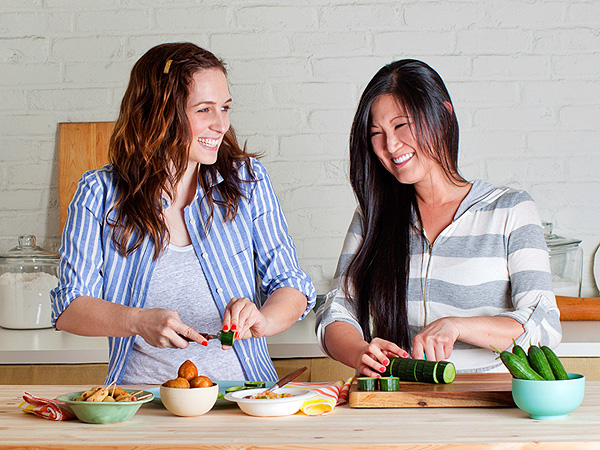 Courtesy Spoon Fork Bacon
Hi, guys! We're Jenny Park and Teri Lyn Fisher of the blog Spoon Fork Bacon. We're a food stylist/recipe development/photography duo based out of Los Angeles. Bottom line, we're obsessed with food.

We'll be writing for PEOPLE.com every week, and we are so excited to share our take on some amazing celebrity recipes. We'll also be sharing tips on cooking, entertaining, how to make your food look as beautiful as it tastes and so much more.
We're also excited that fall's just around the corner because that means cooler weather is coming our way. We can't wait to break out the cute scarves and boots and get all bundled up—and start hosting some cozy fall parties.
It can be tough to have a lot of friends over—sometimes, you feel like you're spending the whole party in the kitchen while everyone else is having fun. But we've become pros at staying on top of our hostessing duties while still having time to enjoy our company. Some of our secrets:
1. A self-serve taco bar, potato bar or sandwich bar looks cute and has a hidden perk: Your guests are doing most of the work. Once you've set the food up you can forget about it. Plus, you're giving your guests the freedom to eat how they like, which is perfect if you have friends with allergies or other eating restrictions.
2. Don't play bartender. Instead, set out a large bucket filled with ice and a variety of beverages. Your guests can see what's on hand and grab whatever they want. That way, you have more time to roam and mingle.
3. You can never have too many napkins, or too much ice. Always buy more than you think you need. Nothing is worse that being near the end of the party and running out of essentials—the last thing you want to do is waste time running to the store.
4. Don't be afraid to "cheat" on dessert! Your guests will appreciate cookies from a local bakery just as much as they would a homemade treat.