Mix Bright Colors Into Your Next Bash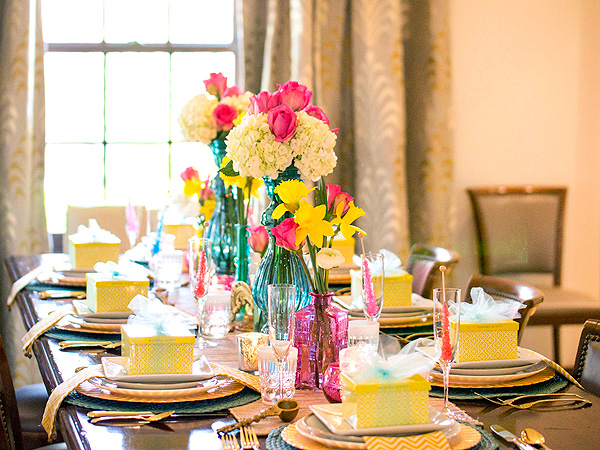 Courtesy Kendra Scott
Pantone just released the "it" colors for spring 2014, and it looks like bold is back.

A shade called "Dazzling Blue" topped the list, with vivid orange, yellow and purple right behind it. Which leaves us wondering: How do we throw a colorful dinner party without looking like a rainbow exploded on the dining table?
The trick is balancing the bright with softer shades, says Kendra Scott, a jewelry designer known for using playful colors in her pieces (spotted on Eva Longoria, Hilary Duff and Sofia Vergara). Also an expert entertainer, Scott shared photos of her last colorful tablescape and advice on how to pull off something similar. 
1. Start with a sand-colored or bamboo table runner as a base. The earth tone adds a warmth to the table, creating the right foundation to display brighter colors, Scott says. "It's a great buy to use as a go-to for every party you host," since you can pair it with so many different color schemes, she adds.
2. Pair crisp white plates with placemats in a softer color, like hemlock (a soft green).
3. Choose bright napkins with a whimsical print. "The great thing about napkins is that they are so inexpensive," Scott says. "You can update your tablescape with new napkins in fun colors every season. And prints are really hot right now, from chevron to quatrefoil."  Scott used yellow chevron napkins above, but thinks freesia (a light, bright purple) would look great, too.
4. Stick to simple glassware, but serve a bright drink! "Cocktails are another fabulous way to add a splash of color to your party, and I love the idea of using rock candy as a garnish," Scott says.
5. Tall, bright flowers pop in candy-colored glass vases, but balance the look with clear glass or classic mercury candleholders.
"One of the best ways to set the mood and overall theme for a party is by using color," Scott says. "I've had a Moroccan party, an Oscars party and even an African-themed party, and I always go all out!"