Sunny Anderson's Perfect World Is Covered In Pesto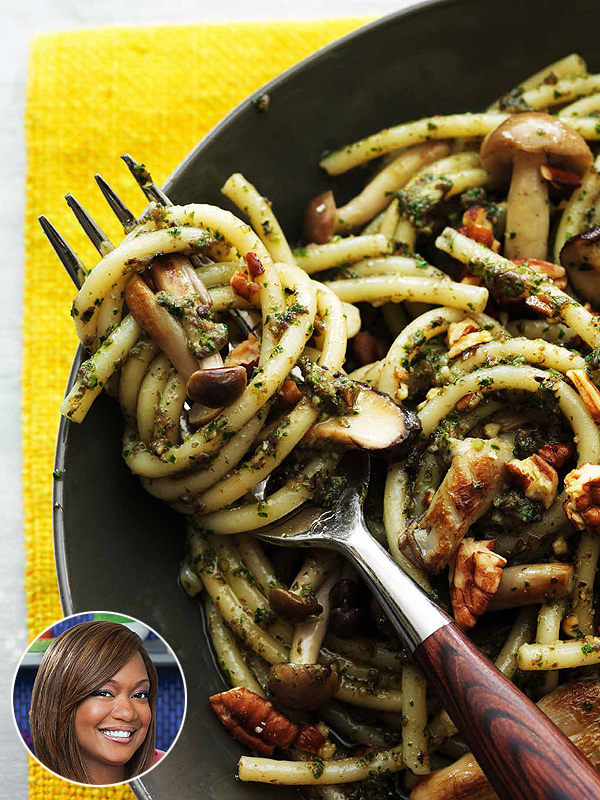 John Lee
Sometimes all Sunny Anderson has to do is open the refrigerator, and a new recipe is born.

"I had a lot of collard greens and a bunch of collard greens takes up a lot of space in your fridge, I wanted to get rid of them," the Food Network star tells PEOPLE. "I was like, 'Well, it's leafy and I like pesto, maybe I'll make some pesto.' It really just popped into my head like that. I was like, 'If I'm gonna use collards, why not use pecans?"
Throw in some kalamata olives, cloves, mushrooms and parmesan and you have Anderson's Creamy Collard Pesto with Pasta and Mushrooms, just one of the delicious and affordable comfort foods you'll discover in her new cookbook, Sunny's Kitchen: Easy Food for Real Life, which uses only easy-to-find ingredients and dishes out lots of store-bought short cuts that your busy life will appreciate.
For the Cooking For Real host, pesto is perfection—"a simple template" that's easily prepared after a quick stroll down the produce aisle.
"I love pesto, there is just so many things you can do," says Anderson, who includes three pesto-based recipes in her book. "Basically just go to the produce department and anything that's leafy and green put it in the food processor with cheese and nuts and olive oil and it's gonna be delicious."
Second to pesto on her list of most-revered ingredients? Nuts, which are much better roasted than raw. "I have every single type of nut in my freezer," she explains. "The thing about toasting nuts is it brings them back to life. They're kind of dormant when you get 'em. You put a pecan to your face and smell it and you're like, 'Okay it's a pecan.' But when you toast it you don't have to put it to your face, it perfumes the room."
The moment your guests walk in the door, their nose will tell them you've been cooking something special. Try Anderson's "simple and quick" pesto recipe that "people really latch onto."
Creamy Collard Pesto with Pasta and Mushrooms
Serves 4 to 6
For the pesto:
Kosher salt and freshly ground black pepper
1 bunch collards, ribs discarded and leaves roughly chopped
¾ cup pecans
3 garlic cloves
6 oz. Parmesan cheese, 1 oz. grated, 5 oz. broken into chunks
½ cup kalamata olives, pitted
Olive oil
For the pasta:
2 tbsp. olive oil
8 oz.  mushrooms, lightly chopped
Kosher salt
13 oz. perciatelli, bucatini, or linguini pasta, cooked al dente according to package directions
1. Blanch the collards. Bring a large pot of salted water to a boil. Blanch the collards until they're bright green, about 1 minute. Remove, shake off excess water, and transfer to a food processor.
2. Make the pesto. In a dry skillet, toast the pecans until fragrant. Chop and set aside half. Transfer the other half of the pecans to the food processor with the 5 oz. of chunked Parmesan and all the olives. Pulse to combine and then, with the food processor on, drizzle olive oil in a slow stream until the pesto comes together. Taste and add salt only if needed (the olives and cheese often do the trick). Add a few grinds of black pepper to taste.
3. Start the sauce. Heat the olive oil in a large straight-sided pan over medium heat. When it begins to swirl, add the mushrooms and a pinch of salt and cook, stirring, until the mushrooms are wilted, about 8 minutes.
4. Finish the pasta. Add the pesto and pasta to the pan and stir to coat. Serve with the reserved chopped pecans as garnish.
—Amy Jamieson, additional reporting by Catherine Kast