Duff Goldman Unveils World's Largest Cheesecake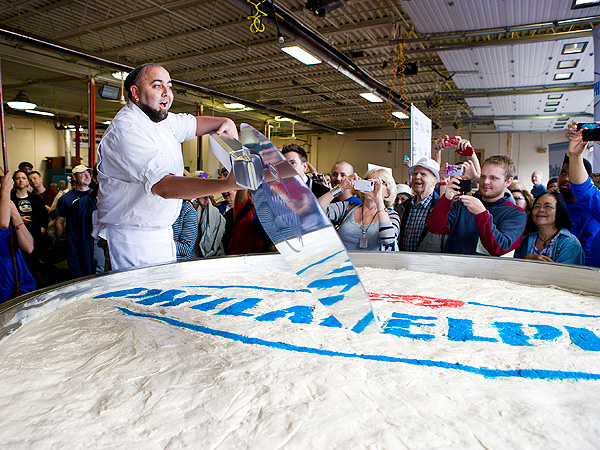 Courtesy Kraft
Things we learned this weekend:
1. There is an annual cream cheese festival in Lowville, NY that serves a 1,200-pound cheesecake. (That is heavier than your average cow.)

2. This was apparently not nearly big enough to break the record for world's biggest cheesecake, which was 4,703 pounds. (Still counting? That's about four cows.)
But don't worry, because on Saturday Ace of Cakes star Duff Goldman trekked up to Lowville to unveil a 6,900-pound cake crafted by the folks at Philadelphia cream cheese, shattering both the Guinness record and any local resident's chance at a decent cholesterol test anytime soon.
We will give props to Goldman and the festival because the whole thing was a fundraiser for Share Our Strength, an organization working to end childhood hunger. Festivalgoers gave donations in exchange for a slice of the cake, and all were encouraged to plan their own community bake sales for Share our Strength.
Because you will probably never slice into a 31-inch-deep cheesecake (unless you start planning your 2014 trip to upstate New York), Goldman shared a consolation prize with PEOPLE: a recipe for a regular-sized "Good Ass Old-School Classic" cheesecake.
Duff Goldman's Good Ass Old-School Classic Cheesecake
Crust:
2 cups graham cracker crumbs
½ tsp. cinnamon
Pinch powdered ginger
Pinch nutmeg
Pinch salt
2 tbsp. sugar
1 stick unsalted butter, melted
Filling:
1 pound cream cheese, softened
3 eggs
1 cup sugar
1 pint sour cream
Zest of 1 lemon
1 tsp. vanilla extract
1. Preheat oven to 325 degrees.
2. In a mixing bowl, whisk the crust ingredients until even. Spray an 8″- 9″-diameter round pan with nonstick spray and cover the bottom with parchment paper.
3. Transfer the crust mixture to the cake pan. Press the crumbs down with something heavy and flat, like the bottom of a pint glass, covering the base of the pan and an inch up each side. Chill crust until the butter sets, about 5-7 minutes.
4. In a large bowl, beat cream cheese on low speed with a stand or hand mixer until just smooth, being careful not to overbeat. ("If you beat too much air into it, your cheesecake will be mealy, not creamy. And it will soufflé and rise and fall and crack and just plain suck," Goldman says.) Add the eggs, one at a time, beating slowly until combined and stopping between each egg to scrape the sides of the bowl. Gradually add sugar and beat about two minutes.
5. Add the sour cream, zest and vanilla. Keep scraping down the sides of the bowl with a rubber spatula. Pour the filling into the crust-lined pan and bang the bottom of the pan on the counter, letting the air bubbles rise up.
6. Place the cake pan in a large roasting pan and pour hot water into the roasting pan until the water is about halfway up the sides of the cake pan. Bake for 40-45 minutes. The cheesecake will look a bit undercooked, but it will set up once out of the oven.
7. Let the cheesecake cool at room temperature for 30 minutes, then place it in the freezer for about 3 hours. Pull it out and run a paring knife around the edge of the pan to loosen the cheesecake, then quickly turn the pan over onto a piece of parchment paper and bang on the bottom of the pan. Lift the pan and quickly and flip the cheesecake over onto a cake plate.
8. To serve, use a non-serrated knife that has been run under hot water and wiped dry.
"Personally, I like canned cherry pie filling with my cheesecake," Goldman says. "If you want to get fancy, you can find all kinds of topping recipes, but none of them are as American as canned cherry pie filling."
—Marissa Conrad