Think All Kale Chips Are Healthy? Think Again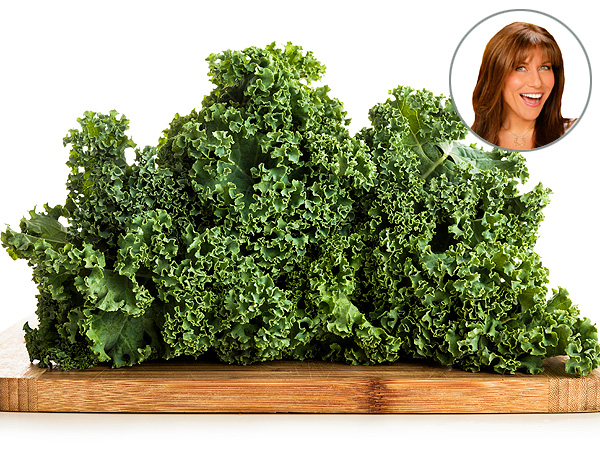 Yoela Chaveco-Cabrera/Getty
Lisa Lillien is the author of the popular Hungry Girl website and email newsletter, featuring smart, funny advice on guilt-free eating.

She is also the author of eight Hungry Girl cookbooks, five of which debuted at number one on the New York Times Best Sellers list. Read her PEOPLE.com blog every Monday for slimmed-down celebrity recipes and more. 
Celebrities like Julia Roberts, Jennifer Aniston and Anne Hathaway are all huge fans of kale. I'm a huge fan of kale. But lately, food manufacturers have gone a little nutso trying to find ways to create "healthy" kale snacks.
And to be quite honest, I think they've failed. While kale itself is extremely nutritious—it's loaded with vitamin K, has about 3 grams of protein per cup and has been linked to cancer prevention—packaged kale chips are another story.
Next time you're at the market, flip over a few bags and see for yourself. Most of them are loaded with fat and have stats similar to potato chips! Plus, the serving sizes are crazy small. One little bag I saw contained 440 calories and 36 grams of fat! To do that to a 32-calories-a-cup superfood really should be illegal.
But until there's an official lobby for kale abuse laws, it's better to buy the veggie raw and make your own low-cal snacks and meals. Here are some of my favorite ways to use kale:
1. Lay 2 cups of kale leaves on a baking sheet sprayed with olive-oil nonstick spray. Mist the leaves with the spray, then sprinkle them with salt. Bake at 425 degrees until crispy, 5-8 minutes. That's it! The whole batch has fewer than 75 calories and around 1 gram of fat.
2. Next time you make a salad, chop up kale leaves and mix them in with your favorite greens—or shortcut it with a kale-included bagged salad mix.
3. Toss kale leaves into your favorite fruit smoothie recipe (Gwyneth Paltrow does this!). You won't even taste the kale, but will get all the benefits.
4. Add some kale to your favorite broth-based soup and simmer until the leaves are tender.
Kale is delicious, and it truly deserves its superstar status. Just beware of the food fakers out there. 'Til next time, chew the right thing…