We Tried It: Burger King's New Low-Calorie Fries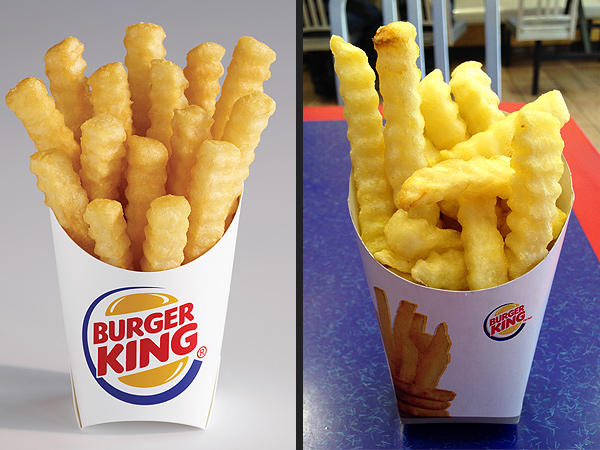 Left: Courtesy Burger King
We love a good pun, and Burger King certainly succeeded with the revamped French fries they launched today: The new "Satisfries" have 40% less fat and 30% fewer calories than their golden-arched competitors.

The schtick on these spuds is that they're the same thick-cut potatoes you're used to, except covered with a thin batter that protects each fry from absorbing too much oil when plunged in the fryer. According to BK, the fries soak up just enough oil to keep them "crispy on the outside and fluffy on the inside."
Okay, King—game on. We hoofed it to the nearest BK this morning to get a batch and see if we were, indeed, satisfried.
Pros: The fries came out warm and, as advertised, fluffy on the inside. They also looked relatively like the gussied-up billboard photo, which is rare for fast food. You can tell they're made with less oil because you don't need a wad of napkins to eat them. Satisfries: also eco-friendly?
Cons: There's a dress shirt in your closet right now that needs washing and starching—and it's probably more crisp than these fries. Even right out of the fryer, they were like limp accordions.
Listen, it's a fast-food fry. There's something strangely addictive about it no matter what it tastes like, and we appreciate Burger King's attempt to go healthier. As long as you don't mentally compare them to the original, you could certainly snack on Satisfries to curb a carb craving—or just use them as a vehicle for scooping up copious amounts of ketchup. That said, a small order still set us back 270 calories, which feels high for something that tastes like it came out of a freezer bag. Prediction: Diet fries are not the wave of the future, but a decent step forward.