WATCH: Jon Hamm, Jimmy Kimmel Argue Over St. Louis-Style Pizza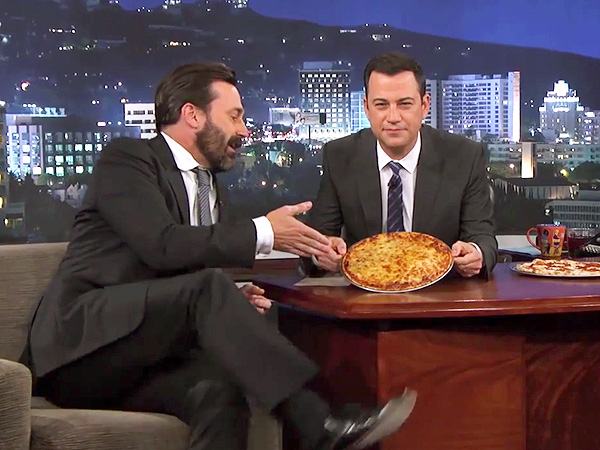 Don't invite Jimmy Kimmel to a pizza party in St. Louis anytime soon.

Calling the city's unusual take on the classic Italian food "terrible," the talk-show host challenged Mad Men's Jon Hamm, a St. Louis native, to a taste-test on Jimmy Kimmel Live Wednesday night.
First, the funnyman gave Hamm a slice from Imo's, the Midwestern city's popular pizza chain that makes its pies St. Louis-style. What's the difference? Unlike deep-dish Chicago pizza and thin, leavened New York pizza, St. Louis-style pizza is made with a thin, cracker-like crust without yeast, a sweet tomato sauce and tangy provel processed cheese. Instead of triangles, slices are cut into squares.
As the actor munched on an Imo slice, Kimmel asked, "How does that taste?"
"Like eleven World Series victories," Hamm joked. "Delicious."
Then he tasted the other, more traditional, pie, which Kimmel said he made the night before at home. (Side note: Kimmel clearly knows his stuff when it comes to pizza prep. He expertly drizzled a little extra-virgin olive oil, sprinkled Parmesan cheese and added fresh basil leaves on top before serving.)
"Please be honest," the host said, "and tell me which pizza you think is better."
"This is delicious pie," Hamm said, taking another bite of the homemade variety, "but I'm going with Imo's," much to Kimmel's disappointment.
"We have a lot of weird stuff in St. Louis," the actor admitted. "Have you ever had toasted ravioli?"
—Nancy Mattia