Thai Curry? No Sweat! Try Jet Tila's Simple Kitchen Secrets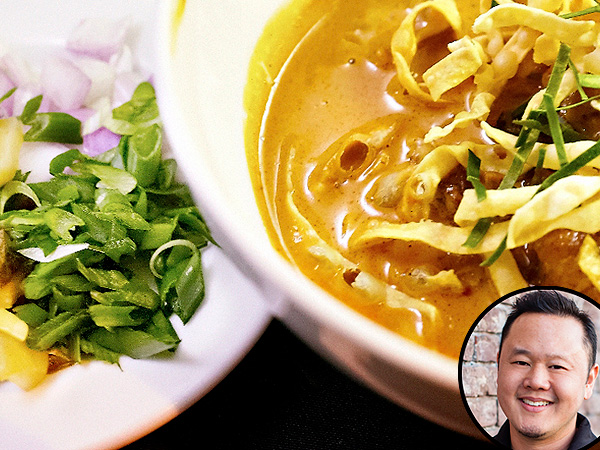 Jet Tila; Inset: Myleen Hollero
Thai curry is one of those foods we love ordering in but can never get right in our own kitchen—it's always missing that zing!

But it's time to cool it with the takeout and heat up our mouths with a spicy, salty homemade curry. Cutthroat Kitchen judge Jet Tila—who is putting together Hollywood's inaugural Thai Food Festival at the Paramount Studios backlot this Sunday—shares his simple tips to coax the right flavors out of any curry.
Milk the right ingredients. "Never buy light coconut milk because the cream of the coconut is what makes curry silky and luxurious," Tila tells PEOPLE. "It's like saying I want thick chowder but using skim milk." Also, never shake the can. For the best flavor: "Scoop out the solid top layer and fry your Thai curry paste in the coconut cream first. Once that paste looks thick like peanut butter, add the rest of the coconut milk and reduce into a sauce."
Skip the salt. Some recipes say you can sub salt for fish sauce, but don't do it, Tila says—you'll miss out on an important depth of flavor the curry needs.
Feeling hot? Nix this tip if you want a milder slurp, but you can make your curry extra spicy by adding a few fresh Thai chilies the last few minutes of cooking, Tila says.
Sweeten the pot. The key to the perfect curry is balancing four flavors: salt, heat, sweet and acid. Just a sprinkle of sugar and a few drops of an acidic juice will do. "I tend to go with brown sugar," Tila says. "It has a nice molasses taste. And a touch of tamarind juice really rounds out the dish."
—Marissa Conrad