Cloudy With a Chance of … a Killer Meatball Recipe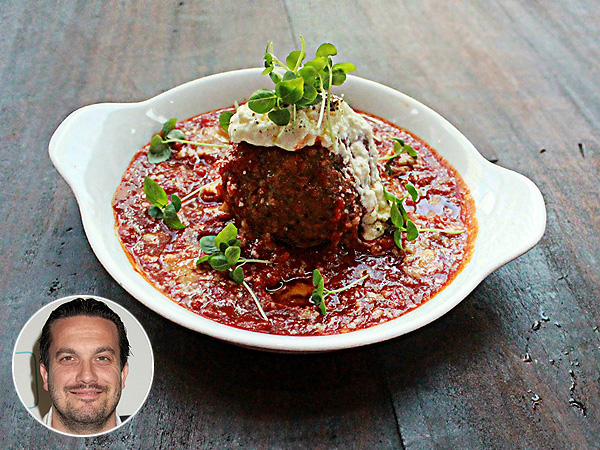 Courtesy Siena Tavern
Shrimpanzees? Tacodiles? Mosquitoast?

It seems that inventor Flint Lockwood's machine that turns raindrops to meatballs has gone awry—because those are some of the food-animal characters it's cranking out in the movie Cloudy With a Chance of Meatballs 2, opening Friday.
We hope he's able to get things back to normal by the end of the flick but, either way, the opening has us seriously craving spaghetti and meatballs. Or a meatball hoagie. Or really, just a giant meatball.
It made us think of Siena Tavern in Chicago, where Top Chef season five contestant Fabio Viviani serves a meatball that's a meal in itself: a softball-sized orb of Wagyu beef that sits on a bed of tangy tomato sauce and is covered in a blanket of ricotta. Trust us, eat this meatball and you will dream about this meatball.
The thing even has its own Twitter feed.
After consulting with the meatball via some saucy 140-character messages (kidding!), Viviani agreed to share his recipe, made with sirloin instead of Wagyu. Unfortunately, if you want a tacodile, you're on your own.
Fabio Viviani's Meatball
Makes 10 6-ounce meatballs
1 hoagie or sub roll
½ cup heavy cream
3 lbs. ground sirloin
1 small onion, diced
4 cloves garlic, minced
1 lb. soft ricotta cheese
1 cup parmesan cheese, grated
10 leaves basil, chopped
2 eggs
¾ cup ground Panko bread crumbs
1 tsp. ground nutmeg
Zest of 1 lemon
Kosher salt and cracked black pepper, to taste
Tomato sauce
1. Soak bread in heavy cream.
2. Combine soaked bread with rest of ingredients in a large bowl and mix with a hand or stand mixer until well incorporated.
3. Place the mixture in the fridge to set, about 2 hours.
4. Roll out 10 meatballs and place them on a baking pan. Bake at 375 degree for 20 minutes, then reduce the heat to 325 degrees and bake another 10-15 minutes.
5. Remove meatballs from oven and place in a large pot with your favorite tomato sauce. Simmer for 1 hour until meatballs are extra tender. Serve over a bed of tomato sauce.
—Marissa Conrad