Recipe Redo: Bob Harper's Tomato and Olive Pasta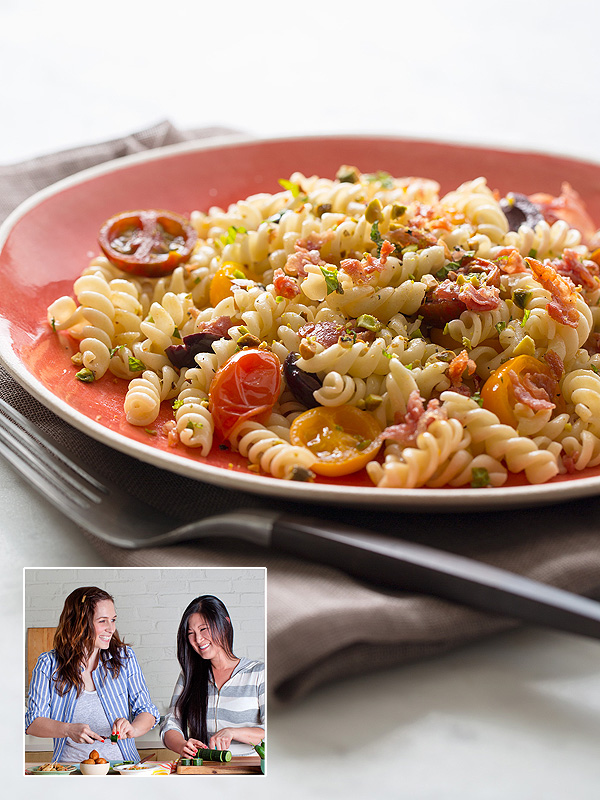 Courtesy Spoon Fork Bacon
Jenny Park and Teri Lyn Fisher are the food stylist/recipe development/photography duo behind the blog Spoon Fork Bacon. Visit PEOPLE.com every Friday for their take on celebrity recipes, plus tips on cooking, entertaining, food photography and more.
Biggest Loser trainer Bob Harper makes an awesome Tomato and Olive Pasta—it's simple, loaded with flavor and a great dish to have when you're in the mood for pasta but don't want to eat something that'll weigh you down.

But when we headed to the kitchen to make it ourselves this week, we were craving something seasonal: heirloom cherry tomatoes.
It's almost time to say goodbye to these super-sweet tomatoes for the year—although you can still find them for a great price at farmers' markets and grocery stores—so we decided to swap them in for the canned tomatoes Harper uses. We also subbed mint for the basil—it might seem a little strange, but it adds an unexpected freshness to every bite!
Lastly, to bulk up the bowl a little, we topped our noodles with crispy prosciutto bits. We enjoy our proteins…a lot. At ⅓ of a cup, it was just enough to add a pop of flavor without killing the lightness of this dish.
What's great about this pasta is that it's such a perfect base to let you go to town and add whatever else suits your taste. Here's our version, but go wild with your own!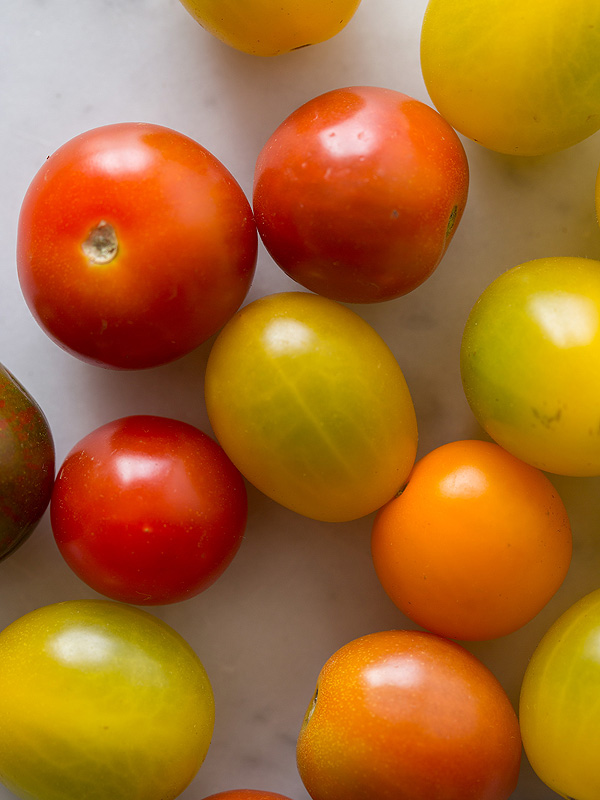 Courtesy Spoon Fork Bacon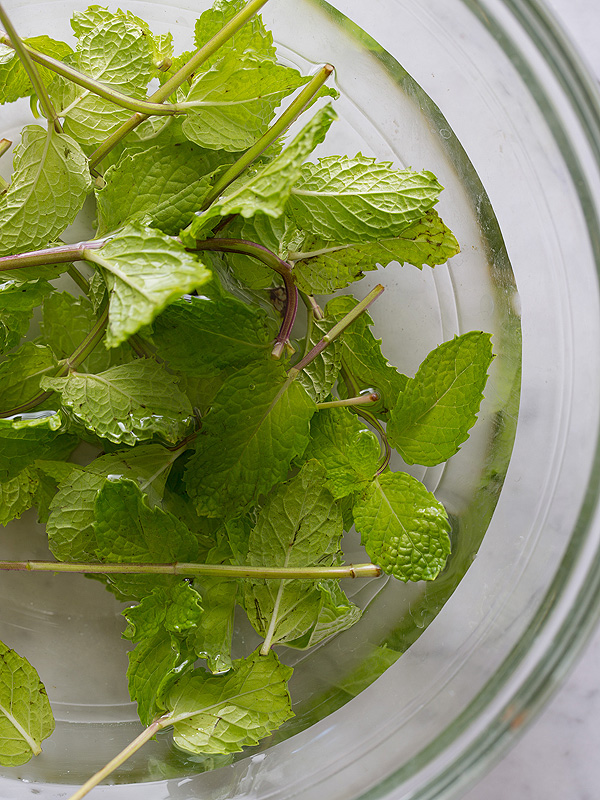 Courtesy Spoon Fork Bacon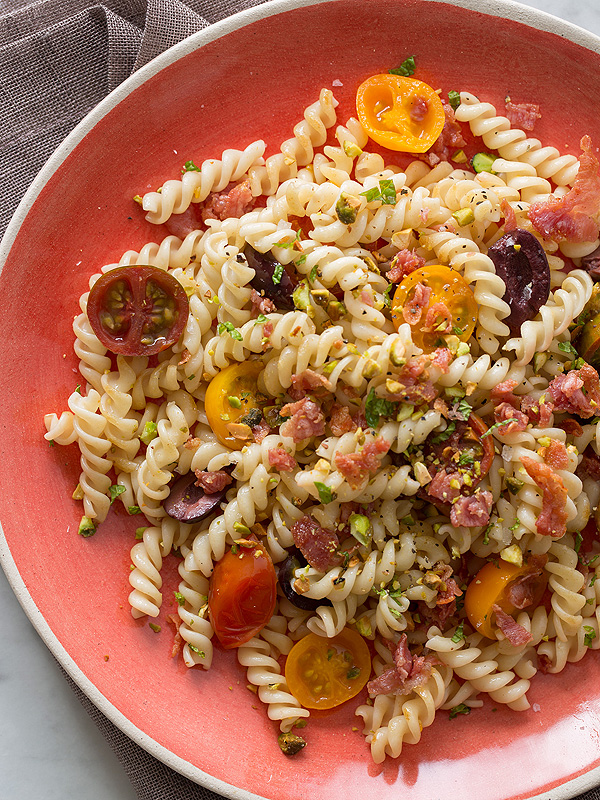 Courtesy Spoon Fork Bacon
Heirloom Tomato and Olive Pasta
Serves 6
1 lb. fusilli pasta (we prefer high-fiber noodles)
2 tbsp. extra virgin olive oil
2 garlic cloves, thinly sliced
¼ cup kalamata olives, pitted and sliced
18 heirloom cherry tomatoes, halved
Salt and pepper, to taste
⅓ cup crispy prosciutto (or bacon), crumbled
¼ cup pistachios, crushed
6 mint leaves, chopped
1. Fill a large pot with water and bring to a boil. Season with salt and add the pasta. Stirring occasionally, boil pasta until al dente, 6-7 minutes. Reserve ½ cup of the cooking liquid, and drain.
2. While pasta is cooking, heat oil in a large skillet over medium heat. Add garlic and olives and sauté until garlic is tender and golden brown, 2-3 minutes Add tomatoes and cook for 5 minutes or until tomatoes are tender.
3. Add pasta and ½ cup of reserved pasta water to olive mixture and toss together. Season with salt and pepper. Top pasta with crispy prosciutto bits, crushed pistachios and mint.