You Ask, We Deliver: Doughnut Bread Pudding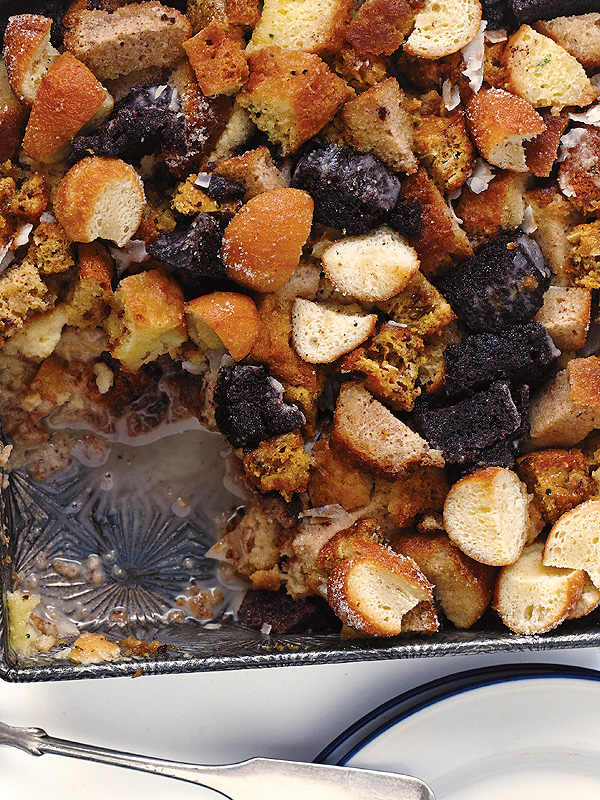 Iain Bagwell
We track down the answers to your burning food questions!

Q: Every Sunday morning, my husband goes out to the bakery and comes home with a dozen doughnuts for the family. (What a guy, right?!) As much as we love doughnuts, we always end up with several uneaten ones that eventually go stale. Is there anything I can do with the leftovers? —Natasha, Hilton Head, S.C. 
A: When life gives you stale doughnuts, make doughnut bread pudding! Well, that's what Stephen Collucci, pastry chef at Colicchio & Sons restaurant in N.Y.C., would do. In his new book Glazed, Filled, Sugared & Dipped, Collucci uses day-old doughnuts in place of plain bread to create an extra-decadent riff on the dessert classic. He, of course, makes his fried rings from scratch, but the recipe is built for using store-bought leftovers.
"Bread pudding is a surefire crowd-pleaser and a great way to make use of bakery items that would otherwise be destined for the trash bin," Collucci says. "While this recipe calls for basic cake doughnuts, it's entirely open to customization: You can use any doughnuts you wish."
Try his simple recipe this weekend—and then call us over because this dish looks too good to keep in the family.
Doughnut Bread Pudding
Serves 8
2 cups heavy cream
2 cups whole milk
¾ cup sugar
1½ tablespoons vanilla extract
¼ tsp. salt
4 large eggs
3 large egg yolks
10 leftover cake doughnuts
1. Preheat the oven to 300°F.
2. In a medium saucepan set over medium heat, combine the cream, milk, sugar, vanilla, and salt and bring it to a simmer.
3. Meanwhile, in a separate medium bowl, whisk together the eggs and egg yolks until smooth. Once your pot has reached a full simmer, slowly pour half the cream mixture into the egg mixture, whisking constantly. Return the mixture to the saucepan and remove the pan from the heat. Let the mixture cool. Strain the custard through a fine-mesh sieve and set it aside.
4. Tear the doughnuts into thimble-size pieces and arrange them tightly in a round baking dish that's about 7 inches in diameter or in an 8 × 8-inch baking dish. Pour the custard over the doughnut pieces, filling the dish just so that the doughnuts are barely covered. Let sit for 10 to 15 minutes so that the doughnuts absorb the custard.
5. Bake the pudding until the custard is fully set in the center, about 50 minutes. Serve immediately.
—Sonal Dutt