Recipe Redo (Guilt-Free!): Al Roker's Pulled Pork Sandwiches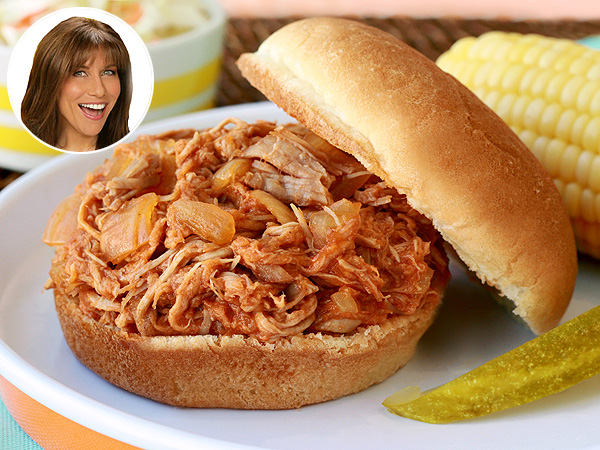 Courtesy Hungry Girl
Lisa Lillien is the author of the popular Hungry Girl website and email newsletter, featuring smart, funny advice on guilt-free eating. 

She is also the author of eight Hungry Girl cookbooks, five of which debuted at number one on the New York Times Best Sellers list. Read her PEOPLE.com blog every Monday for slimmed-down celebrity recipes and more. 
I love Al Roker, and I love pulled pork.  So when I saw Al's recipe for Pulled Pork Sandwiches, I headed straight for the kitchen to dream up a lower-fat version. My husband, Dan, is from Memphis, so I know a thing or two about barbecue—including how to lighten it up without sacrificing flavor.
Now, pork isn't necessarily heavy. Remember, it's "the other white meat." But certain cuts have more fat than others. Al's recipe calls for pork shoulder, one of the fattier cuts. I do use some (trimmed of excess fat), but I mix it with lean pork tenderloin. The blend is off-the-charts amazing!
When it comes to sauce, I'm serving up my not-so-secret formula. Tangy, sweet and just right, this cider vinegar is a must. I'm pretty sure even Al would approve. (Fun fact: He dished out his pulled pork at last year's South Beach Wine & Food Festival.)
'Til next time, chew the right thing!
HG-ified Pulled Pork Sandwiches 
Serves 6
1 cup canned tomato sauce
½ cup ketchup
2½ tbsp. cider vinegar
2½ tbsp. brown sugar (not packed)
2 tsp. garlic powder
12 oz. lean boneless pork tenderloin, trimmed of excess fat
12 oz. boneless pork shoulder (the leanest piece you can find), trimmed of excess fat
¼ tsp. salt
⅛ tsp. black pepper
2 cups onion, roughly chopped
6 small hamburger buns (each with 120 calories or less)
Crushed red pepper, optional
1. Preheat oven to 325°F.
2. In a large oven-safe pot, mix tomato sauce, ketchup, vinegar, sugar and garlic powder.
3. Season both types of pork with salt and pepper and add to the pot. Top with onion and lightly stir. Cover and bake until cooked through and tender, about 3-4 hours.
4. Transfer pork to a large bowl. Holding the meat in place with a fork, scrape across it with a second fork to shred it. Return shredded pork to the pot and mix well. Assemble sandwiches and enjoy!
1 sandwich (⅙ of recipe): 345 calories, 7.5g fat, 840mg sodium, 42g carbs, 2g fiber, 16g sugars, 28g protein