Cooking for Mindy Kaling? Make Shrimp and Grits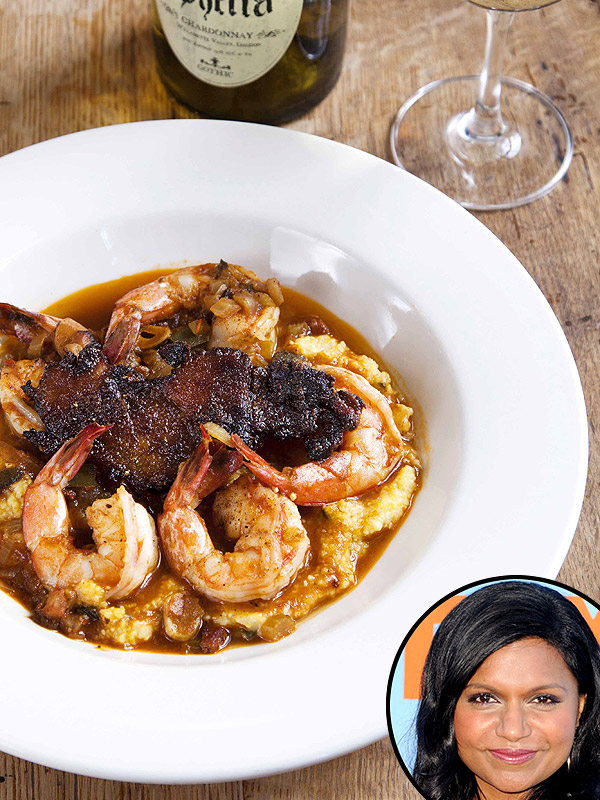 Inset: Kevin Winter/Getty
We're gearing up to watch the second episode of The Mindy Project's new season tonight, and we're already hungry. A woman after our own stomachs, Mindy Kaling's character loves to eat and last week's episode fit in plenty of food jokes—from the actress covering herself in a whipped cream bathing suit to eating an entire loaf of bread ("I just do that every night, dawg.").

Even outside of TV, we can count on Kaling to make us laugh about food. "I think I was the only person who ate food at the bbq I was at today—and I'm fine with that—I just want everyone to know that I know," she Tweeted recently, while an Instagram shot showed her with a Mike's frozen margarita pouch ("One of the great discoveries this Montana wedding weekend").
But all jokes aside, when the actress Instagrams a dinner menu from NYC  southern-style restaurant Peels with the straight-up caption "I challenge u to find a better menu," we know the food must be seriously good. (And c'mon: Crispy cheese curds? Fried chicken with black pepper gravy? There actually may not be a better menu.)
Our Mindy project: We got Peels chefs Preston Madison and Ginger Pierce to surrender the recipe for their most popular dinner dish, classic shrimp and grits.
The restaurant uses tasso (pork cheeks dry-rubbed with Cajun spices) in its version, but recommends home cooks sub in andouille sausage to give the dish a rich, smoky flavor. Easy! The only lingering question: Mindy, when are you coming to dinner?
Shrimp & Grits
2 cups dry grits
2 jalapeños, seeded and diced
2 cups cheddar, grated
3 tbsp. butter, divided
Salt and pepper, to taste
3 tbsp. andouille sausage, diced
2 garlic cloves, sliced
12 shrimp, shelled, deveined and cut in half lengthwise
½ cup beer
Fresh chive or tarragon leaves, for garnish
1. In a large saucepan over medium heat, bring 6 cups water to simmer and slowly whisk in grits. Turn the flame to the lowest setting and continue to stir grits until they begin to thicken. Stir intermittently until grits are cooked through, about an hour. (*Ed. note: You can sub in quick-cooking grits, which are ready in 5 minutes—just follow the prep instructions on the package.)
2. Add jalapeños, cheese and 2 tbsp. butter; season with salt and pepper. Keep grits hot until ready to serve.
3. In a medium sauté pan, heat andouille over medium high heat. Add sliced garlic and shrimp. When garlic is slightly toasted, add beer, whisk in remaining butter and cook until shrimp are cooked through.
4. Serve in a shallow bowl with an equal ratio of grits to shrimp sauce. Garnish with fresh chives or tarragon.
—Marissa Conrad