What a Hoot! Brighten Up Snack Time with Cute Owl Crackers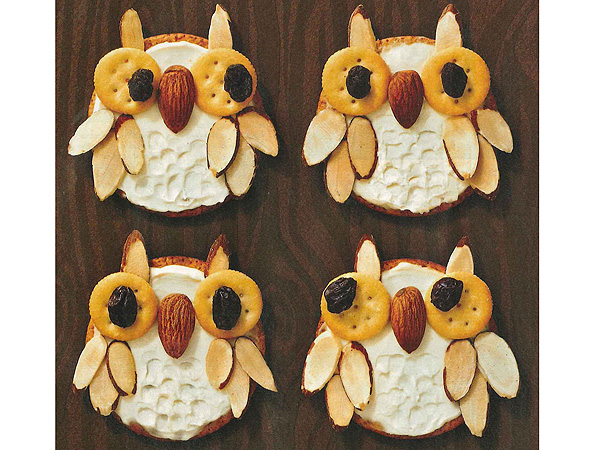 Courtesy FamilyFun
We have come a long way from ants on a log, folks.

Ask any parents and they'll tell you that perfecting the after-school snack takes real skill. You have to offer something hearty enough to satisfy post-spelling class hungers, light enough to not spoil their dinner appetites, healthy enough so they're not pumped with processed sugar—and, after all that, the kids have to actually want to eat it!
That's why we fell in love with these adorable Owl Crackers from the team at FamilyFun. These birds aren't relying on good looks alone—they're healthy with a good dose of kid-friendly flavors, like a salty cracker base, tart cream cheese coating, crunchy almond 'wings' and sweet raisin 'eyes.'
Better yet, these little guys take only a minute to make—and we have a feeling the kids will get a 'hoot" out of helping!
Whooo's Hungry Owl Crackers
Round crackers
Mini round crackers
Cream cheese
Almonds
Raisins
1. Spread a layer of cream cheese on a round cracker, using the tip of the spreader to make small indents for feathers.
2. Press on a pair of mini-cracker eyes and attach raisin pupils with a dab of cream cheese.
3. Finish by pressing on an almond beak and almond-slice feathers.