Recipe Redo: Daphne Oz's Eggs with Sweet Potato Pancakes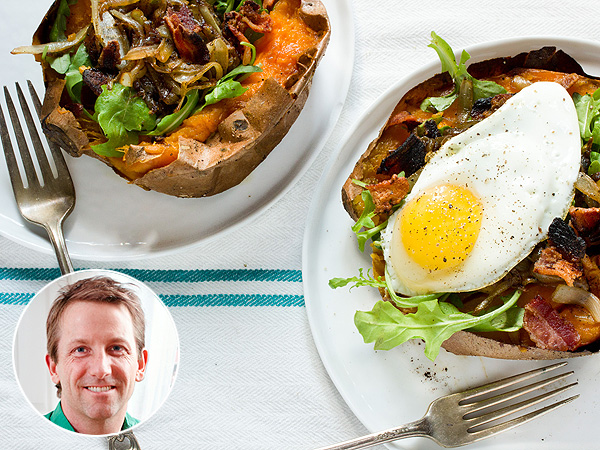 Nealey Dozier
Maxwell Ryan is the founder of Apartment Therapy and The Kitchn, a web magazine about home cooking and kitchen design. Visit PEOPLE.com Wednesdays for his spins on celebrity recipes and more.

One reason I love breakfast for dinner: Sometimes you come home after a long day and you just want something easy to cook.
Breakfast dishes are often nutritious, too—like this Eggs with Sweet Potato Pancakes recipe from Daphne Oz. But I was in the mood for something just a little heartier, so I turned it into a breakfast-dinner hybrid by subbing a baked sweet potato for the potato pancakes.
This recipe is just as easy to make as the original. After popping your sweet potatoes in the oven, you cook the onions, bacon and eggs in the same pan, requiring little clean-up. Make this for your family or guests, or cut the recipe down to ¼ and treat yourself while you kick back and watch a movie at home. Comfort is in the air.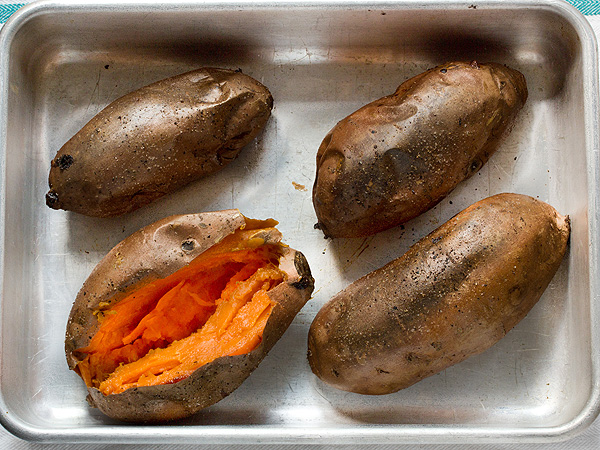 Nealey Dozier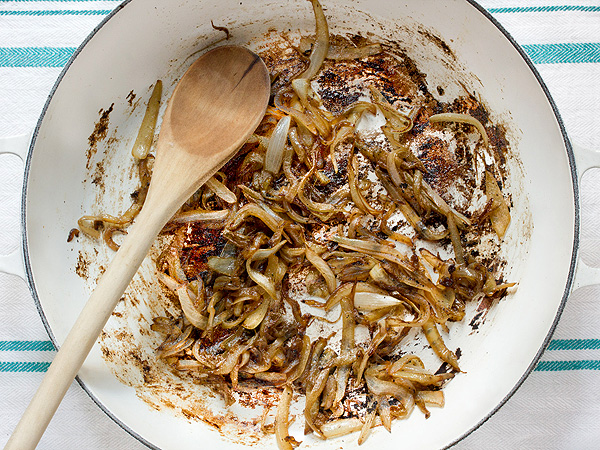 Nealey Dozier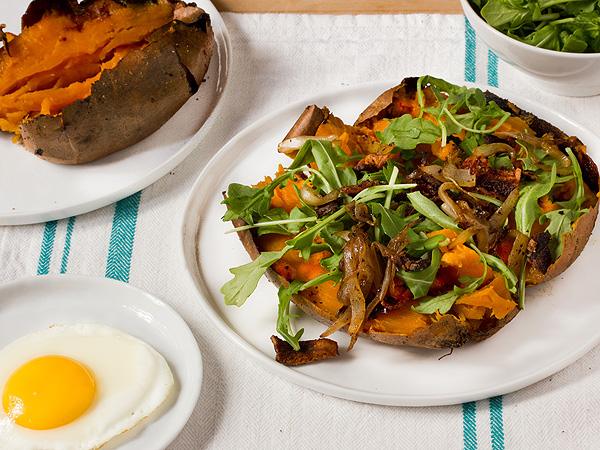 Nealey Dozier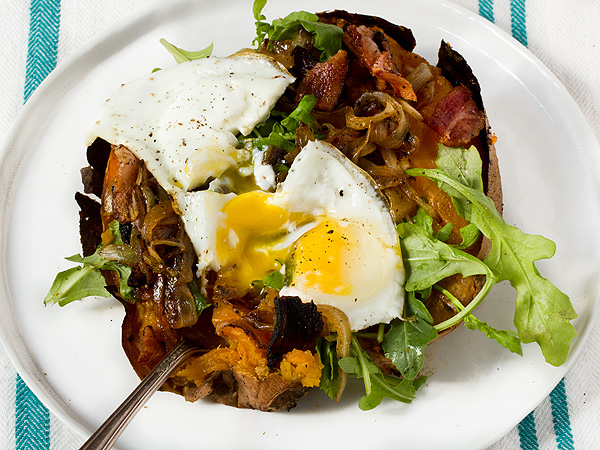 Nealey Dozier
Baked Sweet Potatoes with Caramelized Onions, Bacon, Arugula and Fried Eggs
Serves 4
4 sweet potatoes
Olive oil, to taste
Kosher salt and freshly ground black pepper, to taste
½ lb. thick-cut bacon (about 6 slices)
2 large yellow onions, peeled and cut into thin slices
4 large eggs
4 oz. arugula (about 4 big handfuls)
1. Preheat the oven to 400 degrees.
2. Scrub and dry the potatoes. Rub them with a little olive oil and sprinkle with salt and pepper. Prick each sweet potato a few times with a fork and place it on a baking sheet. Bake until soft all the way through, 45 to 60 minutes.
3. While the potatoes are baking, warm a large skillet over medium heat and add the bacon in a single layer when hot. Cook, turning a few times, until the bacon is golden and crispy. Remove the bacon from the pan and lay it on a plate lined with a paper towel to drain.
4. Drain off all but a tablespoon of the bacon fat. Return the skillet to medium-low heat and add the onions with a generous pinch of salt. Cook slowly, stirring occasionally, until the onions are deep golden-brown and very soft, about 30 minutes. Transfer the onions to a bowl and cover to keep warm.
5. Once the potatoes have finished roasting, warm the pan used to cook the bacon and onions over medium heat. If necessary, add enough olive oil or leftover bacon grease to coat the bottom of the pan. Once warm, carefully crack the eggs into the pan, spaced a little apart. Let them fry until the whites are set but the yolk is still runny. If the whites seem to be taking a long time to fully set, cover the pan with a lid for a minute or two to speed up cooking.
6. To serve, place one sweet potato on each plate. Split it down the middle and break it apart with a fork so the meat of each side is facing upward. Add a handful of arugula to each sweet potato. Divide the onions between the sweet potatoes, piling them on top of the arugula. Crumble the bacon and scatter it over the onions. Top each sweet potato with a fried egg and season generously with salt and pepper. Serve immediately.