The No-Equipment Workout: 5 Moves To Do During Commercial Breaks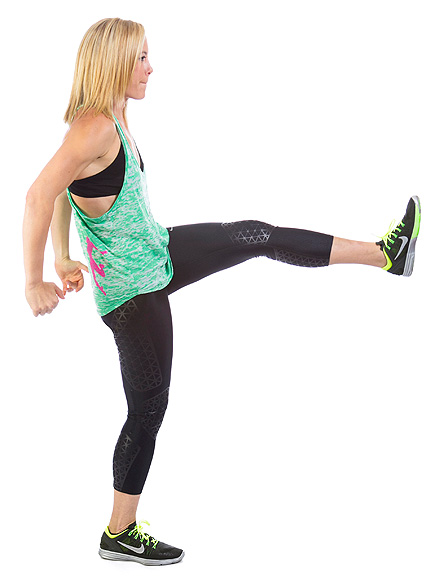 Courtesy Appcession
SQUAT KICKS
We know the real reason you haven't seen the gym in a couple of weeks—it's fall TV season! But that doesn't mean you have to be a total couch potato. We tapped celebrity trainer Lacey Stone, who has kicked the butts of stars like Jessica Alba, Amanda Seyfried and Nicole Kidman, for five get-fit moves you can do during your favorite shows…starting with these thigh-trimming squat kicks from her Extreme Bootcamp! app:

Stand with your feet together and put your hands together in front of your face. Bend your knees into a low squat, keeping your knees behind your toes.  Stand and extend your right leg into a front kick, keeping the knee slightly bent. Bring both arms behind your body. Return to standing position and repeat the squat and kick with the left leg. Repeat, alternating between right and left kicks, for 1 minute.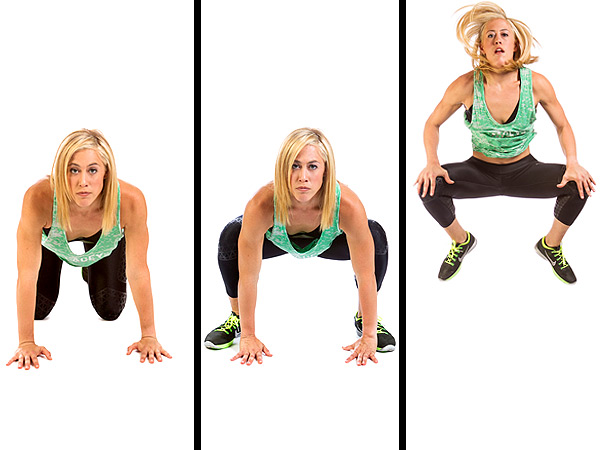 Courtesy Appcession
TUCKS
From your hands and knees, jump into a squat position, keeping your knees behind your toes and reaching your hands to the ground (arms inside your knees). Jump into the air and lift your knees towards your core, slapping your knees with your hands in mid-air. Return to the squat position, making sure your knees don't come over of your toes. Repeat as many as you can in 30 seconds.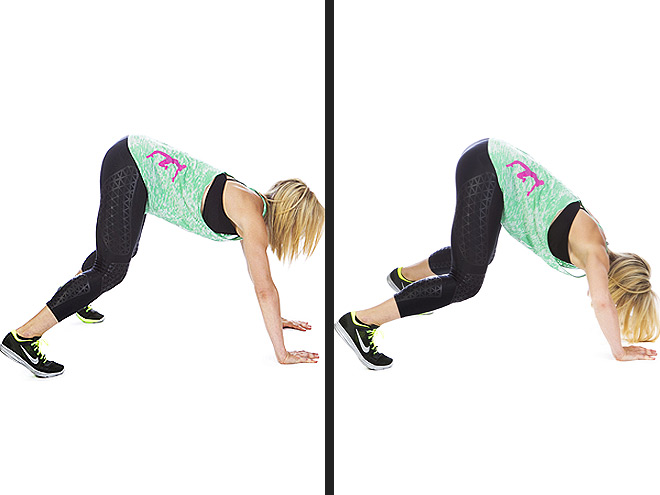 Courtesy Appcession
PEAK PRESS
Come forward into a modified downward dog position, bending your knees slightly and keeping your arms straight, with your hands slightly in front of your head. Be mindful to keep your butt raised. Come forward into a push-up by pushing your elbows out while keeping your knees bent and butt in the air. Press yourself back up into the straight-arm position. Repeat as many as you can in 30 seconds.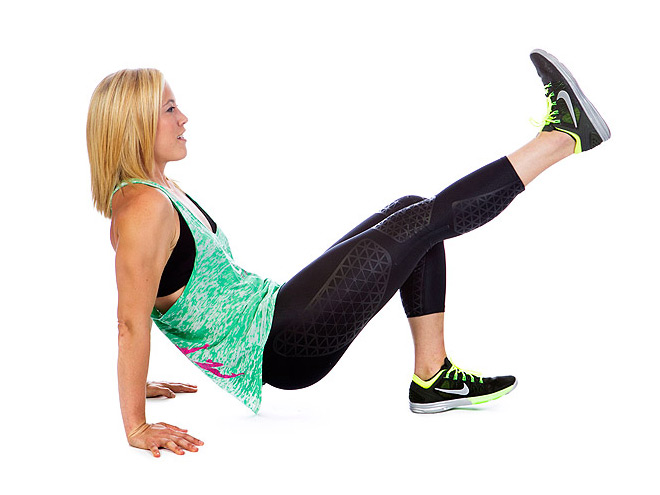 Courtesy Appcession
ALTERNATING KICK UPS
Get on all fours in a crabwalk position with your fingertips facing your legs and a slight bend in both elbows, keeping your core tight and your butt off the ground. Lift and straighten your right leg until there is little or no bend in it, making sure your opposite leg is bent and your knee isn't coming over the tip of your toes. Switch by kicking up the left leg as your right leg returns to the ground. When alternating legs your body will experience a slight bounce. Repeat exercise for 30 seconds or 20 kicks.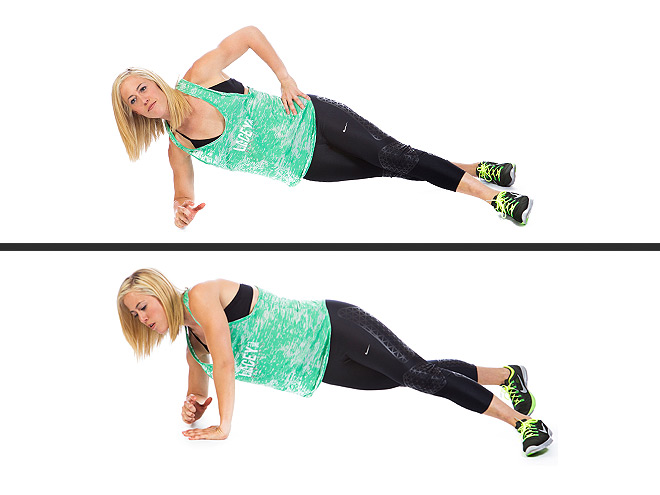 Courtesy Appcession
SIDE PLANK PUSH-UPS
Get into a side plank with your right forearm on the floor, your left arm on your hip and your feet in a criss-cross position, not stacked. Make sure your weight is balanced and your core is engaged. Slowly drop your left arm to the ground. Push your elbow out to do a single arm push-up. Return to starting position. Do 12 reps of this exercise and then repeat it on the other side.
—Marissa Conrad