Drink Pink for National Breast Cancer Awareness Month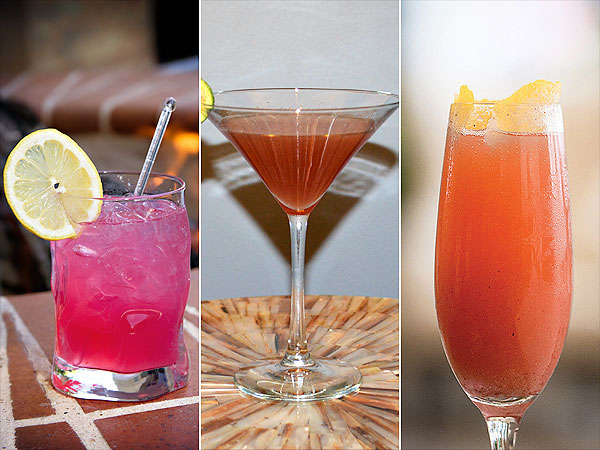 Courtesy Four Seasons Dallas, Lucy Restaurant, Ritz Carlton Chicago
We'll shake up a bright pink cocktail all year round, but there's something even sweeter about drinking one in October.

In honor of National Breast Cancer Awareness Month, restaurants and bars around the country have added special rosy-hued cocktails to their menus, and a percentage of the proceeds will be given to local breast cancer-awareness charities. We'll raise a glass to that!
From a hibiscus syrup-topped concoction to a cherry-infused bellini, support the cause—and have a fantastic happy hour!—with these pink drink recipes.
St. Elmo's Flower
Served at the Four Seasons Resort & Club Dallas
$2 of each drink purchase will be donated to their Four Seasons Cool October fundraising efforts
1 oz. hibiscus syrup (store-bought or made by steeping dried hibiscus flowers in simple syrup)
1 oz. lemon juice, freshly squeezed
¾ oz. elderflower liqueur
1½ oz. citrus vodka
Lemon wheel, optional garnish
Mix all ingredients in a shaker, and pour into an old-fashioned glass. Garnish with a lemon wheel.
The CBC (Crush Breast Cancer)
Served at Lucy Restaurant & Bar, Yountville, Calif.
Proceeds will be donated to the Breast Cancer Emergency fund, Guardians of the Ribbon, Napa Valley Chapter
1.5 oz. vodka
¼ oz. raspberry liqueur
1 oz. pineapple guava syrup (you can substitute simple syrup)
½ oz. grapefruit juice
2 dashes cherry bitters
Mix all ingredients in a shaker, and pour into a chilled martini glass.
Pinkellini
Served at the Ritz-Carlton Chicago
Fifty percent of proceeds to benefit The Lynn Sage Foundation
½ lb. (2 cups) pitted fresh or frozen sour cherries
½ cup sugar
4 tbsp. fresh yuzu juice, or 2 tbsp. each of fresh tangerine and lime juices
1 750-milliliter bottle plus 2 cups chilled brut champagne
Lemon peel, optional garnish
1. Puree the cherries in a food processor. Pass the puree through a fine strainer set over a small saucepan, pressing on the solids. You should have ½ cup of juice.
2. Stir in the sugar, and bring to a simmer over moderate heat, stirring to dissolve the sugar. Transfer to a small bowl, and refrigerate until chilled, about 15 minutes.
3. In a large pitcher, combine the sweetened cherry juice with the yuzu juice. Slowly pour in the champagne, and serve over ice. Garnish with the lemon peel.
—Alison Schwartz