Get a Grip: A Cool Way to Reuse Your Wine Corks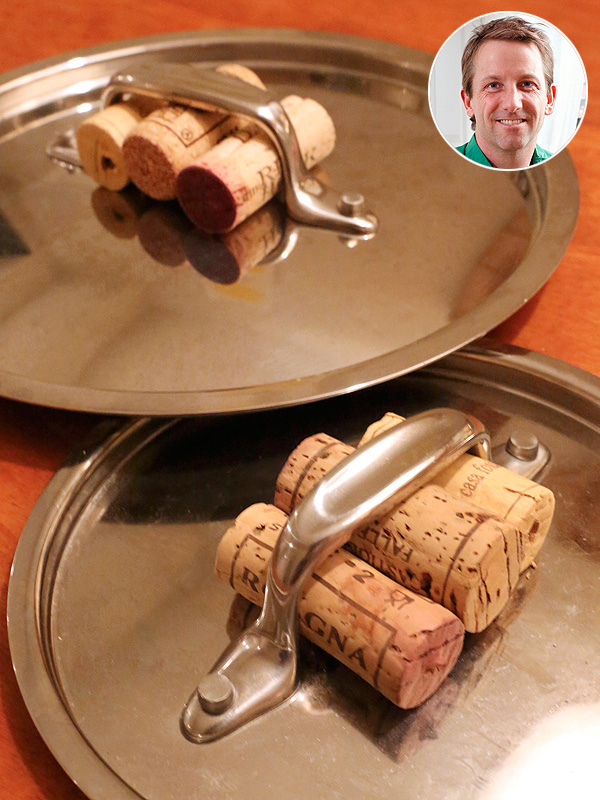 Courtesy The Kitchn
Maxwell Ryan is the founder of Apartment Therapy and The Kitchn, a web magazine about home cooking and kitchen design. Visit PEOPLE.com Wednesdays for his spins on celebrity recipes and more. 

In our house when I was growing up, my mother squeezed wine corks underneath all of her pot lid handles. The lids sat by the stove with corks bursting out of them like weenies at a roast. Seeing this when you came into the kitchen had a romantic, boy-have-we-drunk-a-lot-of-wine appeal (which I totally got), but it wasn't until I started cooking that I understood why they were really there.
Even with the best-designed pots and lids, the handles can get so hot during cooking that your hand is easily burned if you don't think quickly enough to throw on an oven mitt. My mom's little cork trick gets rid of the need for a mitt. The corks stay cool and create the nicest grip you could possibly imagine to lift the lid.
The corks age gracefully, standing up to water, oil and heat. They also make the lids look totally pro, giving everyone the impression (correctly, I'm sure) that you really know what you're doing in the kitchen—aside from drinking a lot of wine.
Here are the simple two-step instructions to make your own wine cork pot grippers:
1. Make sure that your pot lids are full handles with space to slip corks underneath them. Most metal pots are of this style, but glass lids tend to favor the round knob at the top.
2. Select 2-3 standard wine corks (avoid plastic corks, which don't look as nice). Squeeze two corks under the handle. Attempt to squeeze in the third cork by wedging it between the first two. Even if it's snug, three will usually fit and you'll get a tight trio with the ends popping out, creating a nice stable grip.