Bam! 5 Things You Didn't Know About Food Network's Biggest Stars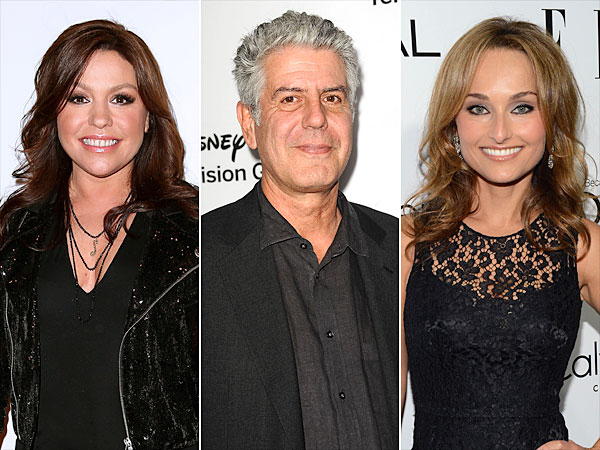 Splash News Online, FilmMagic, WireImage
It's hard to remember a time when words like "Bam!" and "Yum-o" weren't part of our food lexicon.

But in October 1993, the Television Food Network debuted with very little fanfare or flourish. After two decades, and multiple T.V. personalities later, the better known Food Network is celebrating its 20th anniversary.
In honor of the network's major milestone, former New York Times reporter Allen Salkin takes readers behind the scenes of the cable station in From Scratch: Inside the Food Network, revealing everything from high-stakes negotiations to hiring (and firing) some of the network's biggest names.
Here are five surprising takeaways from the revealing read:
1. Bobby's Got a Bad Side
Before Bobby Flay found his life's calling as a chef and restaurateur, the native New Yorker was causing trouble on the streets of the city. As a child, Flay gravitated to the rough kids in his neighborhood, often getting into fights with rivals. By high school, he began cutting classes to go to the horse track before leaving school entirely. If it wasn't for his father, Bill, who set him up as a dishwasher at the theater district eatery Joe Allen, Flay would never have discovered his culinary identity.
2. Paula Deen wasn't Anthony's first 'food' fight.
Before Anthony Bourdain blasted Deen in 2011, calling her the "most dangerous person to America," he threw shade Sandra Lee's way. In December 2004, on tour in Toronto to promote Anthony Bourdain's Les Halles Cookbook, a newspaper reporter asked, "What's the most offensive TV cooking show?" His response: "There's one in the U.S. by Sandra Lee. She seems to suggest that you can make good food easily, in minutes, using Cheez Whiz and chopped-up Pringles and packaged Chili mix."
3. Giada De Laurentiis keeps a candy stash.
To maintain her slender figure, the celeb chef maintains that she eats small portions throughout the day and works out regularly. But on particularly long shoot days, producer Irene Wong had a secret weapon to keep De Laurentiis happy and energized: a stash of bittersweet chocolate in the freezer. Whether De Laurentiis needed a little pick-me-up or some nourishment at the end of a twelve-hour shoot, a sweet treat was never far away.
4. Rachael Ray set fire to Emeril Lagasse's set.
When television newbie Ray walked onto the FN set to tape a pilot for 30 Minute Meals, she was in shock and awe to discover they were filming on the legendary chef's set. Determined to keep it together, but still battling nerves, Ray failed to notice that a flame had been burning on a skillet in front of her. As the cameras rolled, Ray added just a touch of olive oil to the pan, and POOF! Flames flew four feet in the air. With a little quick thinking and staying calm under pressure, Ray safely extinguished the fire.
5. Emeril Lagasse is fired—but gets the last laugh.
In 1997, the Food Network premiered Emeril Live, a new series with a band and live audience, that turned Lagasse into a household name and gave birth to his kitchen catchphrases "Bam!" and "Let's kick it up a notch." But after a 10-year run, it was canceled. The upside? Lagasse had retained most of the rights to his shows and sold his library and the rights to all his products to rival Martha Stewart Omnimedia for $50 million. Cha-ching!
—Karen J. Quan