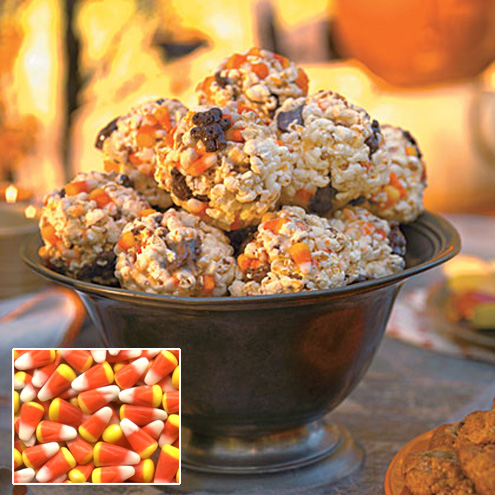 Becky Luigart-Stayner; Recipe: myrecipes.com
Candy Corn Popcorn Balls
Serves 10
50 large marshmallows
⅓ cup butter or margarine
20 cups freshly popped popcorn
2 cups teddy bear-shapped chocolate graham cracker cookies
2½ cups candy corn
1. Combine marshmallows and butter in a Dutch oven. Cook over medium-low heat until melted and smooth, stirring occasionally. Remove from heat.
2. Combine popcorn and cookies in a large bowl. Pour marshmallow mixture over popcorn mixture, tossing to coat. Stir in candy corn. Spray hands with vegetable spray and shape popcorn mixture into 3-inch balls, pressing together firmly.
3. Cool on wax paper. Wrap balls in plastic wrap. Store in an airtight container up to 3 days. Makes 20.