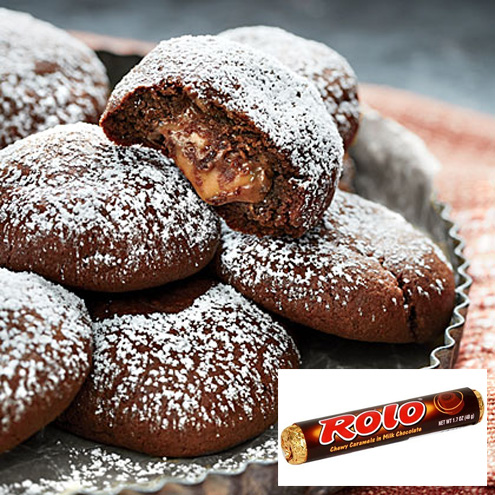 Jennifer Davick; Recipe: myrecipes.com
Chocolate Rolo Crinkle Cookies
Makes 30 cookies
1½ cups granulated sugar
½ cup plus 2 tbsp. butter, softened
2 large eggs
2 tsp. vanilla extract
2 cups all-purpose flour
1 cup unsweetened cocoa
2 tsp. baking powder
1 tsp. table salt
30 chocolate-covered caramel candy (such as Rolo)
Powdered sugar
1. Beat granulated sugar, butter, eggs, and vanilla at medium speed with an electric mixer until mixture is blended and smooth.
2. Stir together flour, cocoa, baking powder, and salt. Gradually add to butter mixture, beating just until blended. Shape dough into a ball, and wrap in plastic wrap. Chill 2 to 4 hours.
3. Preheat oven to 350°. Remove dough from plastic wrap; shape dough into 30 (1-inch) balls (about 1 tbsp. each), and place 1 inch apart on parchment paper-lined baking sheets.
4. Flatten each ball into a 2-inch disk. Place 1 chocolate-covered caramel candy into center of each disk, and wrap dough around candy to form a ball.
5. Bake 10 minutes or until slightly flattened. Cool on baking sheets 8 minutes. Sprinkle cookies with powdered sugar. Serve cookies immediately.