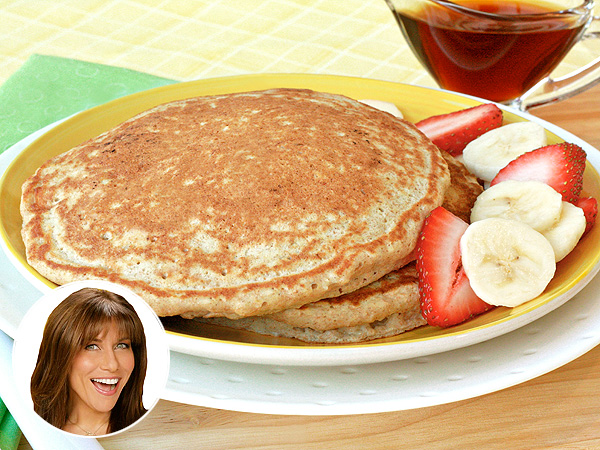 Courtesy Hungry Girl
Lisa Lillien is the author of the popular Hungry Girl website and email newsletter, featuring smart, funny advice on guilt-free eating.

She is also the author of eight Hungry Girl cookbooks, five of which debuted at number one on the New York Times Best Sellers list. Read her PEOPLE.com blog every Monday for slimmed-down celebrity recipes and more. 
Judging from the food photos he posts on Facebook, fashion photographer and The Face judge Nigel Barker looks like a whiz in the kitchen. "Just baked Grandma's apple crumble recipe for the Sunday dinner with the apples we picked in CT yesterday, nothing like home cooking!" he wrote this week alongside a golden-brown dessert.
Just baked Grandma's apple crumble recipe for the Sunday dinner with the apples we picked in CT yesterday, nothing l… say.ly/Fbk6Yov—
Nigel Barker (@NigelBarker) October 13, 2013
I got my hands on Nigel's Banana Pancakes recipe and I've gotta give him props. His flapjacks are pretty healthy already, which is great! I love that he uses whole-wheat flour (bringing fiber to the table… literally) and lots of mashed banana (more fiber, potassium and amazing flavor).
But the recipe makes a lot of pancakes, and I find putting oil and full-fat milk in the batter a little unnecessary—the mashed banana already brings plenty of creamy richness. So if you're dining solo and/or counting calories, give my slimmed-down, single-serving makeover a whirl.
'Til next time… Chew the right thing!
Hungry Girl's Bananarama Pancakes 
Serves 1
⅓ cup whole-wheat flour
½ tsp. baking powder
1 no-calorie sweetener packet (like Splenda or Truvia)
⅛ tsp. salt
⅛ tsp. cinnamon
⅓ cup mashed extra-ripe banana
¼ cup fat-free liquid egg substitute
⅛ tsp. vanilla extract
¼ cup water
Sliced strawberries, if desired
Sliced bananas, if desired
1. In a medium bowl, mix flour, baking powder, sweetener, salt and cinnamon. Mix in remaining ingredients.
2. Coat a small skillet with nonstick spray and heat it over medium heat. Once hot, add half the batter to form a large pancake. Cook until it begins to bubble and is solid enough to flip, about 2-3 minutes. Flip and cook until lightly browned and cooked through, 1-2 minutes. Plate pancake and set aside.
3. Remove skillet from heat, re-spray, and return to medium heat. Repeat to make a second pancake. If you like, top your pancakes with some sliced strawberries and/or bananas. Serve immediately.
Entire recipe: 250 calories, 1g fat, 650mg sodium, 49g carbs, 7g fiber, 10g sugars, 12.5g protein