We Tried It: Crunchy Cricket Salad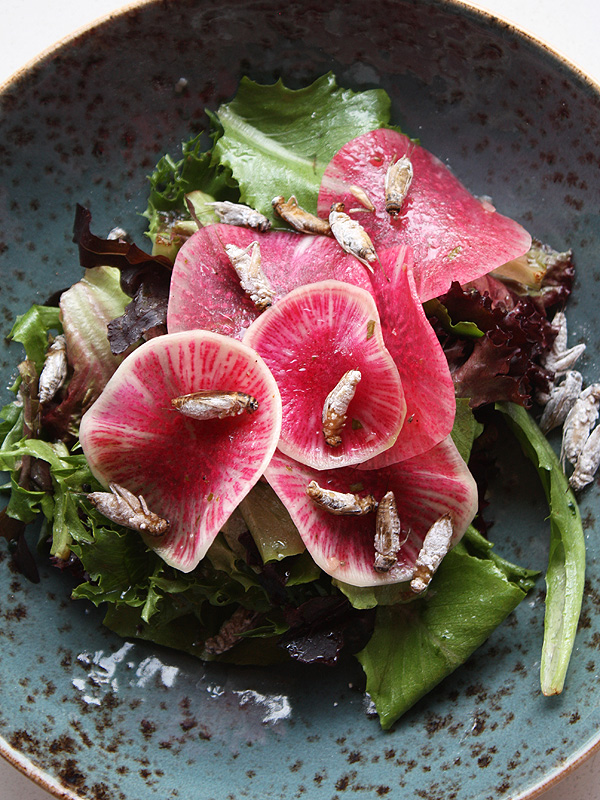 Courtesy Sage Restaurant Group
The idea of eating bugs: kinda gross, right? That's what I first thought when I heard that a chef in Westminster, CO, was selling tickets to an insect dinner filled with toasted crickets, crunchy mealworms (on top of chocolate cake!) and more.

But a lot of celebrities have dared to eat the creepy, crawly things that I would usually shriek at and stamp with a shoe—Zac Efron happily ate Taiwanese crickets on George Lopez's talk show a few years ago, Angelina Jolie has said her kids eat crickets "like Doritos," and Salma Hayek grew up eating fried ants and grasshoppers. "Little ants fried are amazing with a little guacamole," she once told David Letterman.
Maybe I've been missing out. I've eaten—and enjoyed—sweetbreads, which also sound pretty bad if you're squeamish (admittedly, when I ordered them at age 22 I thought I would be getting some sort of sweet bread, like a cranberry loaf—nope, it's animal esophagus).
Also, insects reportedly pack a lot of protein. I mean, so does Greek yogurt but, hey, it's not really expanding my food horizons. So I decided to hop on the Jolie and Hayek bug bandwagon and asked chef Jeff Bolton of Westminster's Kachina Southwestern Grill for one of his recipes.
He shared how to prep his candied cricket salad, starting with where to buy the critters, since they probably won't be hanging out in Aisle 5 of the grocery store. Try a company called Hotlix, which sells them in a basic salt-and-vinegar flavor as well as some wackier varieties like bacon-cheddar.
And lo and behold—after caramelizing the little guys in sugar and butter, they add the sweet crunch that this simple radish salad needs. You just have to get past the idea that you're cooking with things that have miniature arms and wings. Note: When Jessica Biel tried a cricket (chocolate-covered, even!), she could not.
My best advice is to picture the crickets as anything that would add crunch to your salad—almonds, pepita seeds, whatever. As you can see in this video, my first bite was still rough. But after figuring out that they don't taste gross at all—they just add a mild, buttery crunch, almost like popcorn—you'll be fine.
I will probably stick to slivered almonds as the crunch factor in my everyday salad, but this is a recipe you're going to want to try once, if only to store in your arsenal of cocktail party conversation.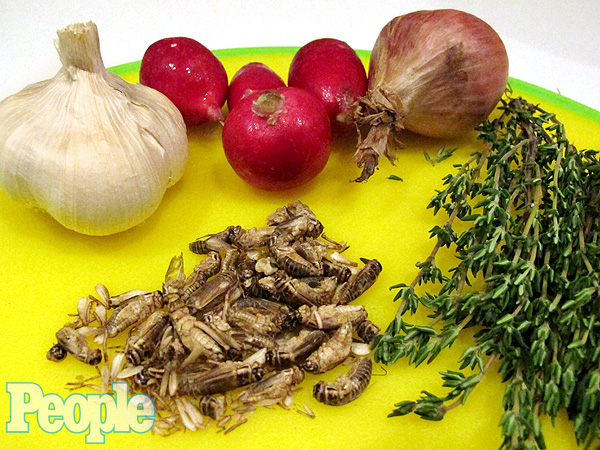 Marissa Conrad for People.com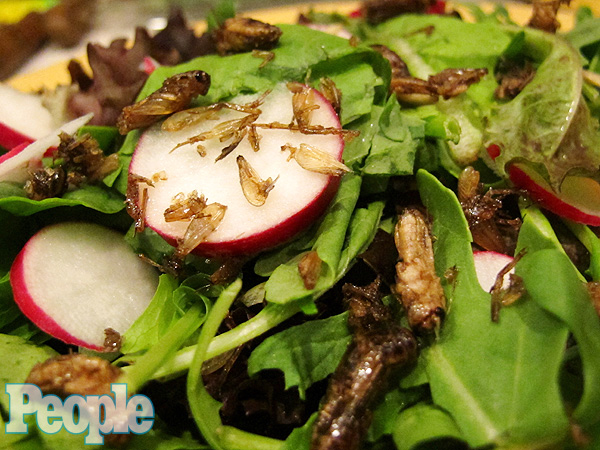 Marissa Conrad for People.com
Crunchy Cricket Salad
Serves 4
¼ cup dry chia seeds
1 cup red wine vinegar
3 cups blended cooking oil [Ed. note: We subbed in extra-virgin olive oil]
2 tbsp. shallot, minced
1 tsp. garlic, minced
1 tbsp. fresh thyme, minced
Salt, to taste
Pepper, to taste
1 watermelon radish (Ed. note: We subbed in regular radishes, but you can find watermelon radishes at most farmers' markets)
⅛ cup dried crickets
1 tbsp. sugar
1 tsp. butter
3 cups greens
1. Soak the chia seeds in 1 cup of water for 24 hours, then mix with the next 7 ingredients to make a vinaigrette.
2. Peel the radish, thinly slice it (Bolton uses a mandolin) and soak the slices in water for a few hours.
3. In a small saucepan over low to medium heat, toss the crickets in the sugar, butter and 1 tbsp. water. Broil until caramelized, being careful not to burn.
4. Plate the radish and the crickets on top of the greens and dress with the vinaigrette. Serve.
—Marissa Conrad