Raise the (Chocolate) Bar: 5 Ways to Make S'mores Even Better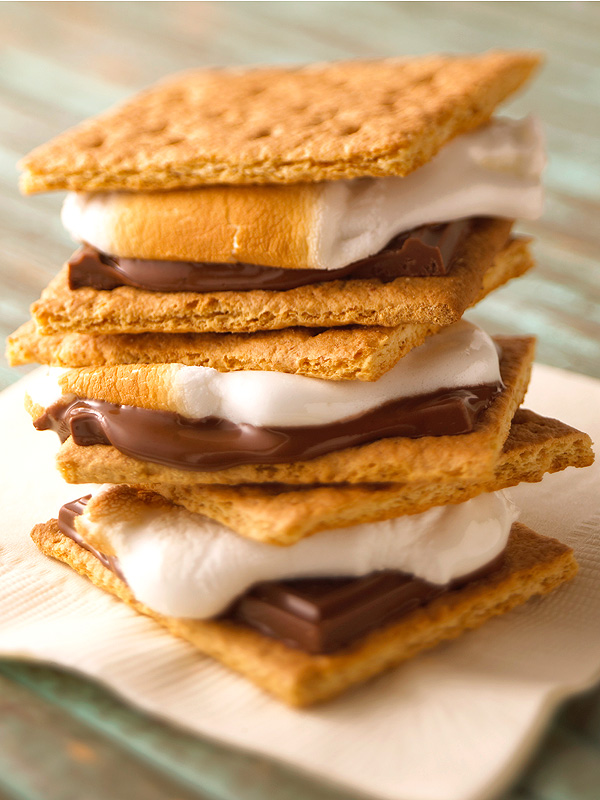 Getty
With just three ingredients—graham crackers, chocolate and marshmallows—you have all you need to create a warm, gooey, sweet snack. But melt enough 'mallows with your kids and, like anything, the novelty is lost. You may say they're left wanting a little something…s'more.

To pastry chef Thiago Silva, who makes a s'mores pizza at restaurants Catch NY and Catch Miami, changing up the classic combo helps you build a unique family tradition. (Every family does s'mores…but how many do ice-cream sandwich s'mores?)
Silva, a new dad, jazzes up the campfire (or stovetop, or microwave!) treat in a way that'll get kids as excited as if they were roasting their first marshmallow. "I can't wait for my little guy to be big enough so we can s'more it up!" he says.
Try a PB&M(c). The "m" is for marshmallow, of course! Spread peanut butter on the graham crackers before adding a layer of chocolate and melty marshmallow, Silva says. Go extra decadent by adding a smear of jelly, too.
Add ice cream. What's the scoop on a one-of-a-kind s'more? Subbing out the chocolate for chocolate ice cream to make an ice cream sandwich. "If I could, I would put ice cream on just about anything," Silva says.
Toss in Halloween loot. Ask your kid to dig through his or her trick-or-treat bag and pick candies that would taste best with marshmallows and graham crackers. Silva loves s'mores with peanut butter cups, caramel-filled chocolate bars, crisped-rice crunch bars and nougats.
Swap sweet for savory. Don't have a sweet tooth? No problem—there's a s'more for that! "Cut up some cheddar cheese into squares and skewer them, roast like you would marshmallows, and place on your favorite cracker" to create a mini riff on grilled cheese, Silva says. "You can add ham and veggies as well."
Fold in fruit. Make your s'mores semi-healthy by using chocolate-covered strawberries or bananas instead of plain chocolate. The thin coating of chocolate will pack fewer calories —but will still melt into a nice ooey-gooey layer—and you get to have fun dipping the fruits into melted chocolate. "Use cold fruit so the chocolate can harden quickly and then melt after you add the warm marshmallow," Silva says.
Which one will you be trying the next time the s'mores mood strikes?
—Karen J. Quan