Make Magnolia Bakery's New Cup(cake) of Joe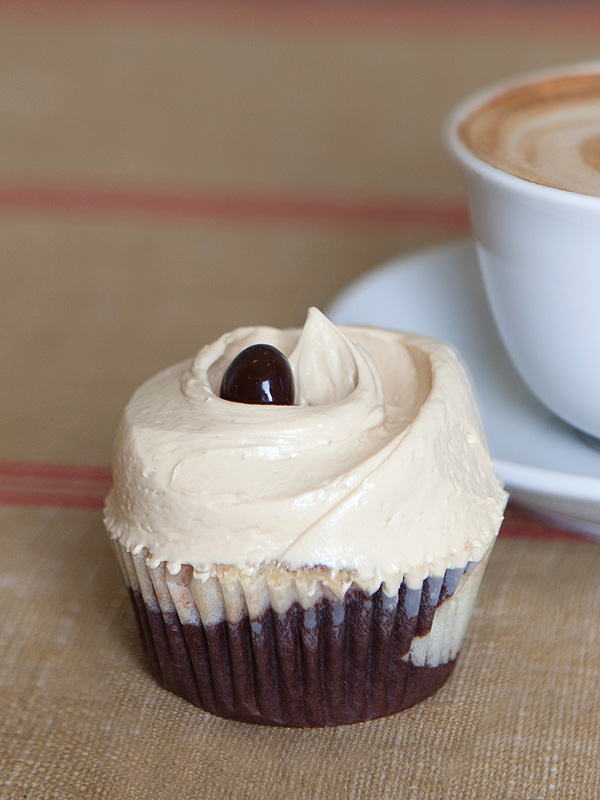 Courtesy Magnolia
Riddle time: What's black and white and spread all over?

The answer is no joke! Magnolia Bakery unveiled a new dark coffee-flavored cupcake on Wednesday to celebrate its new menu of drinks from Berkeley, CA coffee gurus Peet's. The Double Shot is a vanilla-and-chocolate marble cupcake covered with an airy, espresso-meringue buttercream and topped with a chocolate-covered espresso bean. That'll perk you up!
Magnolia is usually hush-hush about their new recipes, but we got them share this one with us. Plus, their CBO (chief baking officer, of course) Bobbie Lloyd gave us the secrets to making our Double Shots taste as good as the ones in their stores.
Butter fingers. Room temperature means, well, room temperature. If your butter gets too soft, your cupcakes won't rise properly, so make sure it's just right. "When pressed with a finger, the butter should get a slight indentation, but not be soft," Lloyd says."You can tell it's too soft when it turns shiny."
Underdo it. Lloyd says it's better to slightly underbake than overbake the cupcakes, because they'll continue to cook in the hot pans once you remove them from the oven. "The true test of doneness is fourfold," she says. "Your room will start to smell like cake, the cake will start to pull away from the sides of the pan, the top will be slightly golden and, last but not least, a toothpick inserted in the center will come out clean."
Cool down. Once you take the pan out of the oven, "cool the cupcakes for about 10 minutes  finish the baking process," Lloyd says. Then, remove the cupcakes and place them on a cooling rack: "Otherwise your cake will develop moisture beads on top, making the tops appear soggy."
Try baking a batch for your next party, bake sale and/or midnight cupcake craving!
Magnolia's Double Shot Cupcakes
Makes 24
For devil's food cupcake batter:
2 cups cake flour
1 cup Dutch process cocoa powder
1½ tsp. baking soda
½ tsp. salt
¾ cup (1½ sticks) butter, room temperature
1½ cups brown sugar
½ cup sugar
3 eggs, large
2 tsp. pure vanilla extract
1½ cups buttermilk
For vanilla cupcake batter:
4 eggs, large
1 cup whole milk
1 tsp. vanilla extract
2½ cups cake flour
1½ cups self-rising flour
2 cups sugar
1 cup (2 sticks) butter, room temperature and cut into 1-inch cubes
1. Preheat oven to 325 degrees and line cupcake pans with paper liners. (Note: This recipe also works in a convection oven at 275 degrees.)
2. To make the devil's food batter, in a large bowl, whisk together 2 cups cake flour, cocoa powder, baking soda and salt. Sift and set aside.
3. In the bowl of an electric mixer fitted with a paddle attachment, or using a hand mixer, cream together ¾ cup butter, ½ cup sugar and the brown sugar on speed 2 (medium) until light and fluffy, about 5 minutes. Scrape the sides and bottom of bowl.
4. Add 3 eggs, one at a time, mixing well after each addition. Add the 2 tsp. vanilla and mix until just incorporated. Scrape the sides and bottom of bowl.
5. Reduce mixer to speed 1 (low) and add the dry ingredient mixture in 3 additions, alternating with the buttermilk. Scrape the sides and bottom of bowl and beat for an additional 30 seconds. Set aside.
6. To make vanilla cupcake batter, in a small bowl, whisk remaining 4 eggs and set aside. In a liquid measuring cup, combine milk and 1 tsp. vanilla and set aside.
7. In the bowl of an electric mixer fitted with a paddle attachment, or using a hand mixer, combine the 2.5 cups cake flour, self-rising flour and 2 cups sugar on speed 1 (low) for 2 minutes. With the mixer still running, add remaining butter one cube at a time.
8. Add ½ of the milk mixture. Scrape the sides and bottom of the bowl and mix on speed 2 (medium).
9. With the mixer running on speed 1 (low), slowly pour in whisked eggs and remaining milk mixture. Scrape sides and bottom of the bowl and continue mixing for 1-2 minutes.
10. Scoop a ½ scoop of each batter into each prepared cupcake liner. Use a paring knife or a straw, swirl the two batters together. Do not over-swirl—you should be able to see each color.
11. Bake at 325 degrees for about 25 minutes. Once cooled, cover with coffee bean French buttercream frosting (recipe below).
Coffee Bean French Buttercream Frosting
Makes 4 cups (enough for 24 cupcakes)
½ cup water
1½ cups sugar, divided
¼ tsp. cream of tartar
6 egg yolks
⅛ cup instant espresso powder
4 sticks butter, cut into 1-inch cubes
1. In a small saucepan, combine water and 1 cup of sugar, stirring with a wooden spoon to combine well. Dip a pastry brush in cold water and brush away the sugar crystals that cling to the sides of the saucepan.
2. Heat the saucepan over low heat, stirring frequently to dissolve the sugar. Dissolve the cream of tartar in 1 tsp. water; add to sugar once it reaches a boil. Stop stirring.
3. Leaving the sugar mixture over low heat, beat the egg yolks in a stand mixer with the whisk attachment, or with a hand mixer, on speed 2 (medium) until creamy and light in color. Continue beating and add the remaining ½ cup sugar in 4 parts.
4. When the syrup reaches 235 degrees on a candy thermometer, increase the mixer to speed 3 (high). When the syrup reaches 250 degrees, remove the pan from the heat and, in a slow stream, add the sugar syrup to the mixer. Immediately add the espresso powder. Continuing on speed 3, beat egg yolk mixture until it cools.
5. Making sure the egg mixture has cooled completely, add the butter one cube at a time and continue beating on speed 3 until it is all incorporated, and frosting is fluffy and smooth. Scrape sides if necessary.