Make Jamie Oliver's Pear and Apple Salad for World Food Day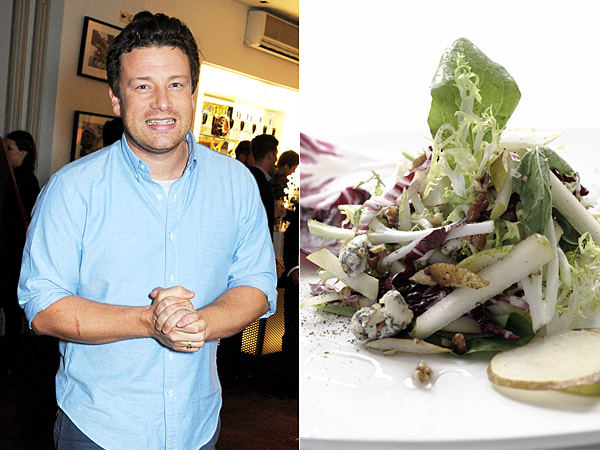 David M. Benett/Getty, Jeff Oshiro/Getty
Having guests over for dinner this week? Then you have a chance to feed more than just your friends.

The Food and Agricultural Organization of the United Nations has named Oct. 16th World Food Day, a campaign to heighten public awareness about hunger in the world—and eventually defeat it. Here's where you come in: While you're eating dinner, talk to your guests about where your food comes, who grows it and the little things you can do to help farmers and farmland in your community. (Hey, that tomato was grown somewhere, right?)
To get the ball rolling, OXFAM will send you all the tools you need to throw a great party: Sign up to host a dinner and you'll receive free placemats, a topic discussion guide and knock-out recipes from five celebrity chefs, like Alice Waters and Food Network's Aarti Sequeira.
Kick off the meal with Jamie Oliver's pear and apple salad with creamy blue cheese dressing. "This is an adaptation of an old-school French endive salad," notes Oliver. "Belgian endive is quite a bitter leaf, and to contrast the bitterness I've used the sweetness of the fruit, the twang of the vinegar and the creamy silkiness of the cheese."
It's the perfect way to start a great meal and, hopefully, a great conversation.
Sweet Pear and Apple Salad
Serves 4
4 heads endive (a mixture of red and white, if possible)
2 apples
2 pears
A handful of fresh soft herbs (chervil, tarragon, parsley—use any one, or a mixture), torn or roughly chopped
2 oz. blue cheese
1/4 cup creme fraiche
5 tbsp. extra virgin olive oil, plus more for drizzling
4 tbsp. cider vinegar
Walnuts, optional
1. Separate the leaves from the endive, then wash and spin them dry.
2. Core your apples and pears, and cut them into matchsticks or half-moons. Place them in a large bowl with the endive and most of the herbs.
3. To make your dressing, place the blue cheese, creme fraiche, olive oil, vinegar and 6 tbsp. water into a blender and combine for 15 seconds until smooth. Taste to make sure you've got a little extra acidity in there to cut through the bitterness of the leaves, and season with salt and pepper if necessary.
4. Pour three-quarters of the dressing over the salad and toss. Divide them between four plates, and finish with a little extra dressing, the remaining herbs and a little olive oil. It's lovely with some walnuts crumbled over.
—Sonal Dutt