DIY Crafts: Create a Spooky Halloween House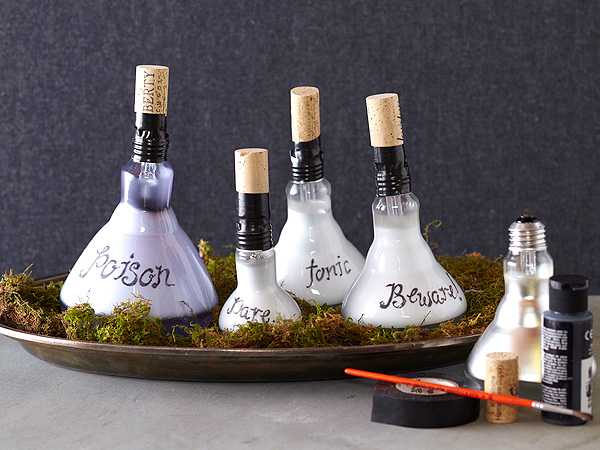 Laura Moss
When a lightbulb blows out at home, we're usually hit with a feeling of aggravation—not inspiration.

But we're not lifestyle expert Danny Seo, who always sees the unexpected potential in everyday objects. Remember that old bulb from before? He has already put it to great use—as a clever Halloween centerpiece. "It uses something that is truly trash (the burnt-out bulb) and transforms it into something charmingly perfect for Halloween in two super easy steps," says Seo, author of Upcycling Celebrations.
And he's just getting started. Check out his four fun Halloween projects, made with materials you can find in and around your house.
Flood Light "Potion" Bottles
Supplies: Burnt out flood lights, wine corks, black electrical tape, black craft paint and a fine tip brush
How to: The simplicity of this tutorial is ridiculously easy: Attach a wine cork to the socket using black electrical tape. Write a spooky message like "Poison" or "Beware!" onto the bulb using black craft paint.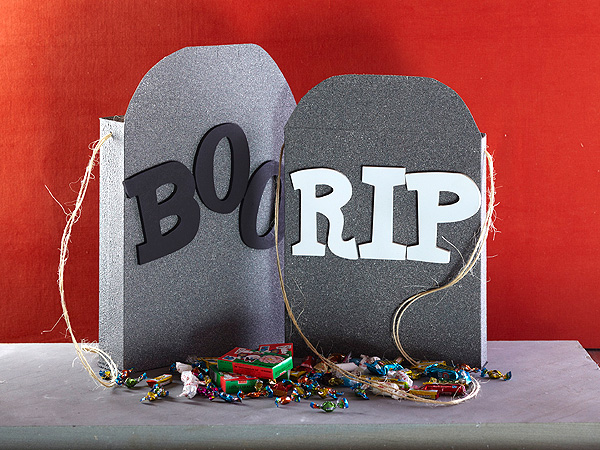 Laura Moss
Tombstone Treat Boxes
Supplies: Old Fedex or UPS boxes, Valspar "stone" faux finish spray paint, craft store letters, scissors, hole punch and twine
How to: Make sure one end of the box is fully secured closed; if not, add a little masking tape to secure it. Use scissors to cut the open side into the silhouette of a tombstone. Spray paint the whole thing using the faux stone finish spray paint; you may need several coats to achieve the desired effect and to fully conceal the graphics on the box. Once dry, use a hole punch to cut out two holes on the side and thread some twine through as a handle. Decorate with letters or silhouettes from the craft store, if desired.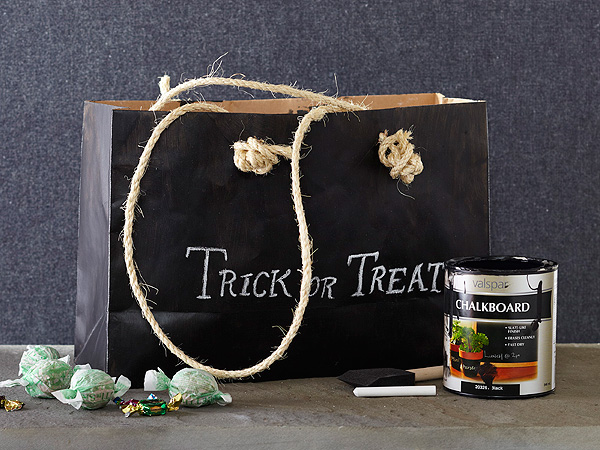 Laura Moss
Trick or Treat Bag
Supplies: Sturdy paper shopping bag, chalkboard paint, brush, chalk, decorative top (optional)
How to: Paint the entire outside of the bag with several coats of chalkboard paint. If you want, you can cut the existing handles and thread rope in its place to make a more decorative handle. Use chalk to decorate the front with whatever drawing or saying you want.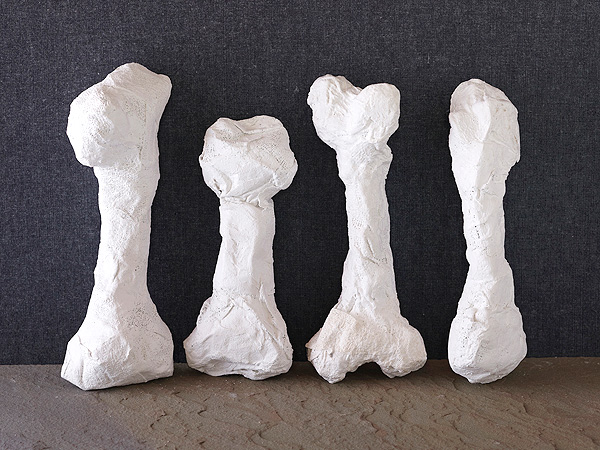 Laura Moss
"Grow" Your Own Bones
Supplies: Newspaper, masking tape, plaster gauze strips (available at craft stores), bowl of water
How To: Crumple several sheets of newspaper into the shape of a bone by rolling, twisting and bending it into crumpled log; use masking tape around the center to help form the bone shape. Dip strips of the plaster gauze in water and wrap it around the newspaper until the whole thing is covered. Allow to dry overnight.