Kick Off Your Tailgate with Rocco DiSpirito's Low-Cal BBQ Ribs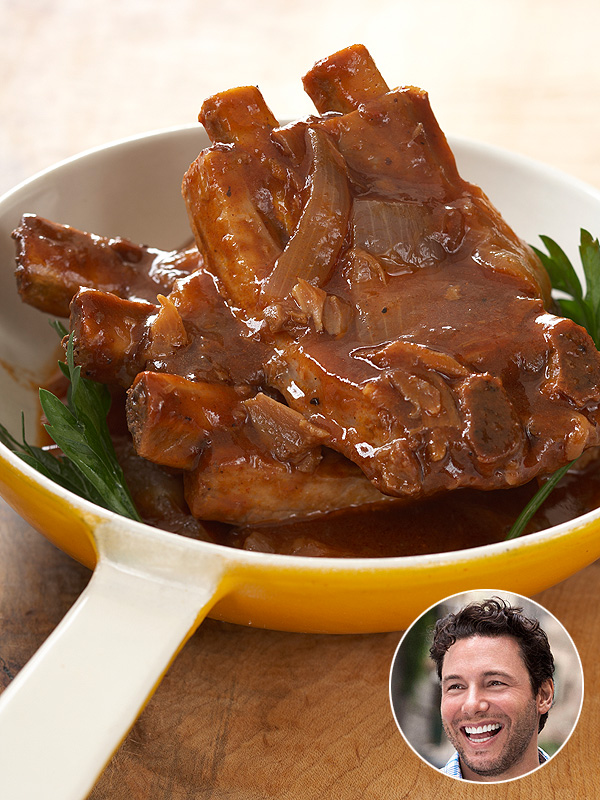 Courtesy Rocco Dispirito
Are you ready for some football … food?

Rocco DiSpirito's make-ahead barbecue ribs are the perfect pre-game meal. Once they're cooked, just pop them in the cooler, heat them up on the grill for a few minutes, and you'll have a crowd-pleasing spread in no-time.
Want to score extra points with your gang? These ribs are actually good—and good for you. "They ring in at one-third the calories and fat of the original," says DiSpirito, who will be showcasing his best game-day grub at the New York City Wine & Food Festival's Jets + Chefs: The Ultimate Tailgate party on Saturday. Unlike traditional recipes which can run up to 68g of fat and 990 calories a serving, his version comes in under 18g of fat and just 330 calories.
You know what that means: You can go back for seconds—and thirds!—without a lick of guilt.
Barbecue Ribs
Serves 4
1 rack baby back ribs (1½ to 1¾ pounds), trimmed of all visible fat
Salt and freshly ground black pepper
1 tbsp. smoked paprika
2 tbsp. liquid smoke, such as Stubb's
¾ cup reduced-sugar ketchup, such as Heinz
3 tbsp. red wine vinegar
1 large Vidalia onion, roughly chopped
12 garlic cloves, roughly chopped
1. Preheat the oven to 425F. Lay a 2-foot-long piece of aluminum foil on a baking sheet, and set it aside.
2. Cut the rib rack in half: season it generously with salt and pepper. Place the ribs on the prepared baking sheet.
3. In a medium bowl, combine the paprika, liquid smoke, ketchup, and red wine vinegar. Pour the sauce over the meat, turning to coat it completely. Scatter the onions and garlic over the sauce. Place another piece of foil on top, and fold up the edges of the foil to make a tightly sealed package. Roast the ribs for 30 minutes.
4. Reduce the heat to 275F, and bake until the meat is tender, about 1 hour.
5. Slicing in between the bones, cut the ribs into 4 portions, and serve.