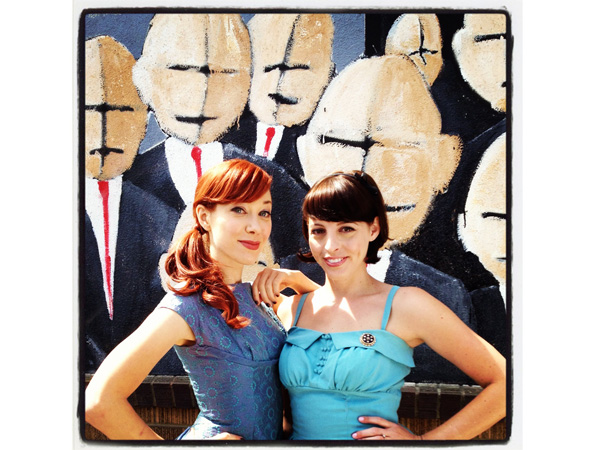 Courtesy Alie & Georgia
Vintage dresses. Inventive cocktails. A shared sense of humor that can best be described as a cross between a nerdy girl and a 12-year-old boy. That's us in a nutshell.

We're Alie Ward and Georgia Hardstark, a.k.a. Alie & Georgia: two best friends and foodies who made a farcical cocktail video a few years ago and then landed on the radar of Food Network. Hundreds of recipes, dozens of web videos, a few TV specials and some stretched-out Spanx later, we have our own Cooking Channel food-travel series, Tripping Out with Alie & Georgia.
We also now have the privilege of writing for PEOPLE.com's Great Ideas and getting to know you fabulous readers. Let's start with a few silly photos of us, just because.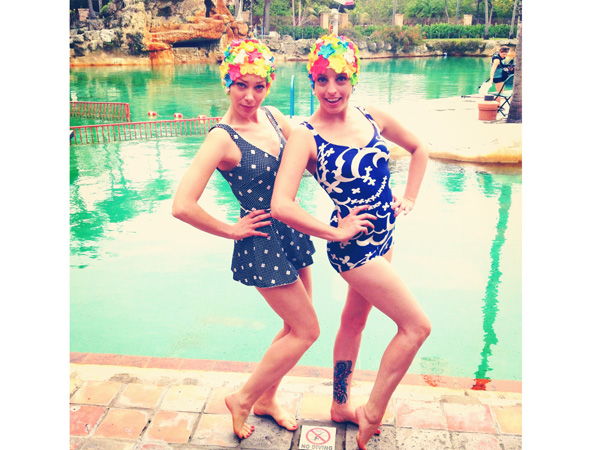 Courtesy Alie & Georgia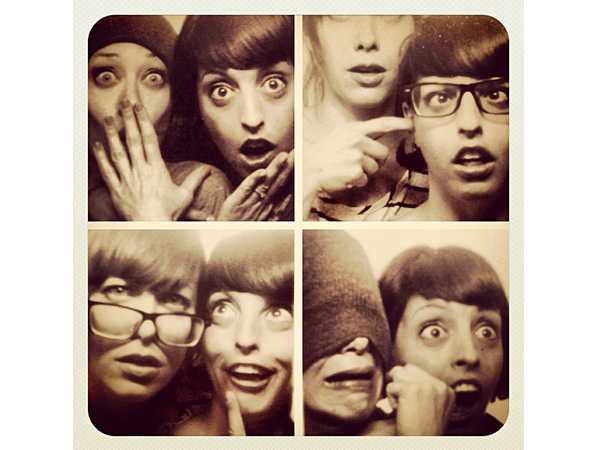 Courtesy Alie & Georgia
Each Thursday, we'll be covering some of the things we love the most: food, pop culture, fun cocktails and how to throw DIY gatherings that your friends and family will always remember. We'll also explain how two chicks can eat doughnuts for a living and still squeeze into vintage prom dresses. It ain't easy, but it's more do-able than you think.
And because everyone loves a makeover, we'll take your favorite celebrities' recipes and put our signature, playful spin on them, creating new dishes and messing up our own kitchens in the process.
We can't hide our giddiness. You guys, this is going to be fun. Let's start with a drink. Or rather, four of them.
There's nothing we love more than sipping a seasonal beverage. Warm or cold, a spiced holiday drink adds just the right amount of coziness to a chilly fall or winter night. Bonus: If you're trapped in a blizzard, a hot cocktail just may save your life. (Let us pretend, okay?)
So we've gathered our favorite cocktails—some classic and sophisticated and some outright insane—that we've created for our Cooking Channel webseries, Drinks with Alie & Georgia and Classy Ladies. They're just right for the encroaching chill of fall, and are also perfect for serving at upcoming holiday parties.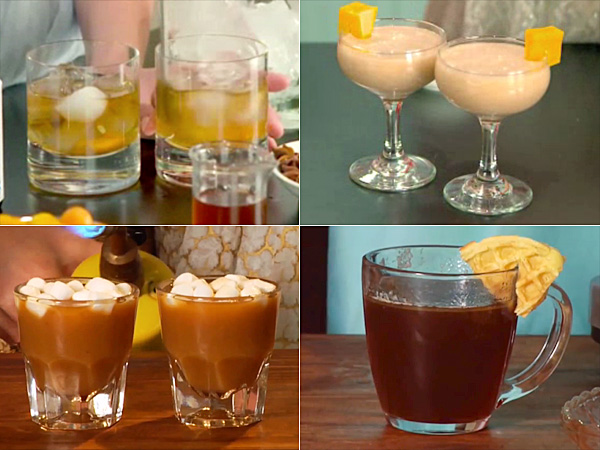 Alie & Georgia's Favorite Chilly-Weather Cocktails
5-Spice on Ice
Makes 1
1 cup sugar
1 cup water
1 tbsp. Chinese 5-spice blend (cloves, cinnamon, star anise, fennel, Sichuan peppercorns, available at most grocery stores)
3 dashes bitters (recommended: Angostura)
1 kumquat (can sub in 2 inches of orange rind)
2 oz. spiced rum
Splash Fernet Branca
1. In a small saucepan, mix sugar, water and 5-spice blend. Heat until sugar has dissolved, strain into a small pitcher and let cool. This will make a 5-spice simple syrup.
2. In a lowball glass, pour 1 tbsp. 5-spice simple syrup and bitters. Muddle the whole kumquat or orange rind at the bottom of the glass. Add rum, Fernet and ice. Stir the cocktail until well-chilled, about 20-30 seconds. Sip, then cheer the funk up.
Apple Of My Pie
Makes 2
1 slice of apple pie (recommended: streusel-topped)
4 oz. apple brandy
6 oz. apple juice
1 oz. cinnamon liqueur
Brown sugar, to taste (optional)
Pinch of cinnamon
2 wedges cheddar cheese (optional)
1. Into a blender, add pie slice, apple brandy, apple juice and cinnamon liqueur. If pie is not streusel-topped, brown sugar can be added to taste (we recommend 1 tbsp.). Blend on high until very smooth, about 5-7 minutes.
2. Pour into two martini glasses. Sprinkle a pinch of cinnamon on top of each drink and, if desired, garnish each glass with a wedge of cheddar cheese on the rim. Apologize to the rest of the pie for blending that one slice of pie. Continue drinking.
Mrs. B's Secret
Makes 1
3 oz. brandy
1 oz. Frangelico
2 tbsp. maple syrup
1 tbsp. butter
Waffle wedge
1. In a small saucepan, heat brandy, Frangelico and maple syrup over low heat until warm (not boiling). Pour into a coffee mug.
2. Top with butter, garnish the rim with the triangle of waffle and sip your way to happiness. Breakfast in a glass? Good morning, sunshine.
Shoot A Wild Turkey
Makes 2 
2 oz. bourbon (recommended: Wild Turkey)
1 oz. butterscotch schnapps
½ cup canned sweet potatoes
1 tsp. nutmeg
Mini marshmallows, to taste
1. Add bourbon, schnapps, canned sweet potatoes and nutmeg to a blender and blend on high until smooth. Pour blended mixture into two shooter glasses.
2. Skewer marshmallows. With a creme brulee torch or over a gas burner, brown marshmallows to your liking. Top each shot with browned marshmallows.
3. Let cool for a moment and then swallow drink in one gluttonous mouthful. Give thanks to the fact that your favorite Turkey Day side dish now comes in convenient shotglass form. Fun fact: We once spilled an entire cocktail shaker full of this concoction all over Guy Fieri on a stage with 2,500 of his fans watching. Cheers!