The Carnivore's Guide to Meatless Monday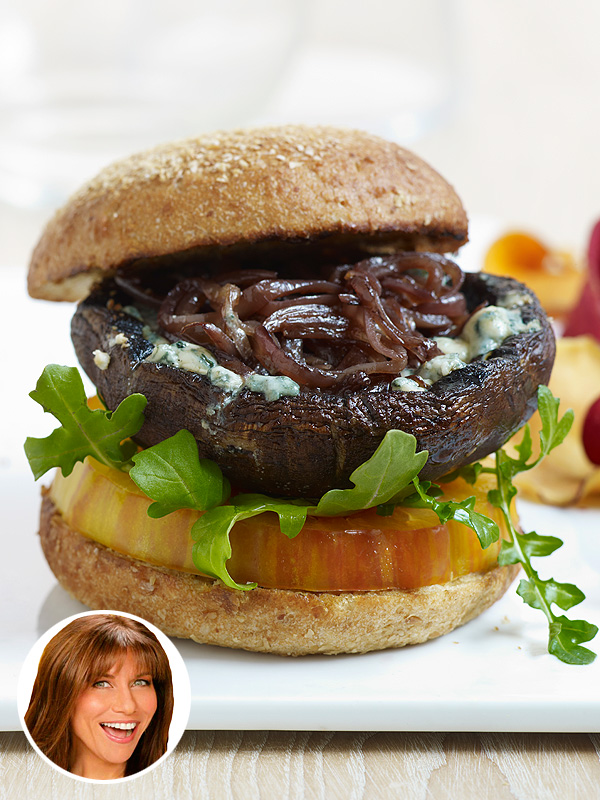 Carin Krasner/Getty
Lisa Lillien is the author of the popular Hungry Girl website and email newsletter, featuring smart, funny advice on guilt-free eating.

She is also the author of eight Hungry Girl cookbooks, five of which debuted at number one on the New York Times Best Sellers list. Read her PEOPLE.com blog every Monday for slimmed-down celebrity recipes and more. 
Celebs like Kristen Bell and Jessica Chastain swear by a meat-free lifestyle. (Bell and new husband Dax Shepard were actually named PETA's Sexiest Vegetarian Celebrities of 2013!) Going vegetarian, even for some of your meals, can save a ton of fat grams and calories.
I get it, though—it can be tough to think about giving up meat, even if you're just trying Meatless Monday on for style. The trick: Don't think about going veg as trading in your T-bone for tofu. There are dozens of clever food swaps that taste downright meaty. Here are some of my most satisfying picks:
Portobello mushrooms. These plump 'shrooms are so versatile and easy to use. For a beef-fajita fix, slice a portobello cap into strips; sauté with fajita seasoning, onions, and peppers; and scoop into tortillas with salsa. Yum. In the mood for chili? Add chopped portobellos for ground-beef taste and texture. And then there's always the classic portobello burger!
Meatless wings. Hello, football season! If you're looking for lightened-up tailgate food, you should have these on your grocery list. I love the wings from Lightlife (4 wings for 100 calories and 2.5g fat). I also make a dipping sauce by mixing ranch seasoning into fat-free Greek yogurt. It's way creamier than fat-free ranch from the bottle.
Soyrizo. This swap for chorizo sausage tastes great, and it's so much lower in fat than the real deal. An ounce has about 50 calories and 3g fat, while the same amount of pork or beef chorizo has around 120 calories and 10g fat. Brands like Melissa's, El Burrito and Frieda's make the yummy faux sausage. Scramble with egg whites for a zesty morning meal!
Ground-beef-style soy crumbles. This freezer-aisle find is a major time-saver. I love that I can just scoop out some crumbles and put the bag back in the freezer, rather than deal with an open package of raw ground meat. And with only about 125 calories and 2.5g fat per cup, it's much lower in fat than ground beef—even 80% lean ground beef packs nearly 300 calories in just 4oz., and that's before cooking! Give Boca's Ground Crumbles a try the next time you make tacos. I promise, you'll be impressed!
'Til next time, chew the right thing!