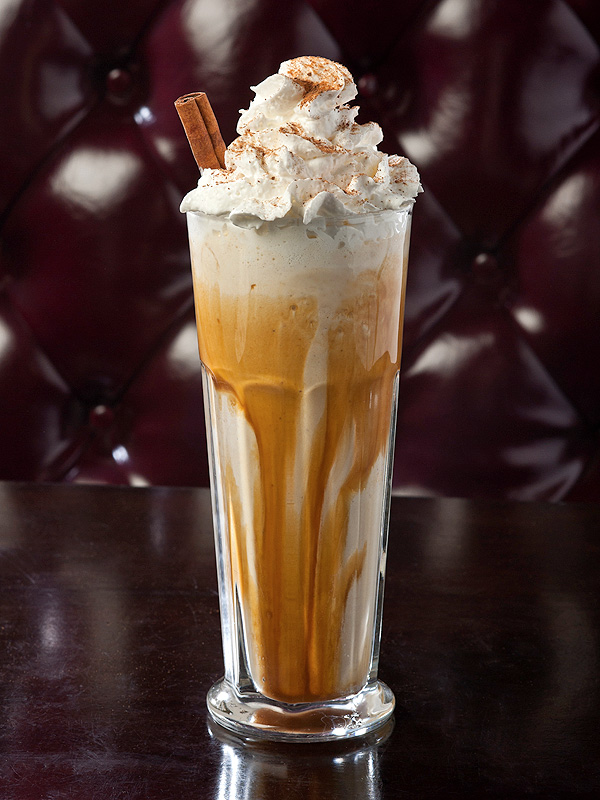 JD Hage of Green Frog Photo
Everything you need to know about this adults-only pumpkin milkshake: It's made with an entire pint of ice cream and is totally worth busting out of your silver Miley Cyrus spandex costume on Halloween.

We know there are a lot of pumpkin dishes vying for your attention right now, and there's no reason why you can't eat and drink them all. But start with this gourd-eous treat, straight from burger spot 25 Degrees in Chicago.
Get a load of this: Owners Mac and Joe Boumaroun blend housemade pumpkin butter (canned pumpkin mixed with sugar and fall spices) with vanilla ice cream, generously drizzle on a sweet, sticky caramel butterscotch sauce, and finally top it with fresh whipped cream.
While a pumpkin spice latte is perked up with nutmeg, cinnamon and ginger, this drink gets most of its kick from the spiced rum. Pumpkin lovers, it's officially happy hour.
Pumpkin Spice Spiked Shake
Serves 1
1 pint vanilla ice cream
1 oz. pumpkin butter (recipe below)
1 oz. caramel butterscotch sauce (recipe below)
2 oz. spiced rum
1 cinnamon stick, for garnish
Whipped cream, optional
Combine all ingredients in blender and blend until smooth. Top with whipped cream and a cinnamon stick, if desired.
Pumpkin Butter
Makes enough for 4 shakes
4 cups canned pumpkin
½ cup sugar
2 tbsp. cinnamon
1 tbsp. nutmeg
2 cups apple juice
In a medium saucepan, combine all ingredients and sautee over low to medium heat until creamy.
Caramel Butterscotch
Makes enough for 4 shakes
4 tbsp. unsalted butter
1 cup brown sugar
¾ cup heavy whipping cream
1 tsp. vanilla extract
1 tsp. salt
1. In a large, heavy-bottomed stainless steel saucepan, melt butter over low to medium heat.
2. Just before butter is melted, add all dark brown sugar at once and, over medium heat, stir with wooden spoon until sugar is uniformly wet. Stir frequently until mixture goes from looking grainy to looking like molten lava, about 3-5 minutes.
3. Once the caramelizing sugar begins to look and feel more like liquid and less like thick, wet sand, add all the cream at once. Turn heat to low and whisk cream into the mixture. When liquid is uniform, turn heat back to medium and whisk every few minutes for a total of 10 minutes.
4. Turn off heat and let butterscotch rest for 1-2 minutes before transferring into a heat-proof bowl. Cool to room temperature, then whisk in half the salt and vanilla extract. Add more until desired taste is achieved.
—Marissa Conrad