Boston vs. St. Louis: A Food Lover's World Series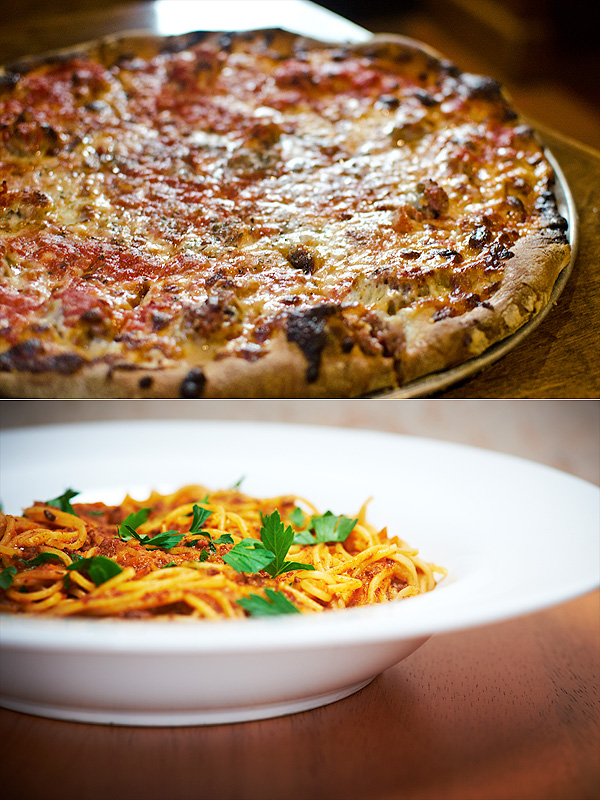 Top: Rachel Leah Blumenthal; Bottom: Greg Rannells
While the Boston Red Sox prepare to host the St. Louis Cardinals in Game 1 of the World Series on Wednesday, we're staging our own battle: Which city wins for best food?

Every baseball game needs a little extra rivalry, right?
To ensure an even playing field, we tapped one of each city's best food players: Rachel Leah Blumenthal, editor of Eater Boston, and Ian Froeb, restaurant critic for the St. Louis Post-Dispatch. Following the World Series' best-of-seven format, we asked each to pick the best seven restaurants and dishes right now in Boston and St. Louis, respectively.
Check out their regional starting lineups and then cast your vote for the best food city in the comments section below. Batter up!
RACHEL'S PICKS
Lobster Roll at Neptune Oyster. Ringing up at $27, this is one of the most expensive lobster rolls in town, but it's also the best—and that's saying a lot for a town that prides itself on seafood. Huge chunks of lobster burst out of a perfectly grilled roll. Even mayonnaise haters can indulge, as there's a choice between a cold roll with mayo or a hot roll with butter.
Santarpio's Pizza. In the endless battle for Boston pizza supremacy, the original Santarpio's location in East Boston is the classic. The no-frills, cash-only joint serves thin-crust pizza with a perfect cheese-to-sauce ratio. The sausage and garlic pie is the best bet; it's simple, meaty and packed with flavor.
The Burger at Craigie on Main. Chef/proprietor Tony Maws gets the meat for his acclaimed burger from a tiny farm that doesn't produce all that much, so there are only 18 available at dinner each night (and only at the bar). The grass-fed patty is amped up with dehydrated miso and topped with cheddar and mace (not what you'd spray an attacker with; it's a ground spice that's peppery and cinnamony) ketchup, giving every bite a punch of umami. At Sunday brunch, a slightly smaller version is on the menu, so there are a few more to go around.
Double Awesome at Mei Mei Street Kitchen. Mei Mei Street Kitchen is one of the most beloved food trucks in town, and the name of this dish doesn't oversell it at all: The Double Awesome is that, and more. Two eggs are slow-poached, then fried, giving each a perfectly runny yolk and a just-barely-crispy outside. They're paired with pesto made from local greens and Vermont cheddar, all tucked between two scallion pancakes.
Maiz Asado con Alioli y Queso Cotija at Toro. The lines are daunting at this South End tapas gem, but it's worth it to get your hands messy with the house specialty: corn on the cob smothered in cheese, aioli and a spritz of lime juice.
Fried Chicken Dinner at jm Curley. Executive chef Sam Monsour's specials board at this bar/restaurant showcases a rotating roster of crazy twists on junk food. The fried chicken, available nightly, is no different. While the bird is traditional, sauces are wild—for example, orange-soda Buffalo and Hawaiian Punch sweet-and-sour.
Cream of Wheat at Neighborhood. Weird but true: This old-school Somerville brunch spot serves the best cream of wheat on the planet. Actually, it's the best anything on the planet. The recipe is a closely guarded secret, but it likely includes unicorn tears and rainbows, not to mention a few trillion calories (emphasis on the cream here). Get it at brunch, where each dish comes with the choice of cream of wheat or a seasonal fruit appetizer. Fruit-eaters are shunned.
IAN'S PICKS
The Gerard Craft empire. St. Louis' most acclaimed chef (a Food & Wine "Best New Chef" and multiple James Beard award nominee) operates four outstanding establishments: His flagship, Niche, home to beautifully presented modern American dishes; casual Italian spot Pastaria (see the pasta photo above); French restaurant Brasserie; and Taste, a cocktails and small plates joint.
Pappy's Smokehouse. St. Louis doesn't have the barbecue tradition of Kansas City or Memphis—yet. The last five years have seen a rise of great barbecue joints like Pappy's, where the ribs are worth the long wait in line.
Crown Candy Kitchen. This century-old St. Louis institution delights kids and adults alike with homemade candy and thick milkshakes and malts., while its famous Heart Stopping BLT piles more bacon onto a single sandwich than you've ever seen in your life.
Sidney Street Cafe. Few can match the passion of chef Kevin Nashan. He operates one of the city's best restaurants, serving gorgeous, creative fare such as hanger steak with bone marrow bread pudding. He grows his own produce wherever he can find space. Oh, and he also competes in triathlons.
Ted Drewes Frozen Custard. Made with eggs, cream and sugar, frozen custard is smoother than ice cream and as vital to a St. Louis summer as a Cardinals pennant chase. Ted Drewes is best known for its concretes: blended custard so thick the server turns it upside-down before handing it to you to prove nothing will pour out.
Mai Lee. Where do St. Louis' best chefs eat? The answer is often Mai Lee, the area's first and still its most popular Vietnamese restaurant. Chef Qui Tran runs the restaurant his mother, Lee, founded, dishing up outstanding pho, other traditional soups and many other great plates.
Farmhaus. Kevin Willmann's acclaimed restaurant might be contemporary St. Louis cuisine in a nutshell: brilliantly inventive dishes like the signature Breakfast (roasted pork belly with maple sausage, corn blini and an egg poached in clarified butter) served in an unpretentious dining room.