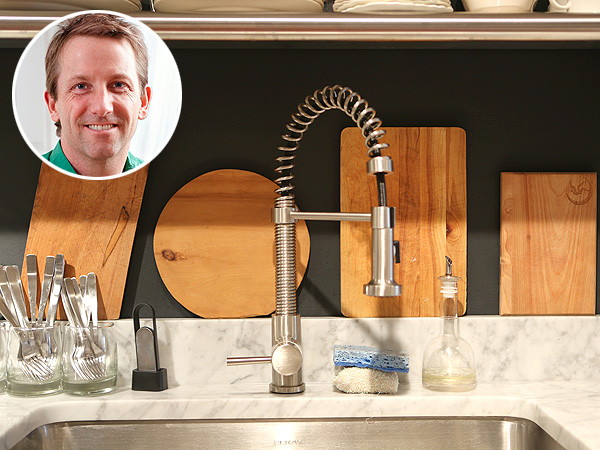 Courtesy The Kitchn
Maxwell Ryan is the founder of Apartment Therapy and The Kitchn, a web magazine about home cooking and kitchen design. Visit PEOPLE.com Wednesdays for his spins on celebrity recipes and more. 

I furnish nearly every room in my home with comfort and socializing in mind, but I see the kitchen much like laboratory. I love the contrast of a space that's outfitted for action and efficiency.
In keeping with this, I recently painted the walls behind my stainless-steel, commercial shelving a flat black shade. And then I had a great idea—use cutting boards as a backsplash.
Wooden boards can be lovely decorative pieces, coming in more shapes and sizes than you ever imagined. By propping them up against the dark black paint, the shapes pop out and create a stunning, utilitarian look. Also, now I don't have to take up drawer space to store them!
My two favorite places to pick up cutting boards in interesting shapes are Canvas Home and Teroforma.  And my favorite black paint is actually the very deep "black blue" by Farrow & Ball. Now, grab a paintbrush and get to work.