Prince George's Christening Dessert: Fruitcake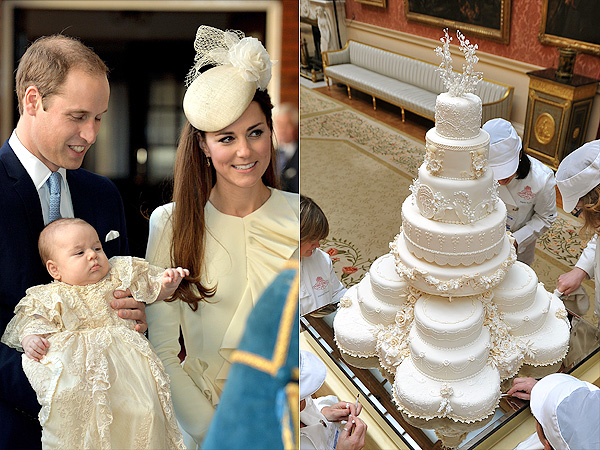 Rex USA, John Stillwell/AP
Get me out of this dress and give me some of that cake! That's what we imagine was going through little Prince George's mind during his christening service at the Chapel Royal in St. James's Palace.

Yes, that is Prince William and Kate's royal wedding cake, but it's getting a second life at the post-christening party hosted by Prince Charles and Camilla at their London residence, Clarence House.
Add this to the list of things we learned this week: It's British tradition for couples to freeze the top layer of their wedding cake and serve it to guests at their first-born's baptism. It's also customary for the cake to be a fruitcake. And you can bet if your cake was made by pastry chef Fiona Cairns—who has also baked creations for Paul McCartney and Bono—the infamous holiday gag gift will be moist, spicy and positively mouthwatering.
Want a taste at home?(Of course you do—look at that thing!) You can make a single layer of Cairns' Vintage Glamour Wedding Cake with this recipe from her Rodale cookbook Bake & Decorate.
Rich Tamarind Fruit Cake
Makes 25-30 slices
1½ cups candied cherries
2 cups golden raisins
2 cups dark raisins
1¼ cups mixed candied citrus peel
⅔ cup crystallized ginger, chopped
½ cup dried currants
3 tbsp. molasses
3 tbsp. bitter orange marmalade
1 tsp. tamarind concentrate
Zest of 1 orange, finely grated
Zest of 1 lemon, finely grated
1 tbsp. apple pie spice, heaped
9 tbsp. brandy, divided
1 cup walnuts
⅓ cup blanched almonds
1¼ cups self-rising flour
1 tsp. salt
1 cup plus 2 tbsp. unsalted butter, softened
1 cup plus 2 tbsp. packed brown sugar
1½ cups almond flour
5 large eggs, lightly beaten
1. The day before, rinse the cherries, dry them well with paper towels and cut each in half. In a large bowl, mix the cherries, golden and dark raisins, mixed peel, ginger, currants, molasses, marmalade, tamarind, zests and apple pie spice. Pour in 6 tbsp. brandy, stir well, cover with plastic wrap and let stand overnight.
2. The next day, preheat oven to 275F. Lightly butter a 9-inch springform pan and line the bottom and sides with parchment paper. Wrap the outside of the pan with brown paper and tie with string, to protect the cake from scorching in the oven.
3. Spread the walnuts and almonds on a baking sheet. Bake for 10 minutes in the oven, shaking once. Cool slightly, chop coarsely and set aside.
4. In a medium bowl, sift the flour and salt. In a large bowl, using an electric mixer on high speed, beat the butter and sugar until it turns pale and fluffy, at least 5 minutes. Add the ground almonds, then gradually add the eggs, mixing well between each addition. Fold in the flour with a large metal spoon and then add the soaked fruits (and any liquid) and nuts.
5. Spread the batter into the pan. Bake on an oven rack in the lower third of the oven until a wooden toothpick inserted into the center comes out clean, about 2½-3 hours. If the cake begins to brown too much before it is fully cooked, make a circle of foil a bit larger than the cake, pierce a hole in the center and open it up, then place the foil over the pan.
6. Let cake cool in the pan. Pierce all over with a wooden toothpick and evenly sprinkle over the remaining 3 tablespoons brandy. Remove from the pan and discard the paper. Wrap in fresh parchment paper, then aluminum foil, and let stand for a week, or up to three months. If desired, unwrap every other week and sprinkle with 1 tsp. brandy for extra succulence and booziness!